The digital age keeps thriving, and its needs keep growing. Digital marketing is the most effective tool to promote any kind of business in this day and age.
From auto-generated emails or promoting new products and managing social media posts, all require effort and creativity.
However, the digital space has upgraded and come up with a solution to take this additional workload from your shoulders.
We present you with Constant Contact. This is the tool you need to make your email marketing more manageable and better.
What is Constant Contact?
Constant Contact is a digital marketing platform established in 1995. The target demographic for Constant Contact is small businesses.
It allows its users to promote their business by launching and monitoring email marketing efforts, building websites and online stores, and utilizing various social media platforms for promotional efforts.
It takes email marketing to the next level and enables businesses to use it as an effective digital promotional strategy.
How Does Constant Contact Work?
Constant Contact provides various marketing applications designed to help small businesses expand their customer base.
Recommended: How To Make Money Online With Affiliate Marketing – Top Ten Affiliates In 2022
It includes email marketing, social campaigns and reporting, event marketing, survey management, and others. These are available independently or as part of the Constant Contact Toolkit package.
Constant Contact's email marketing application allows users to import customer data from various spreadsheets or email clients, such as Gmail and Microsoft Outlook.
You can build personalized email sign-up forms and embed them on web pages or social media platforms to capture new contacts and create new email lists.
The system also has numerous customizable email templates with drag-and-drop elements. It also has real-time reporting features to track email opens, clicks, forwards, social shares, and more.
With Constant Contact, you can promote your brand, inform customers of updates, offer guidance, or encourage sales with discounted offers.
Automated emails can be set up to welcome new subscribers, start an email series based on specific actions of customers, and resend emails to non-openers, among other features.
Pricing
Constant Contact's digital marketing service is currently available at two price points.
The Core Plan starts at $9.99/month and can go up depending on the number of contacts you have.
The package includes,
Customer list growth tools (website sign-up forms,
Facebook ads,
Email Marketing,
hundreds of email templates,
Storage and organization of contacts,
Post to various social media platforms like Facebook, Instagram, Twitter, and LinkedIn at once.
It also allows real-time reporting of growth and live phone and chat support.
The Core Plus Plan starts at $45/month. This plan is the most popular Constant Contact plan.
It includes all the features of the core plan along with additional features like,
more list growth tools (Google ads integrated,
text message sign-up,
look-a-like ad targeting,
Automated email features (resend to non-openers, abandoned cart reminder, birthday/anniversary wishes),
Auto-generated segments (most, somewhat, least engaged),
Conversion and sales reporting and a personalized kickoff call.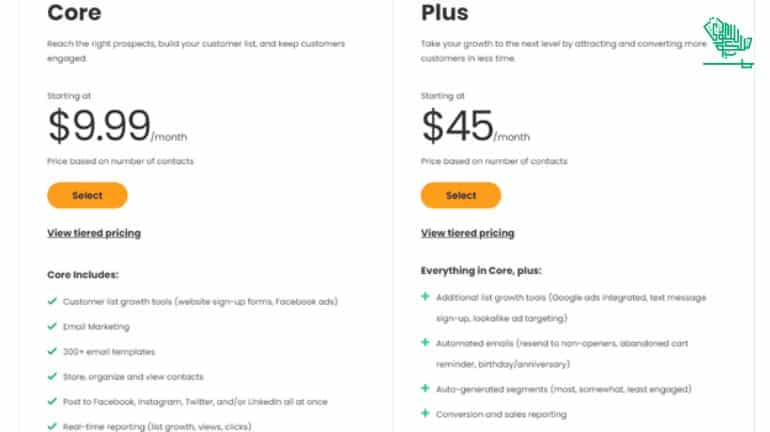 Constant Contact offers an integrated All-in-one CRM platform starting at $449/month. This automated platform lets you automate and personalize every digital interaction.
The package includes,
Customer Relationship Management (CRM),
lead scoring,
opportunity management,
sales automation,
marketing automation with advanced workflows,
Tracking, and analytics,
along with a dedicated onboarding expert.
Constant Contact is a digital marketing package that can take your marketing game and your business to the next level.