Physical stores or Online Sales?
Online businesses were taking over the globe slowly and gradually, but since the pandemic, the work, buying, and selling from home are pretty much what everyone has been doing. E-commerce started from being a choice to the only option available. 
Recommended: How To Make Money From Home – 10 Proven Ways In 2022
Can You Relate?
During the course of the pandemic, and when it was over, we noticed a lot of small businesses and other entrepreneurs switched to selling their products online.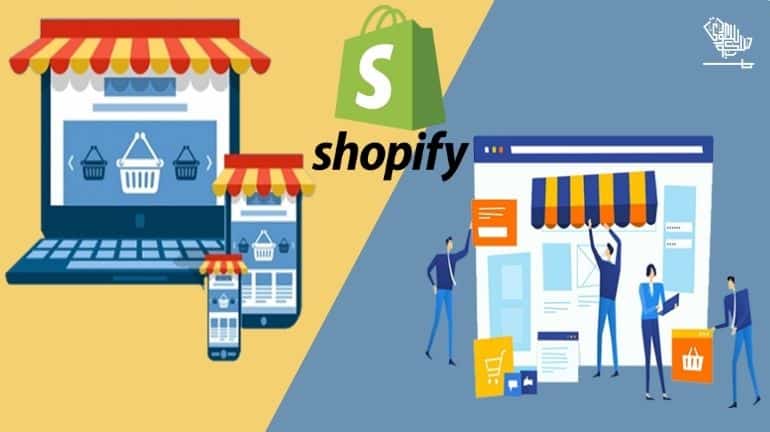 From going live and selling their items to publicizing them and posting pictures on different platforms, they used online business marketing ways.
Recommended: Leadpages: The Landing Page Developer
One Step Closer To Your Dream!
Do you think there could be a platform that brings together all the sources in one place, serves you an online business plan on a single platter, and markets it all?
All you have to do is have an Internet device to be the controller. Is Shopify your way to go?
All You Need To Know About Shopify?
An E-commerce platform that helps you run and grow your online businesses globally.
Shopify powers your skills and plans with their expertise and marketing strategies to give your online business the extra boost it needs.
Not just that, Shopify believes in working in terms of what the future holds and henceforth shapes the industry that suits you in all aspects and phases.
From upgrades, monthly plans, and various marketing approaches, they help you expand your online businesses.
Recommended: How To Make Money Online With Affiliate Marketing – Top Ten Affiliates In 2022
How Does Shopify Function?
Promote and ship your products through a single online business store through Shopify.
Are you running a small-scale or large-scale business? Shopify offers subscription-based programs for all your plans and budgets.
You have various options available to sell your products. You can sell;

Online through a website.
One-on-one through an app.
Both online and in person.
On social media through Shopify.
Connect Shopify to sales channels like eBay, Walmart, Amazon, Google, etc.
Monthly Plans That Shopify Offers
The most important part of the deal is choosing the subscription plan that well suits your online business. Get a headstart with a 14-day free trial and opt for a pricing plan to learn about the features.
All these bundles are incredible in their ways. The rewards include; Online stores, unlimited products, various sales channels, discount codes, and gift cards on the purchase of any plan.
Each bundle has an upgrade and a feature, making it stand out and more apt for your particular online business. Rule them out and choose!
Recommended: WordPress Elementor; A Revolutionizing Web-Design
Lite
This plan is ideal for users who deal with in-person sales. It also lets you put a Shopify buy button on your existing website.
You get one staff login and a maximum of 1 inventory location, for $9 per month, with a fee of 2.9% plus $0.30 per transaction.
In addition, you can issue gift cards and view bills.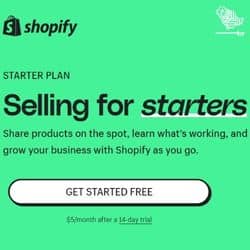 Basic
The basic plan is the cheapest affordable plan to start with and has a standalone, functional online store.
This bundle is one of the most popular if you're a startup looking for Omni channel selling options.
At $29 a month and 2.9% + 30¢, it offers up to 2 staff accounts and shipping discounts of up to 77%.
Moreover, this plan has basic reports and up to 4 inventory locations with an unlimited number of products and file storage. 
Recommended: Keeping Contact With Constant Contact
Shopify Standard
If you invest more, you can go for the upgraded version and more adds-on.
This bundle rewards you with five staff accounts and a maximum of five inventory locations.
Not just that, all this with professional reporting and up to 88% shipping discounts at $79 a month and 2.6% + 30¢ per transaction only.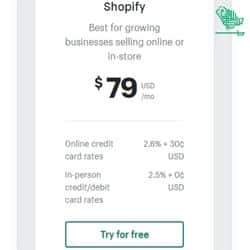 Advanced
With the lowest transaction fees, this bundle is for custom report building.
It offers 15 staff accounts with up to 8 inventory locations and shipping discounts of up to 88%.
At $299 per month and 2.4% of the value of the transaction plus 30 cents, this bundle is a good deal.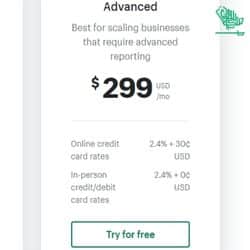 Moreover, it has an edge when it comes to third-party calculated shipping, E-commerce automation, and import taxes—the bigger the traffic online and in person, the more advancement of plans required. 
Recommended: Hubspot 101: The Basics to Get You Started
What More Does Shopify Offer?
Just when you thought you were done counting on the perks offered by Shopify, there's more in! The other offers include; dropshipping and fulfillment of orders for your valuable businesses.
Dropshipping
Free of shipping logistics and inventory costs, no third-party deals, and additional taxes.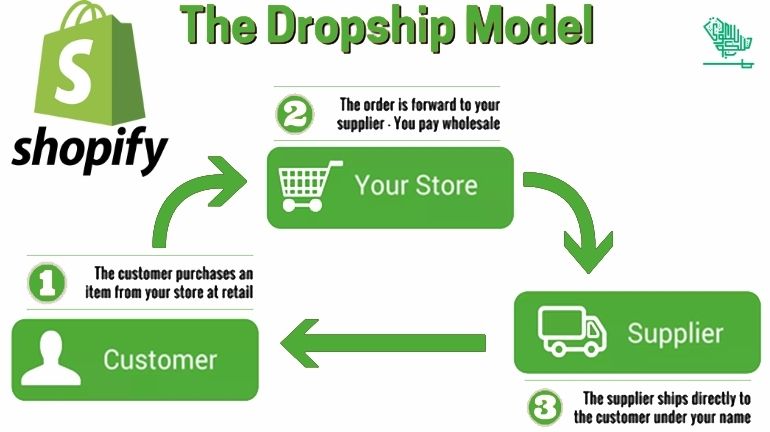 How does it work?
The buyer places the order directly online, which is forwarded to the leading dropshipping supplier. After the order is prepared, it reaches the customer's supplier.
It Saves time, saves inventory space costs, pays for products after they're sold, and sells them globally; innovative marketing!
Recommended: Pabbly: The Answer To All Your Marketing Woes
Fulfillment
As the name suggests, order fulfillment refers to fulfilling the order's requirements as placed by the customer.
Features:
Affordable plan and delivering your orders in the given delivery window. This serves a significant impact on customers.
The orders as placed are distributed among the fulfillment centers, dividing the workload and improving the service.
Customers are skeptical when placing an order; we reassure them by offering reliable, smooth returns.
With end-to-end fulfillment services, operations are easy to manage and store.
How does it work?
Get your orders prepared, packaged, and labeled for shipment. The steps your order goes through are as follows;
The customer places the order.
Products are exported across the fulfillment networks.
Storage items are packaged.
The order is ready for delivery.
From the fulfillment center, the order reaches its valuable customers!
Will Shopify be your choice for Smart business?
Take from the discussion, The time from starting a brand to bringing it into business and marketing the already published brand requires a team of efforts and sources in different fields for execution.
Shopify gives you all that in just one place through various chains and branches.