Sindalah is about yachting & luxury travel experience at the Red Sea with cultural and glamorous yearly musical events on the island.
Sindalah, as a part of NOEM, is an exclusive gateway to the stunning Red Sea, the first luxury island destination in north-western Saudi Arabia. The island is to be the next luxury hot-spot destination.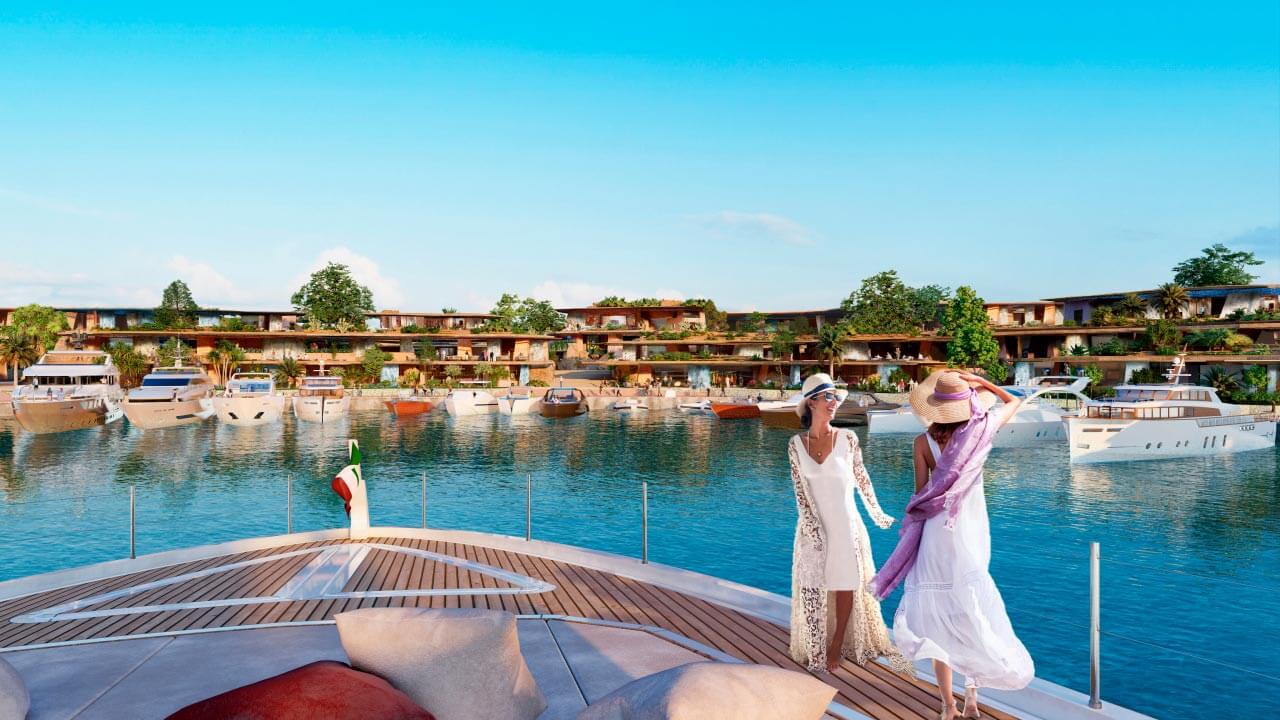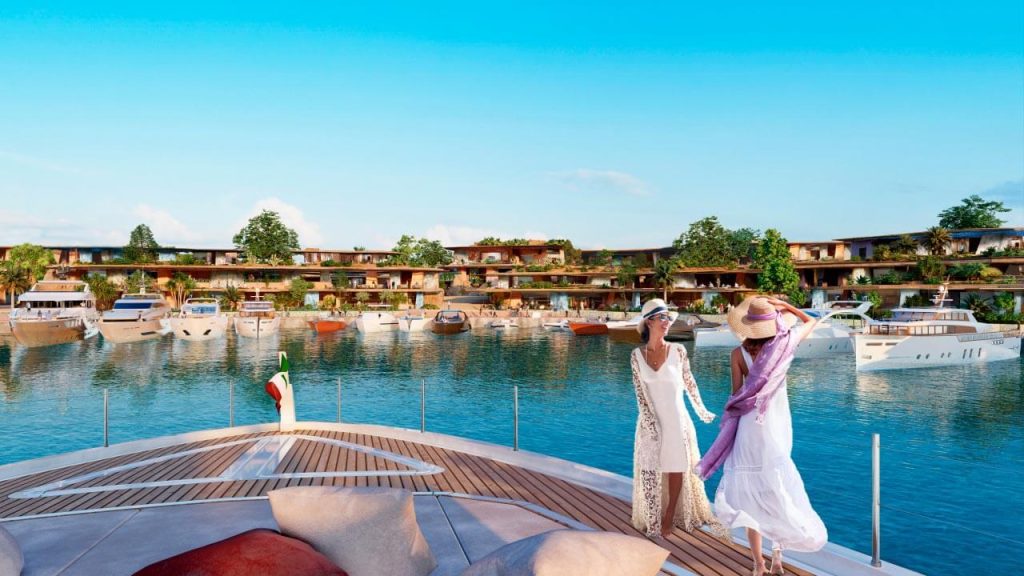 Opening Early 2024
As the leading gateway to the Red Sea, Sindalah will begin welcoming guests to its outstanding facilities and exclusive offerings in early 2024.
Spread over an area of 840,000 square meters, Sindalah is one among a group of islands developed in NEOM.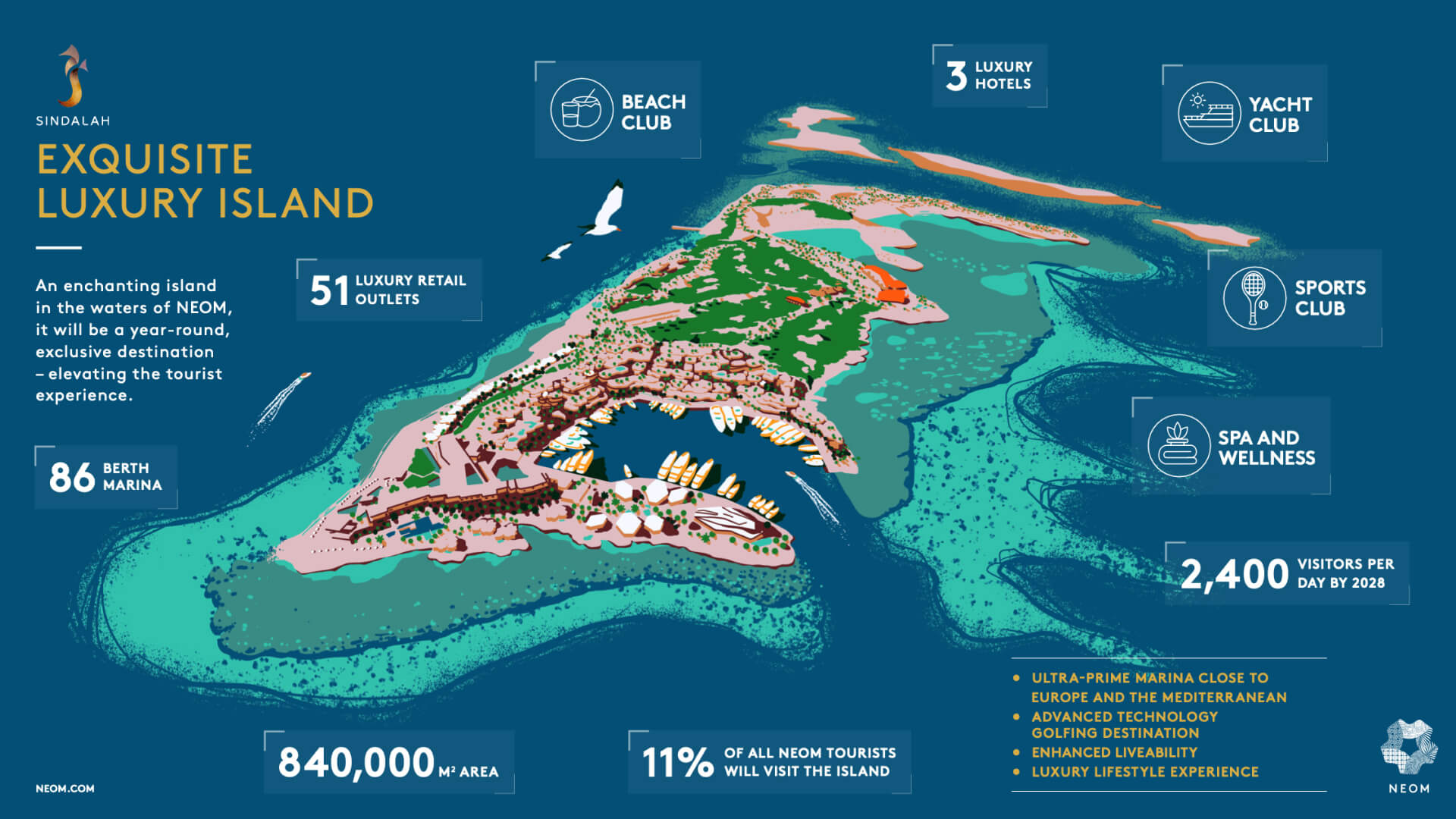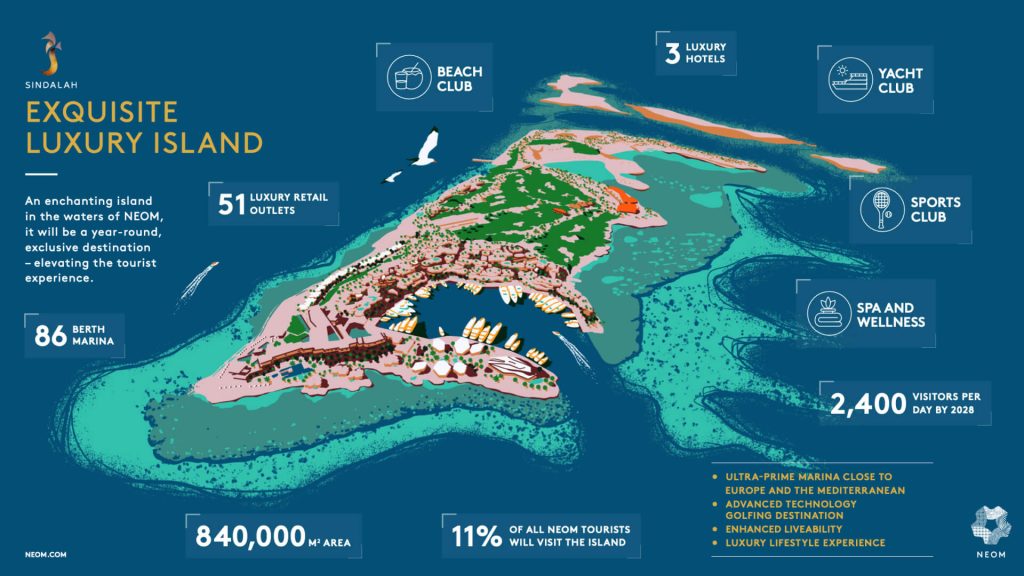 Sindalah will be NEOM's first luxury island and yacht club destination in the Red Sea. The scenic Red Sea destination will become the region's most exciting and attractive tourism location.
Travelers will experience maritime tourism and the unique beauty of Saudi Arabia reimagined in the yachting & luxury travel experience at NOEM and the Red Sea.
Berth Capacity
Sindalah, with a prestigious 86-berth marina, will change the international luxury yachting calendar. The new yachting marina has ideal accommodations for luxury vessels, with additional 75 offshore buoys to house superyachts.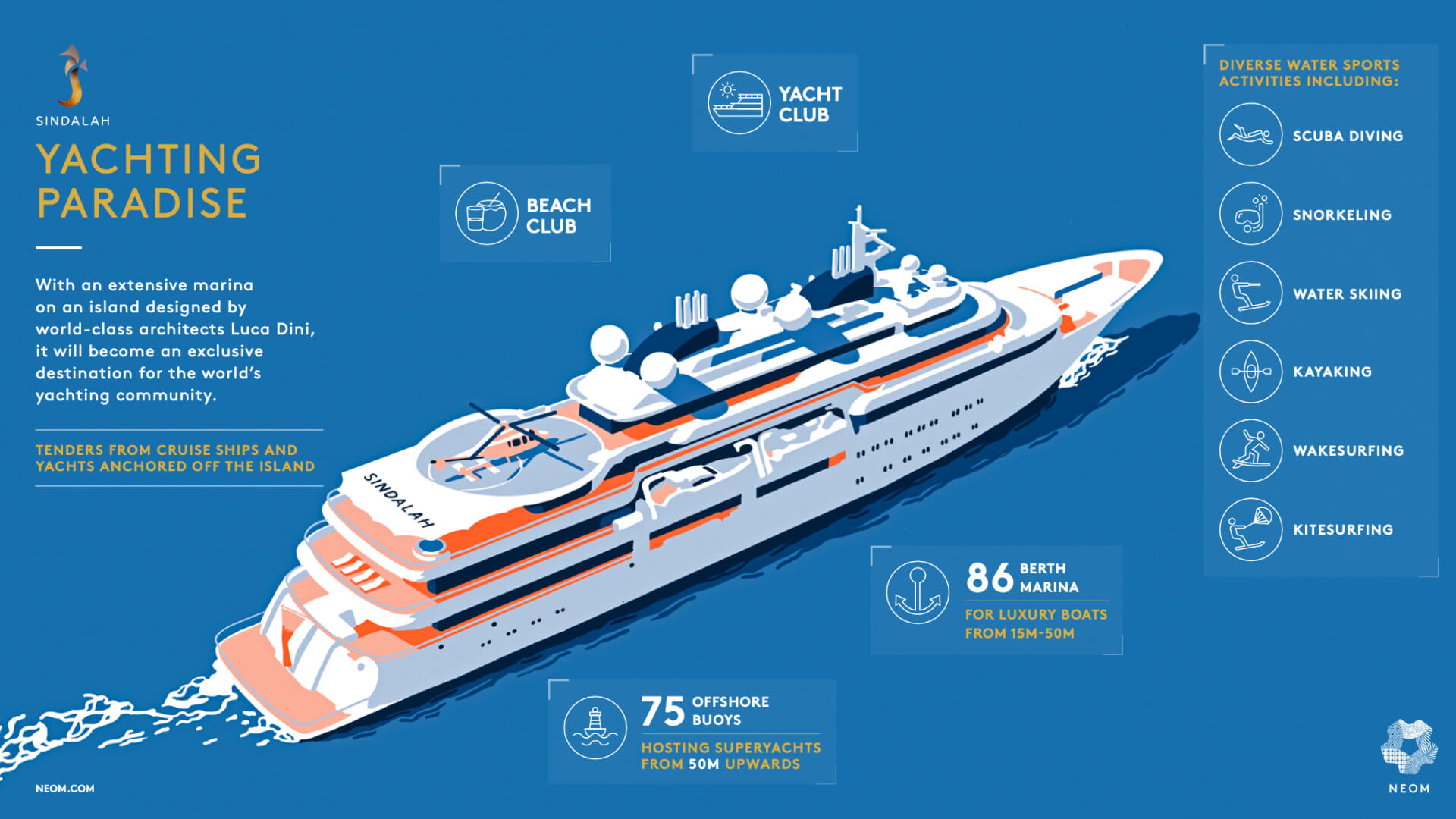 Hotels and restaurants
Near the thousand mark, the three luxury hotels at Sindalah will offer 413 luxury suites and hotel rooms, 88 villas, and 333 high-end serviced apartments.
The island will have a beach club, a yacht club, and 51 luxury retail outlets to keep landlubbers busy. Nine fine dining restaurants and three rooftop lounges offer 38 unique culinary experiences in the Red Sea.
Destination experiences
Strategic location, incredible amenities, state-of-the-art marine facilities, and natural landscapes will combine to make Sindalah the most inviting island in the Red Sea.
NEOM authorities are developing the island to exceptional standards—a holiday destination encircled by beautiful coral and a stunning environment full of diverse marine life.
Sindalah will also be popular with golf enthusiasts. The destination offers an 18 tees world-class 6,474-yard (5,920 meters) par 70 golf course.
Lifestyle, Entertainment, and Cultural Seasons of Sindalah, Saudi Arabia
Sindalah's seasonal calendar is filled with glamorous social galas and spectacular sporting events.
Social Season
December through February will be the extravagant and opulent 'Social season,' accompanied by music concerts and artful cultural events.
Glamour Season
The 'Glamour season' will run from March to May, then from October to November. It will coincide with the peak yachting season.
Active Season
The June to September 'Active season' is reserved for family-friendly beach and entertainment activities. This season coincides with the school holidays.
The Sindalah island is part of the Greater NEOM mega project. The mega project also includes THE LINE and TROJENA, the first outdoor skiing retreat in Arabia.