An effective business strategy for modern business is conducting surveys. These surveys may be for customer satisfaction or to determine the market's needs, but conducting such surveys has become imperative for growth in today's fast-paced world.
Conducting such surveys requires you to create forms, but the customers are unwilling to give their two cents easily. Your forms must be engaging yet accessible to make the customers want to fill them.
But satisfying everyone with a form isn't easy unless you use the brilliant tool that is Typeform.
Recommended: Top 10 Most Profitable Blogging Niches 2022
What Is Typeform?
Typeform is an online form-building platform that makes asking questions like a smoothly flowing conversation. It lets users build easy and captivating forms.
You can use this user-friendly form builder for creating interactive surveys with easy-to-respond questions. Although it is mainly used to make data collection or survey forms, there's more to this fantastic cloud-based tool.
You can also use it to design various forms like contact lists, shopping carts, quizzes, and much more.
How Does Typeform Work?
Typeform is very user-friendly and flexible. The interface has many tools that help you design captivating yet easy to work with forms. It is also well equipped to handle your collected data in spreadsheets.
Although many survey/form-creating platforms are available today, what makes Typeform different is the use of logic jumps to imbed multiple forms in one.
Recommended: How To Make Money Online With Affiliate Marketing – Top Ten Affiliates In 2022
Logic jumps let you create dynamic forms that can take users to other embedded forms depending on their answers to different questions. For example, if a responder selects
Male as the gender in the form, Typeform can direct them to a form with questions specific to their gender. The use of logic jumps thus makes the flow dynamic and enables form automation, thus better responses.
Key Features:
As said previously, Typeform is not just any run-of-the-mill form creating flatform. It has plenty of distinguishing features. Some of the key features that can help users understand Typeform better include the following:
Multiple Drag and drop design templates.
Unlimited forms and surveys.
Allows Hidden fields
128-bit SSL encryption.
Easy data export
Free API
Easy Integration with other applications.
Mobile and desktop are friendly.
Recommended: Hubspot 101: The Basics to Get You Started
How To Use Typeform?
Typeform is a very user-friendly platform. You can easily start by signing up on the website without needing to download any application since it is cloud-based.
The interface is designed like a simple notebook where you can type in your questions and follow them up with multiple choice answers so that the responders don't have to spend ages answering them.
Recommended: SendInBlue: Complete Digital Marketing Tools At Your Service
It also lets you choose the appearance of the slides with different colors and designs to add a mark of your brand to the forms.
However, users don't have to limit themselves to open-ended or multiple-choice questions. You can add images and much more to the forms to suit your specific needs.
Cost?
You can try out Typeform for free with very few limitations. But if you want an authentic taste of the platform, you can buy one of its plans. Typeform currently offers three plans.
Basic – 25 USD/month (for 1 user)
Plus – 50 USD/month (allows 3 users)
Business – 83 USD/month (allows upto 5 users)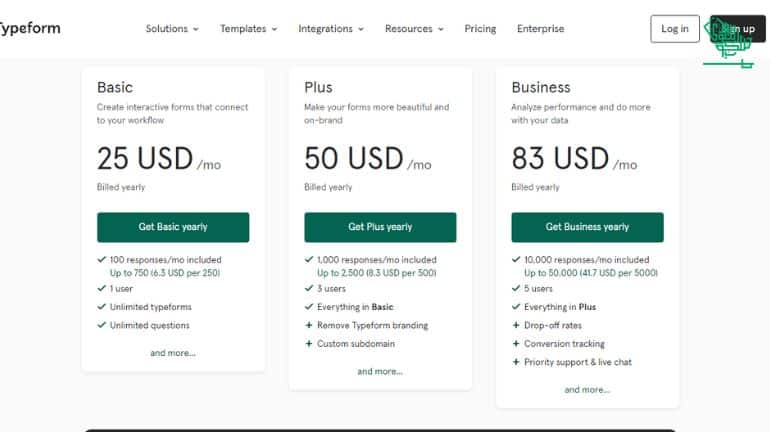 Recommended: How To Make Money From Home – 10 Proven Ways In 2022
If you choose to pay annually, you can also save up to 16%.