Habitas, a new brand in the hospitality industry, has launched Haitas AlUla as its first Middle Eastern property in Ashar Valley.
The mesmerizing landscape of AlUla, with its sandstone cliffs and historical ruins of Hegra, attract tourist from around the globe.
Habitas is a sustainable hospitality brand. It ensured the new hotel, launched in November 2021, preserved the natural balance so endearing and vital to the region.
Recommended: Banyan Tree AlUla: A Stunning New Desert Resort In Saudi Arabia
The Ashar Valley is an oasis within the canyons, and Habitas AlUla offers a grand luxury Getaway from mundane city life. It is a gateway to breathtaking natural settings in the desert and ancient cultures.
Villa with a view
The picturesque property, surrounded by sandstone cliffs and palm groves, features 96 sustainably designed guest rooms that depict the Ashar Valley's nature.
The three residential categories offer different views and senses of the experience. The premium Celestial Villas offer the most spacious living quarters with an outdoor terrace for an evening of stargazing.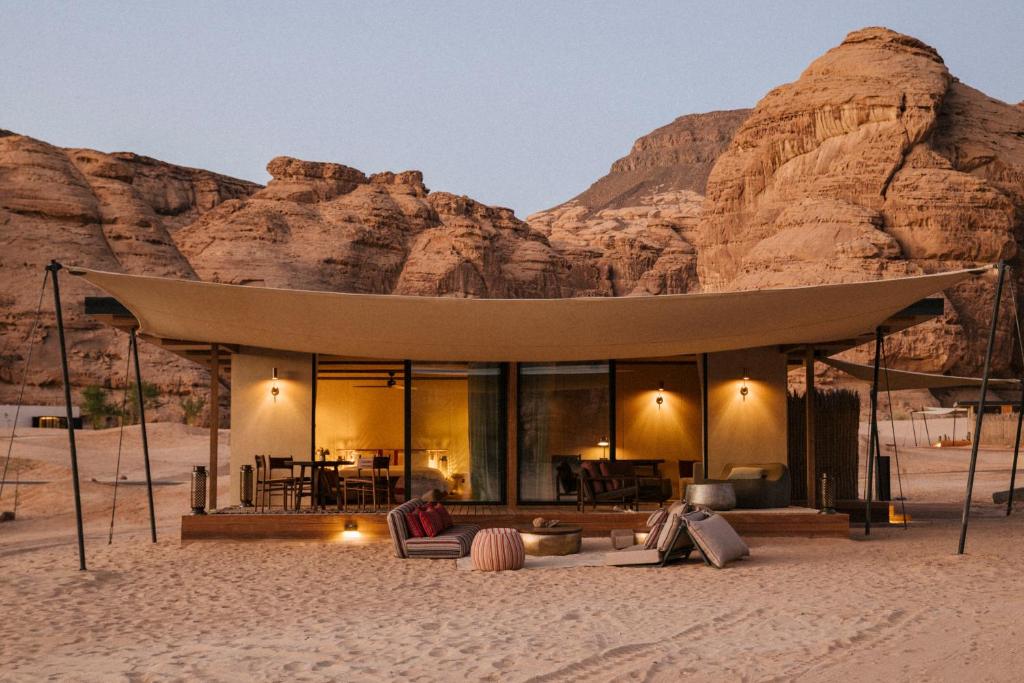 The Alcove Villas in the AlUla canyons are surrounded by breathtaking cliffs and bathed in ochre-red sunsets in the evenings.
Recommended: The Iconic Faena Luxury Resort Is Coming To The Red Sea
Activities
Cliffs and the ever-spreading view of the desert surround the natural wonders of the Canyon Villas in the Ashar Valley.
The modular hotel has a yoga deck, a swimming pool, wellness, and fitness centers. Its restaurant Tamar uses the freshest ingredients from local farms and offers a fusion of Saudi and other Middle Eastern cuisines.
Sustainability is fundamental
Habitas AlUla is environmentally conscious, as evident in the ethically-sourced organic construction materials used in the project. The villas blend into their surroundings, making the project appear a part of nature.
Expand your horizon
The unique Habitas model completes the experience and centers the hotel around organized activities.
Habitas AlUla's authentic experience lies in the destination's local culture and the natural environment. The brand bases the experience it offers on six programming pillars: music, wellness, adventure, culture, learning, and culinary.
Recommended: Here's How To Save 25% On Your Upcoming Dream Vacation
The Experience
The hotel offers guests yoga, meditation, breathing exercises, art and culture walks, and canyon trekking. There is live music, weekly outdoor screenings of regional films, and cultural documentaries.
There are lectures on local initiatives, culture, and history and a guided walk through the remains of an ancient Nabatean city.
Habitas AlUla, Ashar Valley, AlUla.
Room rates start from SAR2,250 per night.
Visit: OurHabitas.com