Five exciting things to do in Jeddah this weekend. Jeddah this weekend has all-you-can-eat brunches, new cinema releases to dodgeball on a trampoline. Here's our list of what's best in Jeddah this weekend.
September 15, Thursday
The new movie this weekend 
The weekend kicks off with a Julia Roberts and George Clooney starer new romantic comedy, Ticket to Paradise.
The September 15 release has Julia and Clooney play a divorced couple who travels to Bali to keep their daughter from repeating their mistake 25 years ago.
The film opens on Thursday at 11 pm at the Red Sea Mall Vox Cinema. The cinemas are also playing a Korean spy movie, Mission Possible, and a horror flick, Jeepers Creepers Reborn.
Vox Cinemas, Red Sea Mall, Jeddah 21146. ksa.voxcinemas.com
September 16, Friday
Traditional morning Adani tea at the Adani Bar
Have you heard of or tried Adani tea? It's a local favorite, particularly by the Yemenis. The tea is made with black tea leaves, condensed milk, sugar, cardamom pods, and cloves.
The traditional menu at the Adani Bar, Al Rawdah district, will make you feel nostalgic with its traditional yet modern interiors.
Try their tuna toastie (SAR22) if you are hungry and a traditional Basboosa for something sweet (SAR26).
Park Hyatt Friday brunch with a view of the sea
Andalusia's Friday brunch; bring your family to four hours of family fun for SAR299 per person.
It's all-you-can-eat-buffet chocolate fondue with lots of activities to keep the children busy and chocolate fondue.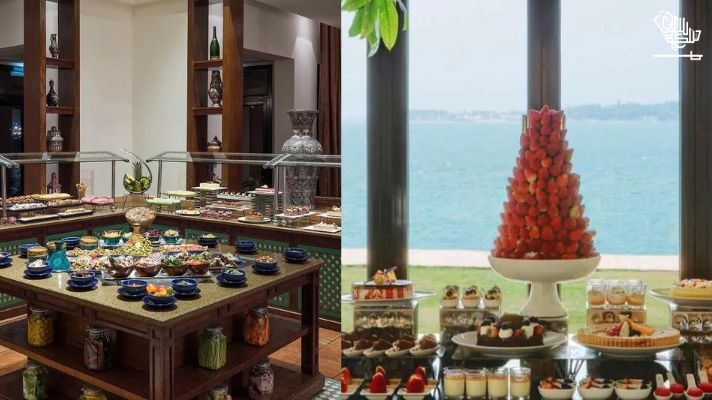 With its serene sea views, the Andalusia restaurant is known for its international Mediterranean, Asian, and Arabic cuisine menu.
September 17, Saturday
Forget your gym, dip, dive, duck, and dodge at BOUNCE.
Who needs a gym anymore? Bounce indoor trampoline park is a freestyle playground and training camp for all. For toddlers, teenagers, professional athletes, and families.
The park has a slam-dunk area, free-jumping, performance trampolines, dodgeball, and even an obstacle course—a fun way for the family to burn calories.
Fine-dining at Nobu
Nobu is well known for its Asian fusion cuisine and stunning locations. Nobu is one of the world's most popular fine-dining restaurants.
The Jeddah corniche Nobu brings an elegant and laidback feel with its serene view of the sea and signature dishes of black cod miso and Wagyu sliders.
Nobu is unlike an average restaurant; it is a sophisticated dining experience, a taste of Japan at Corniche Jeddah.