Enjoy Top Six fun activities for this weekend in Jeddah. Our calendar of fun events throughout the city, such as a 12-hour music festival, a ladies' day, and guided painting lessons, is the perfect way to cap off your week.
We've got you covered if you're looking for the top weekend fun activities in Jeddah.
November 10, Thursday
Attend the Aramco Team Series finale to take part in all the action
From Thursday, November 10 through Saturday, November 12, in King Abdullah Economic City, the Royal Greens Golf and Country Club will host the last leg of the prestigious women's golf competition, Aramco Team Series 2022.
Several family-friendly events will take place, including live music performed by regional musicians, food and drink, the Kingdom's first-ever night golf tournament, and a fan-focused activity area.
Recommended: What to expect in Jeddah for the Aramco Team Series finale
As well as the chance to watch some of the world's best golfers compete for the fifth championship trophy.
Thursday, November 10 to Saturday, November 12.
Royal Greens Golf and Country Club in King Abdullah Economic City.
Register online in advance. aramcoteamseries.com / @aramco_series
Visit Locals Café to read, eat, and unwind
This cozy, pet-friendly café features secondhand books to browse while sipping coffee and enjoying a croissant in the mornings.
Visitors can purchase books from the library, which is maintained by the Monochrome Bookstore, to give them a second chance.
The restaurant's doors open at 7 am, and its menu includes grilled sandwiches, avocado toast, and freshly baked cookies.
7 am to 11 pm.
Locals cafe, Ibrahim Al Jaffali, Al Andalus, Jeddah 23326.
November 11, Friday
Get down at this all-day celebration
This weekend, a stellar lineup of DJs will perform at KAEC for a 12-hour celebration. For this 12-hour event, which will take place in Juman Park, DJs including Vinyl Mode, Dish Dash, BKR, and Eagles and Butterflies will serve at the turntables.
Recommended: The World Cup Opening Ceremony Will Include DJ Loush
Tickets start at SAR 295 and go on sale online on Friday at 3 pm.
Friday, November 11. 3pm-3am.
Juman Park, KAEC, Jeddah.
At Entrecôte, savor authentic French steak fries
Four entrecote steak varieties are available at the Paris restaurant, serving fries, salad, and the renowned butter sauce.
Entrecôte Relais De Paris,
Al Hamra District, Jeddah.
November 12, Saturday
Bring out your creative side
A workshop on facial features is being held this weekend by creative art design RJ Design Jeddah. All skill levels are welcome.
Recommended: A Travel Guide For The 2022 FIFA World Cup From Saudi Arabia To Qatar
Artist Manal Mashat will lead the session and instruct you on distinguishing various tools and their functions, extracting different color grades, understanding light and shadow, and utilizing multiple coloring styles.
Each individual must pay SAR 150 for the session.
6 pm-9 pm. November 12.
Al Naeem, Jeddah.
12 years and above. SAR 150.
Tel:(0)552363938.
Ride a bicycle along the beach
Ride your bike around Jeddah's waterfront while enjoying the stunning views and artwork. The 4500-meter-long sports track is ideal for a leisurely jog or bike ride while soaking up the sunshine and sea wind.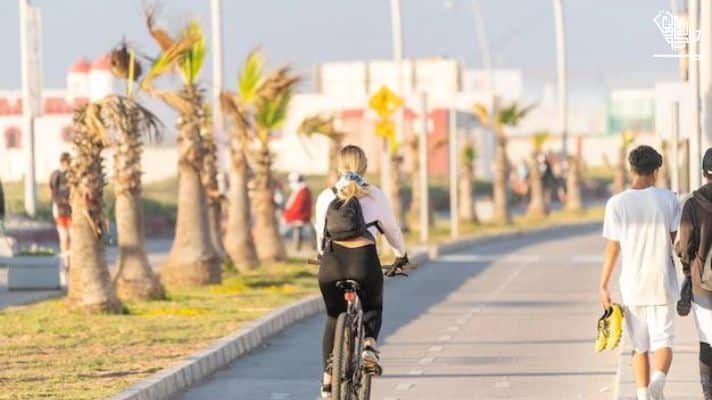 Recommended: Enjoy A Winter Beach Vacation At Dubai's Th8 Palm Jumeirah
The individually or collectively equipped, vividly colored light bicycles can get rented quickly.