Riyadh – Diriyah Gate Development Authority the DGDA unveiled its vision for Diriyah Square; the commercial heart of its SR190 billion ($50 billion) Diriyah giga-project on Wednesday the edge of Riyadh scheduled to be open by 2024.
Diriyah Square masterplan brings together over 450of the world's finest retail brands and a hundred authentic local Saudi artisan souks.
The district offers leisure and entertainment, ultra-luxurious hotels; and a modern lifestyle within a heritage destination rich in its culture and with a promise.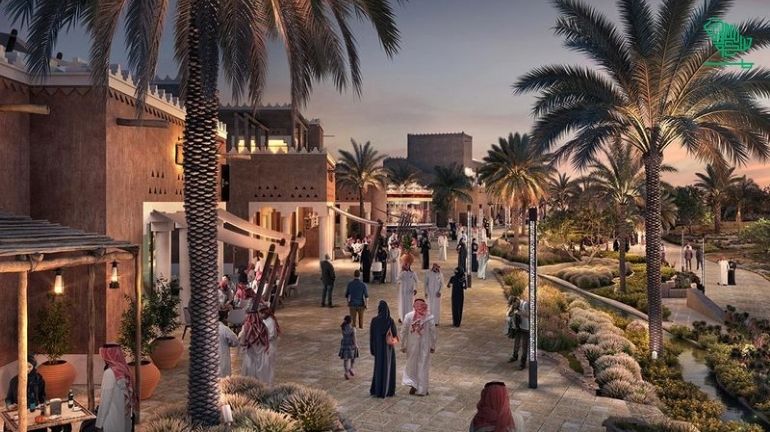 Historically, Diriyah is the Birthplace of the Kingdom; the site of the First Saudi State, and built around the UNESCO World Heritage Site of At-Turaif.
Diriyah Square is a non-contemporary destination, breaking the rules quo to set it apart from the traditional retail landscape.
The Diriyah Square project has Najdi-inspired architecture and design on a never-before scale. The design inspiration ensures the immediate recognition of the project while remaining true to the Kingdom's heritage and vision.
The square, scheduled to open in 2024, is at 15 minutes drive from Riyadh's city center, with a lively Najd village set in a walkable city.
Read more about: Nature's Magic: Top 5 Tourist Attractions in Al Bahah
Diriyah Square brings together a rustic; predominantly open-air, authentic streetscape of inviting laneways, open-air courtyards, and souks to deliver a thriving day; and nightlife and economy and carrying within diverse experiences for locals and tourists to make life long memories.
Jerry Inzerillo, Group CEO, DGDA, commented: "The development supports the Kingdom's Vision 2030, a roadmap drawn up by Crown Prince Muhammad bin Salman to create a vibrant society and thriving economy."
Construction on Diriyah Square is expected to be completed ahead of the announced 2024 opening.