Jeddah — The Founding Day logo is the nexus of the national event and embossed on everything associated with the new holiday; from major events to smaller festivities in every city around the Kingdom.
Ancient manuscripts chronicling the events of the first Saudi State inspired the design ethos.
"For this national event, the inspiration was drawn from the Kingdom's history, and what better way to communicate heritage than through the lens of the historical archives? "— The official brand book for the Founding Day.
The five prominent symbols in the Founding Day logo represent the Saudi State's central values and figures; The flag that appears in the middle of the logo for a man carrying the first Saudi flag; and refers to the heroism of Saudi men.
Recommended: Saudi Arabia Celebrates Three Centuries of Glorious History on Founding Day
As for the date palm, the source of one of the most important foods and a national product linked to the history of Saudi Arabia; in the motto, it means generosity, life, and growth.
The Arabian horse also appears in the logos as an expression of Saudi princes' heroism and chivalry. The Majlis (Council) symbol indicates unity and societal, cultural harmony. The Souq (Market) refers to economic mobility, diversity, and openness to the world.
Moreover, the falcon, Arabic calligraphy, traditional architectural decorations, and the Saudi coffee cup are also essential icons.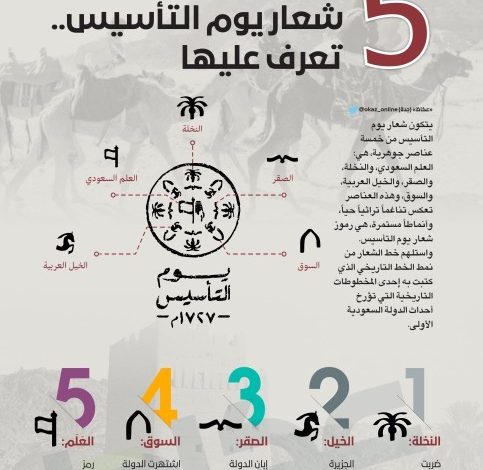 Recommended: 11 Options for Celebrating The Saudi Founding Day
And even the colors associated with the day represent different themes; for example, the primary is Clarity and Determination. At the same time, the secondary colors are Generosity, Knowledge, Persistence, Warmth, Land, Pride, Creativity.
The inspiration for the "Foundation Day -1727" font are the numerous manuscripts documented in the history of the First Saudi State since 2/22/1727AD.