Table of Contents
Ex-pats living in Saudi Arabia were always allowed to host limited people on a family visa, including their spouses, parents, or children. The people coming to the Kingdom on Umrah or Hajj visas had their travels limited to the holy cities.
Saudi Arabia has always been a reserved country. It always allowed minimal travel opportunities to its visitors, mostly limited to the sacred pilgrimages of Hajj and Umrah. It was unimaginable for anyone to visit Saudi Arabia without an Umrah or Hajj Visa.
To go to the Kingdom of Saudi Arabia to experience its beauty and cultural heritage was previously unthinkable.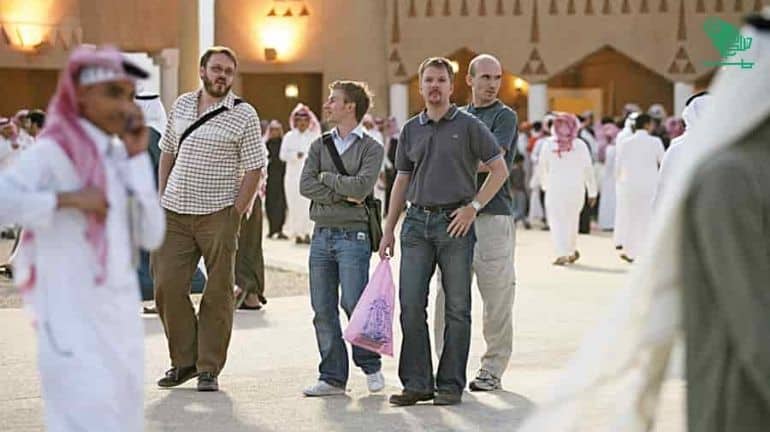 However, during the past few years, the Government of Saudi Arabia has made many efforts to increase travel and tourism to the country. In line with these efforts, It has launched a Host visa for its citizens and expatriates.
What Is A Saudi Host Visa?
The new Saudi Host visa introduced for Saudi citizens and Saudi ex-pats living and working in KSA allows them to host people under their sponsorship for up to 90 days.
The Visitors have no travel restrictions and can also perform Umrah on this visa or use their time in the Kingdom to explore its beauty and culture. This visa has a one-year validity period.
Recommended: Iqama, Re-Entry, and Visit Visas Validity Extended until March 31
How Many People Can One Host At A Time On This Visa?
Under this new visa system, Saudi citizens or ex-pats can host and sponsor three (3) to five (5) people to the country. 
Can Saudi Citizens And Ex-pats Bring Anyone Under This New Saudi Host Visa?
Saudi citizens can host anyone they want to bring inside the Kingdom of Saudi Arabia under this visa. However, as far as ex-pats are concerned, they can only bring close relatives, but the list is longer than the ones allowed previously. Now ex-pats can sponsor:
Wife/ Husband
Children
Parents
Parents-in-law (Spouse's parents)
Brother and his family (wife and children)
Sister and her family (husband and children)
Sister-in-law (spouse's sister)
Brother-in-law (spouse's brother)
Grandparents
What Is The Cost Of The Saudi Host Visa?
The host visa for one person costs SR 500 or 133 USD for one year of validity.
How Many Visits Are Allowed To The Visa Holder On Host Visa?
Under the New Host Visa, Saudi ex-pats citizens can apply for the Host Visa for the same person at least three times a year after issuing a separate visa for each visit through Absher.
Where Do The Guests Visiting On a Host Visa Stay?
The host is responsible for taking care of their guests until they depart from the Kingdom. However, this visa allows the hosts to entertain their guests without any restrictions. The guest can stay with the host or in hotels or furnished apartments.
How To Apply For The Saudi Host Visa?
The host visa is merged with the family visit visa. You can apply for it like a family visa through the Ministry of Foreign Affairs of Saudi Arabia's online portal.