Since travel restrictions have been lifted, many ex-pats living in Saudi Arabia who have been dying to unite with their families have started to move about.
Like other Gulf countries, Saudi Arabia is also known for its excellent quality gold at relatively low prices. Consequently, many people buy gold from Saudi Arabia to return home.
However, Saudi Arabia limits how much cash or gold you can take back home without declaring. If you plan to return to your home country with money or gold from Saudi Arabia, this article is for you.
How Much Cash/Gold Can You Carry From Saudi Arabia?
Article 23 of the Anti-money Laundering Law of Saudi Arabia issued by the Royal decree (M / 20) dated 05/02/1439 Hijri states that one can only carry cash or gold amounting to SR60,000 (16,000 USD).
This amount is for every trip out of the country. Any amount exceeding this value is subject to a declaration at the Saudi customs.
Failure to declare the excess amount one carries can result in heavy penalties and jail time. However, Saudi authorities assign this limit to the whole family traveling together.
Recommended: Saudi Gold And Its Authenticity
Cash Or Gold Carrying Limit To Other Countries
Different countries allow you to enter with variable amounts of cash or gold. Consequently, bringing in amounts exceeding the limit of the country you join can also land you in trouble.
Although Saudi Arabia allows passengers to carry cash or gold amounting to SR60,000, one should always check how much the country allows where they travel.
Carrying Cash and Gold Limit For India
Indian females can bring jewelry worth 100,000 INR (SR 4,920 approx). However, males can only bring jewelry amounting to 50,000 INR (SR 2,460 approx) into the country.
The Indian authorities alot this value to every person in a family. You must note that this value is limited to gold jewelry only.
If you carry gold bars/coins to India, you will be subject to a customs duty of about 10.3 percent. However, Saudi Customs allows you to take SR 60,000 (16,000 USD) out of the country.
India only allows you to bring in cash amounting to 5,000 USD, and you must declare any excess amount at the Indian customs.
Carrying Cash and Gold Limit For Pakistan
According to Pakistani Customs, passengers can bring foreign currencies to Pakistan without any limit. A traveler can bring any amount of foreign currency to Pakistan.
However, the State Bank of Pakistan has allotted different cash values for outbound passengers concerning the individual's age. Passengers up to 5 years of age can take cash amounting to 1,000 USD.
Those under 18 but above five can take 5,000 USD with them. Similarly, all passengers above 18 can carry cash up to 10,000 USD with them to any foreign country.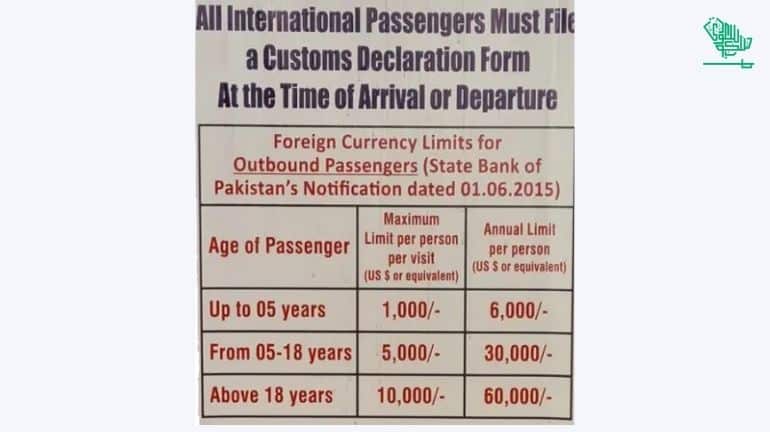 How To Declare Excess Cash/ Gold At Saudi Customs?
To carry cash or gold exceeding the value of SR 60,000, one must declare it to Saudi customs.
To claim the excess amount, you should download the Saudi Customs declaration form, fill it and submit it at the Saudi customs office at the airport.
The customs officer can ask you questions about this amount and sometimes demand proof of the legal earnings of this money in Saudi Arabia.
Result Of Failure To Declare The Excess Amount Of Cash Or Gold At The Customs
If you fail to declare the excess amount you are carrying out of the Kingdom of Saudi Arabia, you can land yourself in serious trouble. A legal investigation was launched against you.
The punishment for being caught with amounts exceeding the limit set by Saudi authorities without declaration includes:
Seizure of the entire amount you are carrying.
A fine of 25% of the value of the quantity seized for the first time.
A fine of 50% of the seized amount on the repeated violation.