An old bookstore is like a warm grandma hug you get when you visit her on the weekend. Just like that, a bookstore you have been visiting since childhood gives you a safe, happy place kind of feeling.
Like your grandma never runs out of kisses and candies, an old bookstore always has the latest trends and genres of books and magazines to comfort you.
Jarir Bookstore in Riyadh is the oldest one in Saudi Arabia. Abdulrahman Naseer Al Agil established the bookstore in 1974. They are known for being a retailer and a wholesaler of products. 
What does Jarir Bookstore sell?
Earlier, this bookstore dealt with different art forms sold by ex-pats and, of course, selling books. With time, they expanded and now have grown as one of the largest retailers of electronics and books. 
If you want to grab any of your top 10 books to read on your list, you head to Jarir.
Furthermore, they deal with a huge variety of stationery items and supplies for schools and offices. Moreover, educational aids, mobile phones and accessories, arts & crafts, children's toys, and photography tools.
What is Jarir famous for?
Jarir is a market leader in bringing all the most-sold-trending products to one place. They expanded with time and accommodated the selling of the demanded goods and, above all, who required trusted seller assistance. 
It's easier to buy smartphones, electronics, accessories, and other costly gadgets from a trusted old seller who has been in the market for generations. Besides, their installment plans and discount offers make it easier to invest.
Recommended: Best Discount Codes In Saudi Arabia
What are the discounts available at Jarir?
Jarir bookstore is very rewarding when it comes to first-order welcome offers, discount cards, gift certificates, and Jarir rewards. 
Starting with the welcome discounts, you can put an off code on your way to checkout and avail up to 20% off. This 20% off applies to Arabic and English books, Arts & Crafts items, kids' development, and school and office supplies. 
Jarir Discount Card
This loyalty program can also be availed online and at Jarir showrooms. The discount cards are available at Jarir retail stores.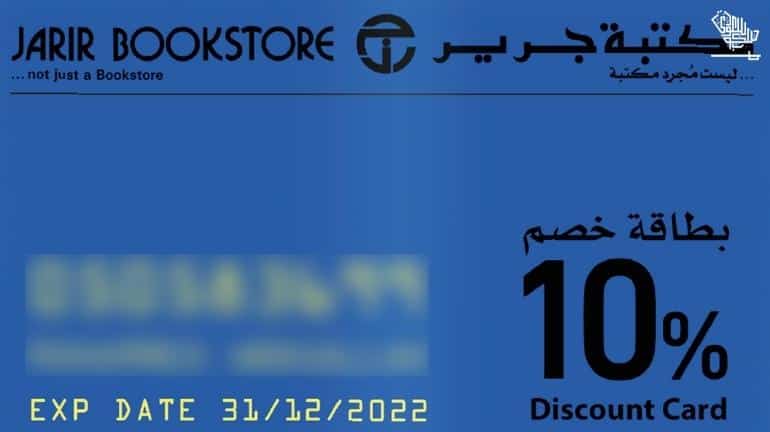 You can also apply through the Jarir App (Google Playstore, Apple App), fill out the digital application after making an account, and wait for the SMS and email notification. 
Once you do, your card will be activated, and you're ready to enjoy the perks with the validity for up to 3 years!
Benefits of Jarir Discount Card
Instant 10% off on all your books, computer bags, arts & crafts, office supplies, and school stationery.
Exclusive deals and discounts for cardholders on selected Smartphones and accessories, Laptops, and Tablets.
Jarir Discount Exclusive
A 25% discount can be availed on Arabic and English books, exclusive to cardholders only. You can avail of it by inputting an 8-digit code at checkout. 
*Terms & conditions apply.
What are the gift cards and vouchers offered at Jarir?
E-gift certificates are available along with E-vouchers online. Different brands have vouchers you can avail yourself of on purchasing a specific product, but they help you save a lot. 
E-Gift Card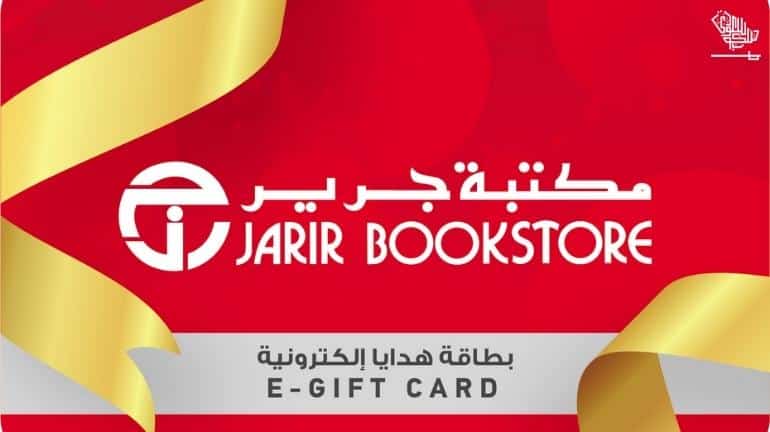 Too lazy to visit the store and confused about what would be the ideal gift? Well, say no more! Jarir Bookstore got you covered with their one-time use gift cards. 
Available for SAR50, SAR100, SAR300, SAR500 & SAR1000.
You can avail of it both in the showroom and online.
How to avail installment in Jarir Bookstore?
Easy installment plans and flexible payment periods are some of the best services you can get while buying a product. The best part is you apply according to the payment duration that suits you and get instant approval with no down payment.
Quara Financing makes these installment plans possible for all customers!
You can do a minimum transaction of SAR 2500 and a maximum transaction of SAR 30,000.
Installment plans are available at all Jarir Bookstore showrooms.
The payment period is as long as 36 months for you to stay on a budget and enjoy.
To avail of a 0% installment, customers must purchase orders on a single invoice.
*Terms & conditions apply.
Does Jarir bookstore deliver?
Yes, they do deliver on the working days.
Free shipping
When your orders exceed SR 200, you don't have to pay for delivery; free shipping is!
*Please note that delivery fees will increase by SR 2.10 for every additional 1kg if the order exceeds 15kg shipping weight.
Next Day shipping
Did you not place an order before 5 p.m. and still want your delivery sooner?
That's fine because if not the same day, you can get your order the very next day if you have a Jarir showroom in your city.
*Kindly review the product's delivery date while checking out for the same-day and next-day shipping orders.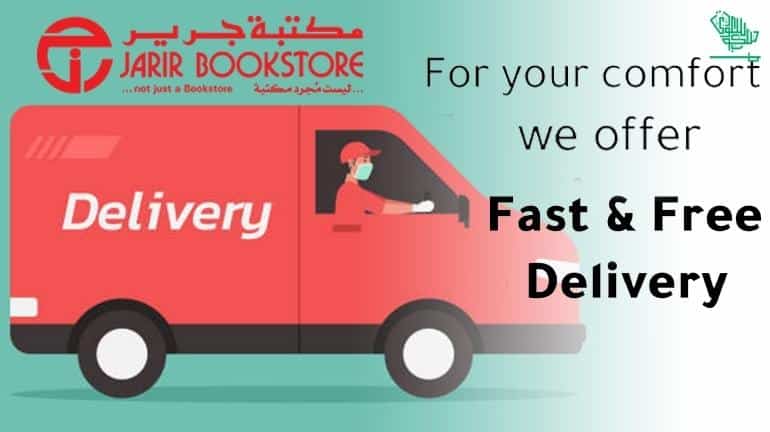 Same Day shipping
Do you have a Jarir showroom in your city? If yes, you can avail of same-day delivery if you place an order before 5 p.m. 
Currently, Same-day shipping is not applicable on large orders.
2-10 Days shipping
If you don't have a Jarir showroom in your city?
Well, you need to visit online and order away from one of the leading retailers.
The orders are delivered within 2-10 working days.
*Note that the delivery speed depends on various factors like the size of the order, customer's location, shipping company, weather situation, and workload.
Jarir aims to provide quality services and achieve customer satisfaction. In case of delivery delays beyond 15 days, they also promise cancellations and refunds of orders.
Enjoy your shopping experience at Jarir!