Riyadh: A Saudi man established a first-of-its-kind marine museum on Farasan Island in the Jazan region.
Zaylai AlZaylai used special tools to mummify marine creatures, including fish and turtles, in addition to sea crustaceans. He revealed that the material comes from particular trees on the island.
In an interview with Al-Arabiya.net, AlZaylai revealed his love for the sea blossomed after his retirement. He traveled with fishermen and lived with them in the water for about 20 days, learning to swim, fish, and do other activities. This adventure influenced him to build the museum.
Recommended: Dubai's New Museum of The Future is The Most Beautiful Building on Earth
AlZaylai said he began collecting marine artifacts about 16 years ago, pointing out that he bought some of them from fishermen and later cleaned and mummified them with the help of his wife.
He also used seashells and sea snails to design decorations and models to decorate the museum.
A Place of Great Attraction
AlZaylai stated that his museum now attracts people from within and beyond the Kingdom. His fame has reached as far as Italy. AlZaylai confirmed that he had given a television interview on one of the Italian channels about his museum and how it came to be.
AlZaylai said his museum had 10,000 articles of fish, shells, and crustaceans on display. He emphasized that 90 percent of the museum's components were from the Red Sea, which he claims is not comparable.
Recommended: Top 10 Online Platforms to Enter The Era of Online Learning
He pointed out that the museum also contained a mummified turtle. Italian scientists have reviewed the turtle and confirmed that it is 300 years old. The turtle is a species that can live for 1000 years.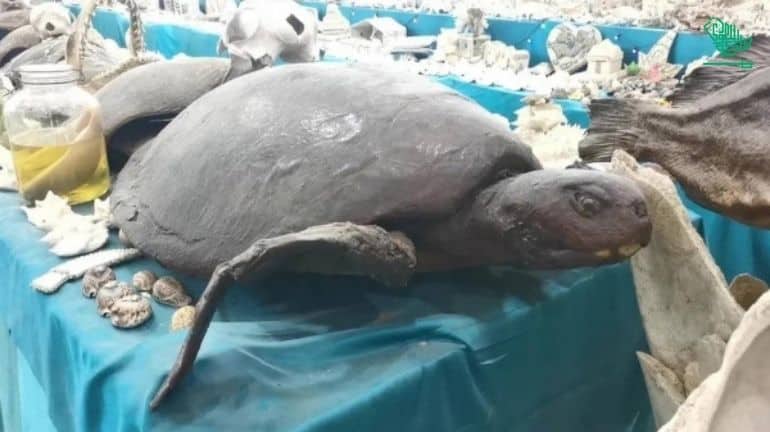 However, he declined to reveal the embalming substance he uses, only that, it comes from trees on the Farasan Islands.