Visa Facilitation Services Global or 'VFS Global' is a global consulting and technological services firm. It works with authorities and foreign embassies all over the world. The organization handles specialized activities relating to passport and visa issuing for its clients.
VFS Global serves the objectives of 63 client nations. Since its establishment in 2001, the firm has successfully handled over 234 million registrations and 102.79 million fingerprint-based enrollments.
Vfs Global Riyadh Location
As a commercial company, VFS Global has thousands of application centers across 5 continents, serving the interests of 68 client governments. Out of these application centers, 4 are found in Saudi Arabia. One in Al Khobar, one in Aramco Dhahran, another in Jeddah, and the last in Riyadh.
The exact address of the Riyadh VFS Global application center is Joint Visa Application Centre, 2nd Floor, 2591 Hada District. This is beside Courtyard by Marriott Hotel in Riyadh, Saudi Arabia and opposite the Diplomatic Quarters Gate 2.
Google maps address
Vfs Global Riyadh Working Hours
When it comes to governments and diplomatic missions, VFS Global is the world's largest visa outsourcing and technology services specialist. In fact, since its inception in 2001, the company has successfully processed over 264 million applications.
Such a successful company needs established working hours to make work efficient and manageable. Riyadh's VFS Global application center is active from Sunday to Thursday, 09:00–17:00. But different services have different working hours.
The timings for Jeddah, Riyadh, Jubail and, khobar are:
Business Hours = Sunday to Thursday, 09:00-15:00
Passport collection = Sunday to Thursday, 09:00-17:00
Walk-in hours = Sunday to Thursday, 09:00-15:00
Passport collection for groups: Sunday to Thursday, no working hours
Services Offered By VFS Global Riyadh 
VFS Global employs its services to make your visa application process as simple and quick as possible. Some of these services are:
Form-Filling Assistance: Visa Application or Call Centre help you complete and submit your visa application.
Certification Service: Certification or endorsement services allow you to submit certified photocopies instead of original documents.
Courier Service: Provides the option to deliver your passport and documents.
SMS Service: Real-time notifications on your visa application's progress.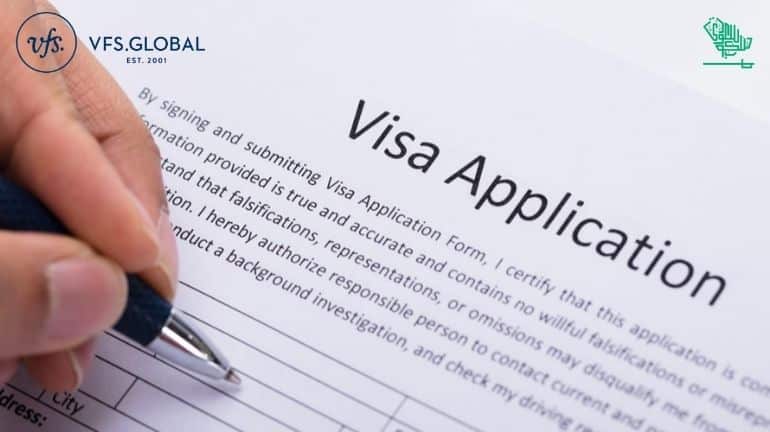 Read more about: Digital Iqama: All You Need To Know
Where can I find VFS Global in Saudi Arabia?
VFS Global can be found in Jeddah, Riyadh, Khobar, and Jubail. Some cities have multiple offices, and the locations, timings, and contact details of these offices are listed below.
1. VFS Global Jeddah
Address: Al Muhammadiyah District, 8582 Suwaid Bin Sakher, Al Muhammadiyyah District, Jeddah 23623.
Timings: 9 am in the morning to 5 pm in the afternoon.
Contact: 920001523
2. VFS Global Riyadh
Address: Umm Al Hamam St, 1st Floor, Dove Plaza, Hyper Panda 4406, Rizwan 6554, Riyadh 12322
Timings: 9 am in the morning to 5 pm in the afternoon.
Contact: 9200024250
3. VFS Global Khobar
Address: 7639 Mohammed Alfateh Street, Ar Rajah Al Janubiyah, Al Khobar 34226.
Timings: 9 am in the morning to 5 pm in the afternoon.
Contact: 0508188897
4. VFS Global Jubail
Address: Al Madinah Al Munawwarah, Jubail City Center, Al Jubail 35514 7683.
Timings: 8:30 am in the morning to 5 pm in the afternoon.
Contact: 0114080366
How to Get a Vfs Global Riyadh Appointment?
You can book an appointment with VFS Global Riyadh online, via email, telephone, web chat, or even in person. For online, you must create your own login credentials and schedule. For email, use the web form. The chat lets you directly contact a contact center agent.
You will be asked for some Personal Information. Do not give any more than required. This will also require a consent form. Once your appointment is booked, you'll get an appointment letter covering the date, time, location and more for the appointment.
Process of Vfs Global Passport Renewal
Let's assume you want to renew a UK passport; make sure to research the type of passport you need and its eligibility criteria, required documents, and fees before you start. Once that's done, download the application form, fill it, and print the complete form. Bring it to an application center in Riyadh for submission. You don't need a prior appointment for this.
After you submit your passport renewal form, required documents, and fees, you can track the application process via email, SMS, or your receipt's Reference Number. When your new passport is ready, visit in person with your original receipt and old passport to receive it. 
What is VFS TasHeel?
VFS Tasheel is a subsidiary of the VFS Global Group and is fully owned by them.
VFS TasHeel is also the officially authorized visa and passport consulate partner for the Ministry of Foreign Affairs. They are offering their services in thirty countries across four continents as of right now. TasHeel was established in 2012 and had its headquarters in Dubai, United Arab Emirates.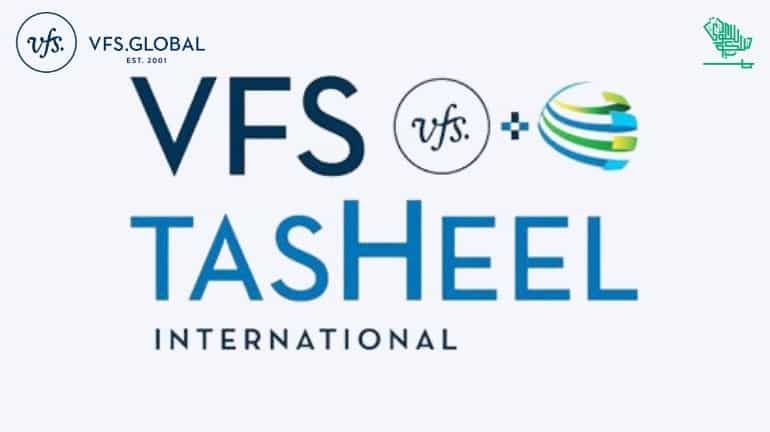 Why do I need VFS TasHeel service?
It's an excellent question to ask. If you plan on traveling anywhere outside the Kingdom of Saudi Arabia, you must do so through the proper channels. This is to ensure appropriate compliance with rules and regulations. For that purpose, you require the help of a visa consulate. The purpose of a visa consulate is to get you permission to visit foreign countries. As such, you need to make use of the VFS TasHeel service.
If you are a resident in Saudi Arabia, you need to visit one of the offices based in one of the following: Jeddah, Riyadh, Khobar, or Jubail. They will help you apply for the visit visa of many countries, including Schengen countries, the United Kingdom, the United States of America, Australia, and Canada.
Let these organizations do all the heavy work while you sit back, relax, and plan your next move. Once you experience how smooth they make the entire process, you will realize, as many other clients, that you have indeed spent your money well.
FAQs
How long does passport renewal take?
In Saudi Arabia, Passport renewal takes about 6-8 weeks following encoding at the embassy. Once your passport is ready, you can either pick it up yourself or have Vfs Global deliver it to you.
What is the application cost for a Canadian visa?
An individual Canadian Visitor visa costs about 280 Saudi Riyal per person and lets you stay in Canada for a maximum of six months. You'll have to pay an additional 280 Saudi Riyal to extend your visa.
How much does a visa for the UK cost?
A short-term UK visit visa costs 485 Saudi Riyal and lets you stay in the UK for a maximum of six months. If you need to stay longer, you can apply for a longer visit visa costing more.