What is Samba Online?
Samba Online is the name of their online banking portal, thereby being one of the ways you can bank with Samba Bank Limited. Some benefits of Samba Online include:
It is secure and safe, and none of your privacy is breached.
You can pay bills online. No more waiting in line at the bank, and no need to worry if a deadline is creeping up on you, but you can't make the time!
Manage your Credit Cards, eStatements, and Personal Finance.
SMS alerts and SMS banking. You can avail yourself of the ease of SMS banking in case your Wi-Fi acts up.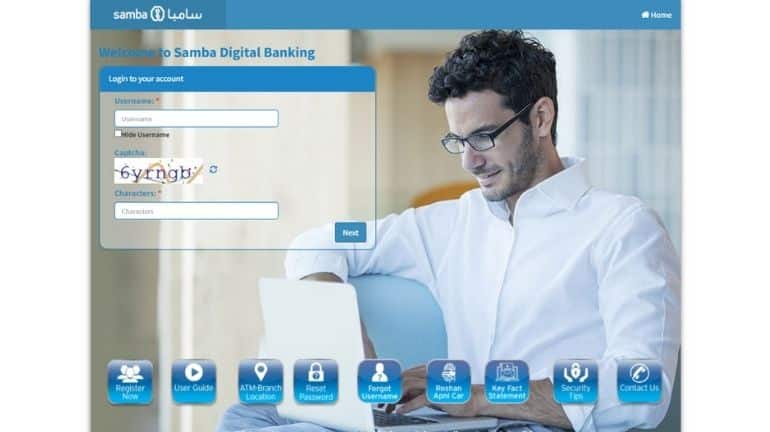 How do I Log into My Samba Mobile?
Samba Mobile is the easiest and fastest way to perform monetary transactions from the comfort of your phone. You can conveniently bank using your mobile. To do so, follow the following steps:
Download the Samba Mobile application from the relevant application store for your device (App Store for iOS and Play Store for Android).
If you already have an account, simply enter your Samba Online credentials and log in.
If you are not, you can sign up directly from the Samba Mobile app.
Start by entering your ATM card number and your ATM card pin. If you don't have one, add the number and PIN of your Credit Card.
You will then receive an authentication code on the phone number registered with your Samba account. Enter it to proceed to the next step.
Create a username and a strong password, and do not share either of these with anyone under any circumstances.
Then, select the language you prefer to use and enter your valid and active email address.
You're done with the first half of the process, and you will be redirected to the login screen. Enter the credentials that you've just set, and click on login.
You will once again receive an authentication code for utmost security. Enter it to proceed.
Done. You have now logged into Samba Mobile and can use all their services.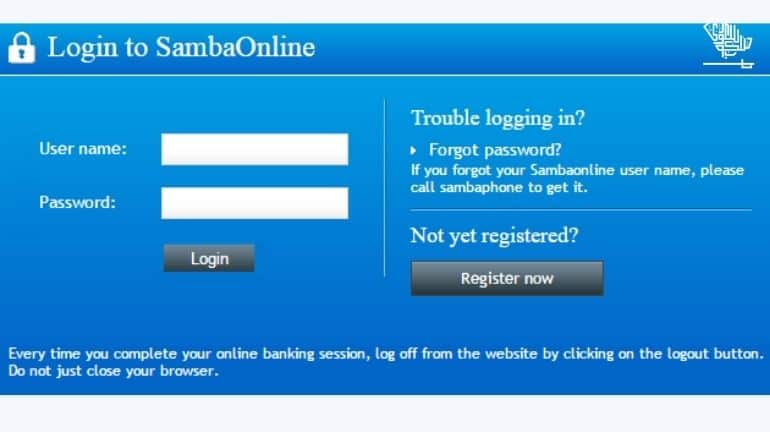 How can I Call Samba From Mobile?
There are numerous reasons why you may want to contact Samba Bank, and you may have issues or queries about Samba Online or Samba Mobile. Either way, in order to call Samba from mobile, you can dial the number given below.
00 966 11 479 7400
This is Samba's official customer service helpline.
How do I Register My Samba Phone Banking?
Besides using the application on your phone to bank with Samba, you can also use the call feature to the bank. This is called Samba Phone. In order to register with Samba phone banking, here is what you need to do:
See the back of your Samba card and call the number listed on it.
You must have a Samba credit card or an ATM card.
Once you call the number, follow the voice prompts to register for phone banking.
Once you successfully follow the prompts, you will receive a Samba Mobile secret code. This will be like your PIN for your ATM card or the password for your Samba Mobile. This is a security code; that's why it's secret, so do not share it with anyone.
You will then have successfully registered for Samba phone banking. Whenever you want to avail of their services, simply call the number on the back of the card and use your secret code to the bank.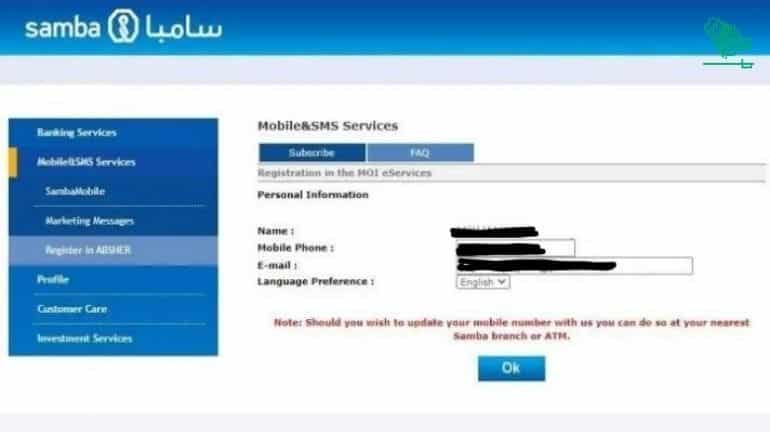 How Do I Activate Absher through Samba?
If you wish to activate Absher through Samba, you can use Samba Online to do it. Here are the steps:
Open Samba Online, and click on mobile services. Then, find the "Register in Absher" button, and click on it.
Go through the terms and conditions, and accept them.
Recheck your data. If anything is incorrect or missing information, fill in the data. Then, click on agree.
Once you successfully and correctly complete the steps mentioned above, you will receive a confirmation text on the mobile number registered with Samba Bank.
You have now activated Absher through Samba.
You may also like to read about: Creating and Activating An Absher Account
How can I Update My Iqama in Absher for Samba Bank?
The easiest way to update your Iqama in Absher for Samba Bank is to use the Samba Mobile application. Follow the steps below:
Download the Samba Mobile application and log in to your account as explained above.
Find the three dots at the end of the page, and click on them.
You will then see a list of all the options available to you. Click on More.
Next, click on the List view.
You will be taken to a new page. Find and click on "Update your personal information."
You will see your desired option immediately. Click on "Update ID/Iqama."
If your Iqama has already been renewed, you can simply select "Update ID Expiry" and then change it. However, if not, you may have to visit a branch to update your Iqama.
How Do I Activate My Samba Account Online?
You can simply activate your Samba account by logging in to Samba Online or Samba Mobile as listed above. If you wish to activate your Samba card, you will have to go to the ATM, and you only need to register using your Samba card credentials to activate your Samba account. Everything else will be done for you by the bank staff.
How do I Renew My ID through Absher?
Here's what to do:
Enter the ID number and your password on the Absher website.
You'll receive a password on your Absher registered mobile number.
You will be taken to the Absher services page automatically. By clicking on E-services first, select Sponsored Services.
Click on Renewing Iqama.
Read the service instructions, enter the correct required information, and click Next.
This is how you can renew your ID through Absher. For further information, you can call their helpline.