Enjaz Banking is the one way to make sure all your hard-earned money doesn't go to waste. With a variety of the fastest and most convenient remittance services, you can rest easy knowing your family and earnings are in good hands.
Their remittance facilities are strategically located in high-traffic areas to ensure our clients' comfort, convenience, and, most importantly, accessibility. As of now, Enjaz Bank has 151 remittance facilities spread around the Kingdom of Saudi Arabia.
Furthermore, since Enjaz aims to provide highly affordable and cost-effective payment services, their panel has one of the world's largest networks of financial institutions spanning numerous regions from across the globe so that you can send money around the world, anytime.
Below is a guide on getting started and availing of this service.
How Do I Open an Enjaz Account?
Signing up for Enjaz Banking Services is very easy. You can easily create an account on Enjaz using their user-friendly application, Enjaz App, and enjoy Saudi Arabia's best service for transferring money.
Here are the steps:
Download the Enjaz App from the Play Store if you use an Android device or from the App Store if you use an iOS device.
Once the app is downloaded, wait for it to finish installing.
Once installed, open the app. When you open the application, you will see a button that says Register/Enroll. Click on this button to start your journey with Enjaz.
The app will then request your financial and your personal information. Fill it to the best of your knowledge, as it needs to correspond to your official I.D. documents.
After filling out your information, set a username and a password for your online money transfer account. Do not share your Enjaz credentials with anyone.
You're almost done. The last thing you have to do is verify your information, and you can do this by using your Absher credentials, the National Single Sign-on Service.
If you do not have an account on Absher, you can verify your information by going to any ATM with biometric support.
Done! Your account is created and verified. You can now use your Enjaz account to send money.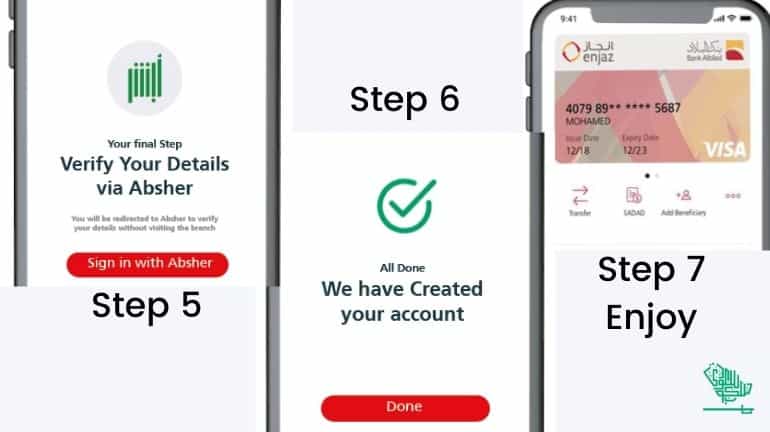 You may also like to read about: Top 10 banks of Saudi Arabia
How Do I Send Money Via Enjaz Banking Online?
To use Enjaz's online services to send money, you must have the Enjaz app and make an account on it. Follow the steps above to create an account.
Then, here is what you need to do:
Make sure you have sufficient balance in your account that you aim to send someone.
If you are sending money internationally, make sure the receiver has access to one of the following: Enjaz Easy, Western Union, or Swift. Enjaz is welcoming Transfast onto their platform soon.
Then, open your Enjaz app. Authenticate your login. Once you are inside the app, you will see a button that says "Transfer."
Click on Transfer, and you will see a page asking you for details about whom you want to send money to and how much you want to send.
Add a beneficiary (who will receive the money), and add the amount. If you are sending to a bank account, accurately type out the bank details, including bank account number and bank account title.
Recheck the amount before you send it. Then, verify the process by either your fingerprint or your PIN code (which you would've set while creating your account).
And done! Your money will be sent, and you will receive a transcript for it. You can send a screenshot of the online receipt to the person you sent money to for transparency, or you can save it on your phone.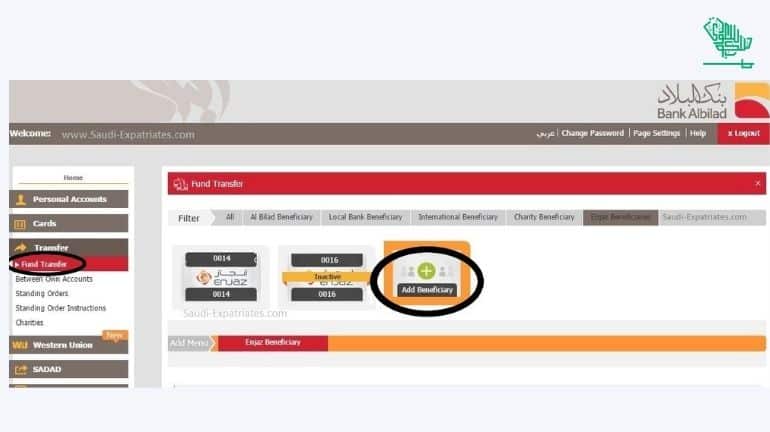 How Do I Contact Enjaz?
If you have any problems or queries about Enjaz, their services, or their application, you can always reach out to them.
However, before you contact Enjaz, make sure you have read the Frequently Asked Questions (FAQ) on Enjaz's website to make sure your query or concern is something that isn't already answered. This way, you can save your time and find a prompt solution if your query is already responded to online.
If not, you can reach out to Enjaz through the following measures:
Their email address: [email protected]
Their call center: 8005000300
If neither of the above work, you can reach out to their mailing address listed below.
Enjaz Banking Services
Saudi Arabia, Riyadh 11411
P.O. Box 140
How do I Deposit Money into Enjaz?
To send money, you have to be sure your account has sufficient funds. To check how much money you have, you can log in to your Enjaz App to check your balance. If you do not have enough money, or want to deposit more, here is how to do it:
You must use the Bank Albilad ATM. This service is free of cost.
Visit the nearest Bank Albilad ATM that accepts cash, and insert your Enjaz card in the ATM.
Select the Bank Albilad ATM language that you'd like to use.
Enter the PIN to your Enjaz card, and click accept.
You will be shown the main menu. Select deposit, and then select cash deposit.
Choose the source of funds and then enter the amount you would like to deposit into your Enjaz account.
Before clicking on deposit, make sure to check the deposit details. If there are any errors, correct them or begin again.
Then, the amount will be deposited into your Enjaz card.
Once this procedure is completed, you can cross-reference the amount and whether you've received it by checking your account balance on your Enjaz App.
This is how you can use Enjaz Banking Services and Bank Albilad to send and receive money from all over the world. Whether helping out your relatives or earning money through freelancing, Enjaz makes sending and receiving money very easy.
Enjaz Bank is easily accessible online and offers a wide range of options to send money, so you are not confined to only one method.