The scorching sun, the bustling markets, and the delicious aroma of food wafting through the air – signify the start of Ramadan in Saudi Arabia.
This month represents a time of spiritual reflection, self-discipline, charity, and of course, mouth-watering dishes enjoyed by families and friends during Iftar and Suhur. 
Saudi Arabian cuisine offers a wide variety of flavors and textures that are perfect for Iftar or fueling up for the day ahead with a pre-dawn meal called Suhur.
In this article, we'll explore some of the most popular recipes made at home during Ramadan in Saudi Arabia.
Traditional Ramadan Foods and Dietary Recommendations:
While fasting, staying hydrated, and consuming a healthy diet are essential to maintain the body's nutritional needs.
Here are some tips on what to take during Ramadan in Saudi Arabia and which diet to follow:
Dates:
Dates provide a quick energy source and are rich in nutrients; they are traditionally eaten to break the fast.
Water:
Keeping your body hydrated is very important, so drinking plenty of water during the non-fasting hours is necessary to avoid dehydration.
Soups:
Light soups made with vegetables or lentils are great for nourishment and hydration during fasting.
Complex Carbohydrates:
While fasting, we need energy; foods such as oats, whole-wheat bread, and brown rice provide sustained energy and help prevent hunger pangs during the day.
Proteins:
It is advisable to ensure the food is packed with essential nutrients like proteins and carbohydrates. Consuming lean protein sources such as fish, chicken, and beans can help you feel full for longer.
Fruits and Vegetables:
Incorporating a variety of fruits and vegetables into your meals can provide important vitamins, minerals, and fiber.
What to avoid?
It's important to avoid overeating and consuming spicy and too many sugary or fatty foods during Ramadan, as this can lead to indigestion and weight gain.
Popular Iftar Recipes
Samosas Recipe:
Samosas are a popular appetizer- especially during Ramadan- in many parts of the world, including Saudi Arabia. They are usually served as finger food during Iftar and at parties and gatherings.
They can be filled with various fillings, including vegetables, meat, or mashed potatoes, and are often served with dips like chutney or ketchup.
Preparation time: 30 minutes
Cooking time: 20 minutes
Ready time: 50 minutes
Ingredients:
One packet of samosa pastry sheets
1 pound ground beef or chicken
One chopped onion
1 cup peas, frozen or fresh
50gm fresh coriander (finely chopped)
1 tsp. cumin
1 tsp. Coriander seeds
1 tsp. garam masala powder
Salt and pepper to taste
Oil for frying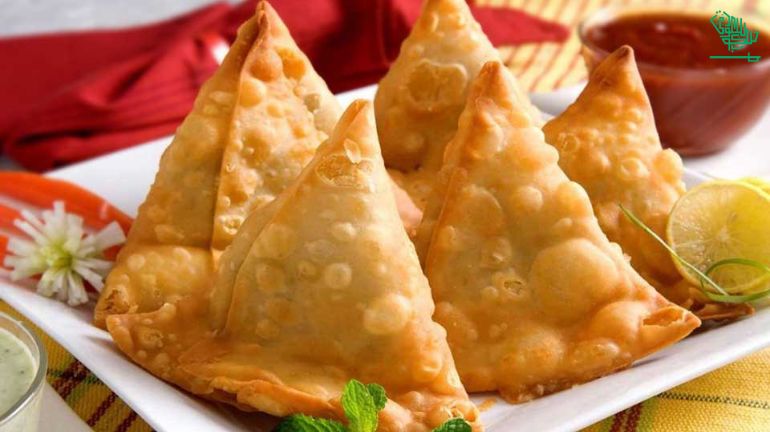 Instructions:
In a large pan, cook the ground beef or chicken with the onions until the meat is browned.
Add the frozen peas, cumin, coriander, garam masala, salt, and pepper, and stir to combine.
Now add freshly chopped coriander and give it a good mix.
Remove the pan from the heat.
Cut the samosa pastry sheets into triangles, and fill each triangle with a spoonful of the meat mixture.
Fold the pastry to create a triangle shape, and seal the edges with water.
Heat oil in a deep fryer or a large pan over medium-high heat.
Fry the samosas, then drain them on a paper towel.
Serve hot with chutney or ketchup.
Harees Recipe:
Harees is the most popular dish in Saudi Arabia among Muslims fasting during Ramadan. The dish originated in Saudi Arabia and spread widely in the Middle East and other parts of the world. It consists mainly of meat and coarse wheat.
Preparation Time: 20min
Cooking Time: 1h
Ready Time: 1h 20min
Ingredients:
Mutton – 1/2 Kg (Boneless)
Barley – 1/2 Kg
1 tbsp Ginger-Garlic Paste
2 tbsp Green Chili Paste
1/2 tbsp Cumin Seed – (Crushed)
1 tbsp Fennel Seed – (Crushed)
Salt – To Taste
1 tbsp Chat Masala
2 tbsp Lemon Juice
Edible Oil – For Tempering (Baghar)
1 tbsp Coriander Leaves
1 tbsp Mint Leaves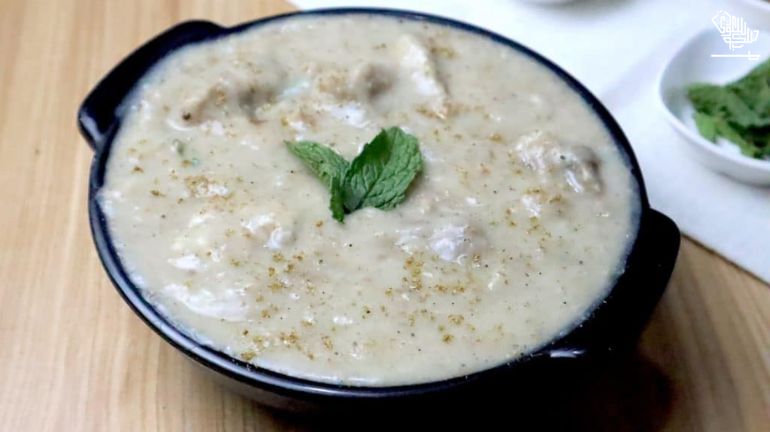 Instructions:
Rinse the barley and soak them overnight.
In a large pot, add soaked barley, water, salt & cooking oil. Boil till soft.
Now grind fennel seeds and cumin seeds together. Keep aside.
Boil mutton cubes in a pot with ginger garlic paste, masala powder & salt. Boil till soft.
Once boiled, separate stock & mutton cubes. Keep it aside.
Now use a blender or food processor to blend the boiled barley into a smooth porridge-like consistency or a thick paste.
Add mutton cubes & mutton stock to the barley paste.
Mix well & cook for 10 minutes.
Add mint leaves, coriander leaves, cumin powder & hot cooking oil. Mix well, and cook for 2-3 minutes.
Serve hot with garnishing of ground masala, coriander & mint leaves.
Kabsa recipe:
Kabsa, also known as "machboos," is a popular traditional dish in Saudi Arabia and other Middle East countries. It is a rice dish with chicken, lamb, beef, and sometimes seafood such as shrimp.
Kabsa is a typical dish for family meals and gatherings and is often served during special occasions such as weddings, Ramadan, or Eid festivals. Kabsa can be enjoyed with a salad or vegetables and a spicy tomato-based sauce called "dakkous."
Preparation time: 20 minutes
Cooking time: 1 hour 15 minutes
Ready time: 1 hour 35 minutes
Ingredients:
6 Chicken Thighs/Legs
2 tbsp Vegetable Oil
2 Cloves whole
⅛ tsp Nutmeg
⅛ tsp Cumin
⅛ tsp Coriander
½ tsp Saffron
¼ tsp Cardamom
½ tsp Cinnamon
½ tsp Allspice
¼ tsp White Pepper
½ tsp Dried Lime Powder
2½ tsp Salt
4 tbsp Butter
1 Onion diced
6 Garlic Cloves minced
¼ cup Tomato Puree
One can of chopped Tomatoes
2½ cups Basmati Rice
5 cups Chicken Broth
¼ cup Raisins
¼ cup Slivered Almonds
Pinch Black Pepper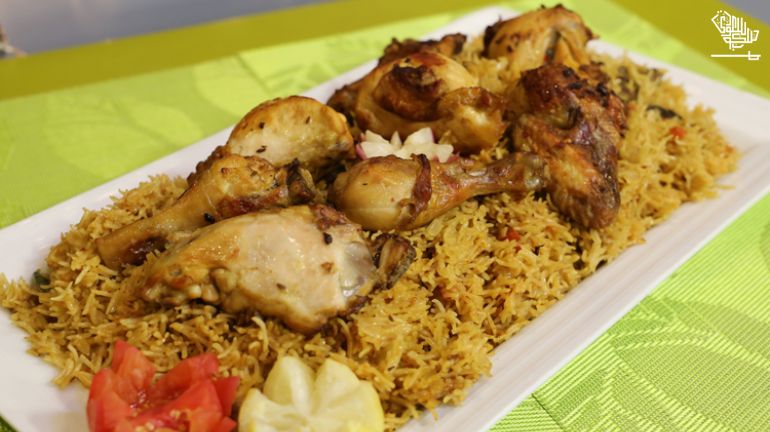 Instructions:
Preheat the oven to 200ºC.
Take chicken pieces in a bowl, and rub the chicken with vegetable oil in your hands. Bake for half an hour.
Take a small bowl and Mix all the spices and salt.
Rinse the rice.
Now, melt butter in a pan, add garlic and onion, and saute until soft. Add tomatoes and tomato paste and create tomato sauce.
Add chicken into the sauce and stir well until all the chicken is coated. Then add rice and all the spices and mix well.
Now add chicken broth, and bring it to a boil.
Reduce the flame to simmer. Place the lid half opened.
Cook for 15- 20 minutes until you have cooked the rice.
Take a pan and roast almonds over medium-high heat.
Place rice onto a serving dish and the chicken pieces over the top.
Sprinkle with browned almonds, raisins, and a pinch of black pepper.
Add more salt and pepper to taste.
Serve with a spicy sauce called dakkous
Famous stew in Saudi Arabia
Tharid
Tharid, also spelled as Thareed, is a stew made with any form of meat, usually lamb and mutton, and lots of vegetables, like squash, pumpkin, bottled gourd, etc. It is served over thin bread called "Regaag."
This dish is said to have been the Prophet Muhammad's favorite dish and is a staple during Ramadan, typically enjoyed in an iftar meal.
Preparation Time: 15 minutes
Cooking Time: 1 hour
Ready time: 75 minutes
Ingredients:
500 gm meat chunks with some bones here is mutton used
1 tsp ghee
1 tsp olive oil
One large onion, thinly sliced
One large tomato chopped
2 tbsp tomato paste heaped
2 tsp bazaar spice blend
1/4 tsp turmeric powder
1/4 ts cumin powder
1/4 tsp cinnamon powder
1/4 tsp cardamom powder
1 tsp black pepper more for spiciness
Salt to taste
One big loomi crushed
150 gm pumpkin chunks
One large carrot peeled and cut into roundels
Two koosa peeled and cut into roundels
One potato is peeled and cuts into chunks
Coriander leaves for garnish
Regaag bread to serve can use saj or khubz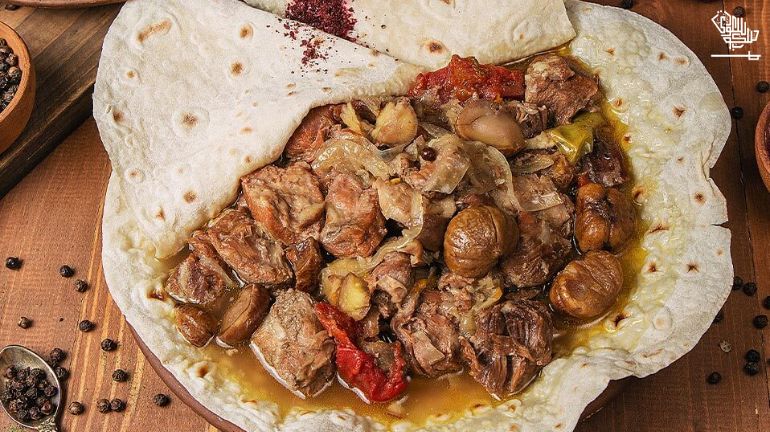 Instructions:
Take a pressure cooker, add oil, ghee, and garlic, and sizzle.
Add the onions and saute on high flame until golden brown.
Add the tomato and tomato paste and cook just till mashed.
Add all the spice powders and the loomi and give a good mix.
Add the washed and drained mutton, and add in the salt. Add a cup of water and close the lid.
Pressure cook for 3-5 whistles till the mutton is almost done. Allow the pressure to go by itself.
Open the lid, and add in the vegetable chunks. Adjust the seasoning. Close and cook for one whistle. Take off and allow the pressure to go. By this time, the mutton should fall off its bone, and the vegetables should be cooked but still in shape.
Open the lid, and check the seasoning. Add the coriander leaves. Add more hot water if needed.
To serve, layer the dish with regaag or saj bread. Pour the stew only all over the bread for it to soak. Top with the mutton chunks and vegetables. Dig in.
Popular Dessert in Saudi Arabia
Qatayef Recipe:
Ramadan's iconic treat of the Middle East, this sweet dumpling, is typically made of Arabic pancakes stuffed with white cheese or nuts as a traditional Ramadan dessert. It is fried, sometimes baked, and eaten with syrup or honey.
Preparation time: 1 hr
Baking time: 14-19 minutes
Total time: 2 hrs 20 minutes
Ingredients:
Batter
2 cups (240g) All-Purpose Flour
6 tbsp (61g) Semolina Flour
2 tbsp (25g) granulated sugar
1 tsp instant yeast
1 tbsp baking powder
2 3/4 cups (622g) lukewarm water
Filling
2 cups (226g) finely chopped walnuts
2 tbsp (25g) granulated sugar
1 tsp cinnamon
Syrup
1 cup (198g) granulated sugar
1/2 cup (113g) water
1/2 tsp orange blossom water, optional
1 tsp lemon juice, optional
Topping
Four tablespoons (57g) butter or ghee (melted)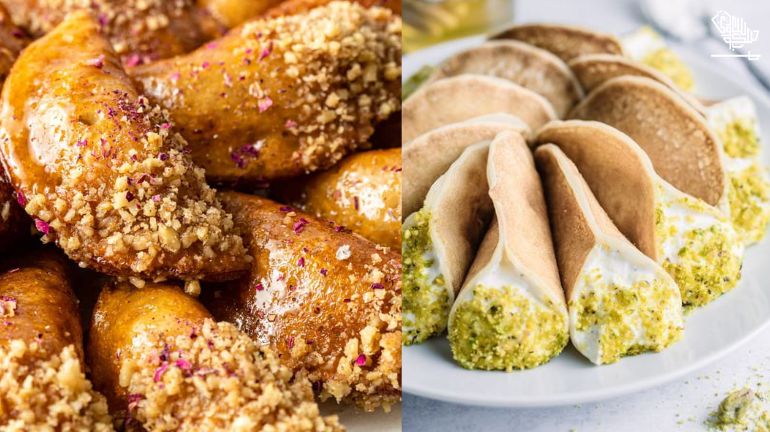 Instructions:
To make the batter:
Add flour, sugar, yeast, and baking powder in a medium bowl. Mix.
Add water and whisk vigorously until smooth; the batter should be slightly thinner than a typical pancake batter. Cover the batter and set it aside to rest for 20 minutes.
Preheat a nonstick pan. Line a baking sheet with parchment paper.
Pour your batter onto the pan and cook until the qatayef's top surface develops holes and is completely dry about 2 minutes; don't flip it over.
Remove the qatayef from the heat and place its cooked side on the prepared pan.
To make the filling:
Mix the nuts, sugar, and cinnamon. Set aside.
Make the syrup:
Set a small saucepan over medium heat, add sugar and water, and stir for a few minutes to dissolve the sugar.
When the mixture reaches a boil, stop stirring, reduce the heat, and simmer for 3 to 5 minutes.
Remove the syrup from the stove and add the orange blossom water or lemon juice. Set aside to cool to room temperature.
To assemble:
Grease two baking sheets. Preheat the oven to 400°F.
Take one qatayef at a time and add 2 tbsp filling to the center of the uncooked side. Pinch the sides together to seal the qatayef after folding it in half and enclosing the filling. Then transfer it to the baking sheet.
Now brush the tops of the qatayef with butter,
Bake for about 12-15 minutes.
For more crispness and browning, turn the oven's broiler to high and broil each side of the qatayef for another 1 to 2 minutes.
Remove them from the oven and dip them into the syrup for coating.
Then drip the excess syrup and serve warm.
Note: Qatayef is best served immediately, fresh out of the oven.
Popular Sehri recipes
Tunisian egg brik recipe:
Ingredients:
Two potatoes
One onion
fresh parsley
salt, black pepper
Four sheets of brik pastry
Four eggs, extra virgin olive oil
sweet paprika (optional)
1/4th cup Parmesan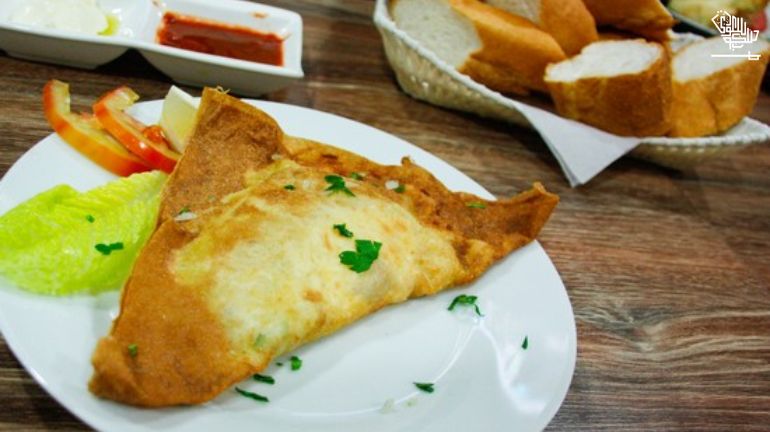 Instruction:
Boil the potatoes. Remove the skin and mash them. Put aside.
Chop the onion. Take a pan, add a spoonful of olive oil, and fry the onion.
Now mix the onion with the mashed potatoes. Add a little fresh parsley, and season with salt and black pepper.
Slice the phyllo pastry into two squares, around 10 inches long.
Add a small amount of filling on one side of the pastry and fold it using the other side.
Seal the sheets of brik using a little water.
Top with one egg and some parmesan.
Fry the bricks in a pan with olive oil until golden and crispy.
Note: cook one brik at a time, so the oil does not cool. And once fried, place remove the excess oil before serving.
Porridge:
Once you know the basic porridge recipe, you can get creative and add your favorite toppings.
Ingredients:
160 g rolled porridge oats
600 ml milk
Water or soya milk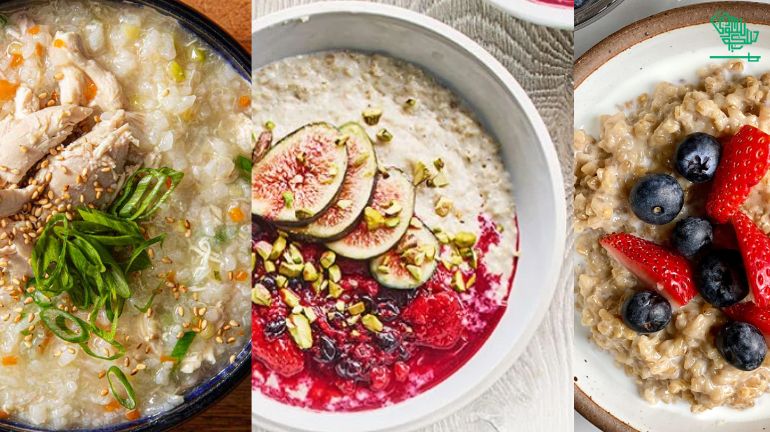 Instructions:
Cook the oats with milk/water over medium heat.
Add half a pinch of sea salt and stir.
Simmer for 5 to 6 minutes, stir as often as you can to make a smooth, creamy texture– if you like your porridge runnier, add more milk or water.
Top up your porridge with your favorite combo of nuts, fresh fruit, and seeds, sweetening to taste.
Check out some of our favorite combos below:
Banana, Almond, and Cinnamon Porridge
Stir in a pinch of ground cinnamon, some poppy seeds, and maple syrup. Place sliced banana and a handful of toasted almonds on top.
Apple, Maple Syrup, and Pecan Porridge
Stir through the coarsely grated apple (core and all) and maple syrup, then top with a handful of toasted pecans and drizzle more syrup.
Conclusion:
Every home in Saudi Arabia is filled with the delicious aroma of traditional dishes passed down through generations. In addition to providing essential nutrients for the body during the fast, these dishes also give a glimpse of Saudi Arabia's rich cultural heritage.