All ex-pats must undergo specific medical tests to get their work visa in Saudi Arabia(KSA). If you pass those tests, you will be eligible for a work visa in Saudi Arabia.
You can get your medical reports status online through GAMCA (Gulf Accredited Medical Clinics Association). You can also check your medical reports through GCCHMC(GCC Health Medical Council).
This article discusses the medical tests you need to undergo in Saudi Arabia. It also outlines how you can check the results online.
Recommended: MHRSD Develops Tasheelat Card For Saudis And Foreigners With Disabilities
Medical Tests Procedure For Saudi Visa
You must book your appointment through the GAMCA website to complete your medical tests. To do so, follow the steps below.
Go to the Wafid website. (Note that the GAMCA platform is now officially known as the Wafid platform.)
Then, select your country. Provide any other necessary details as well.
Press the submit button. The system will assign you a medical center automatically.
Then, complete your payment procedure. You will have to pay the fees with a credit card. You will receive a payment slip upon payment of the fee.
 Lastly, print the appointment slip. You must visit the medical center given on the slip on the assigned date and time. 
Recommended: Five Levels Of Fines For Building Compliance Violations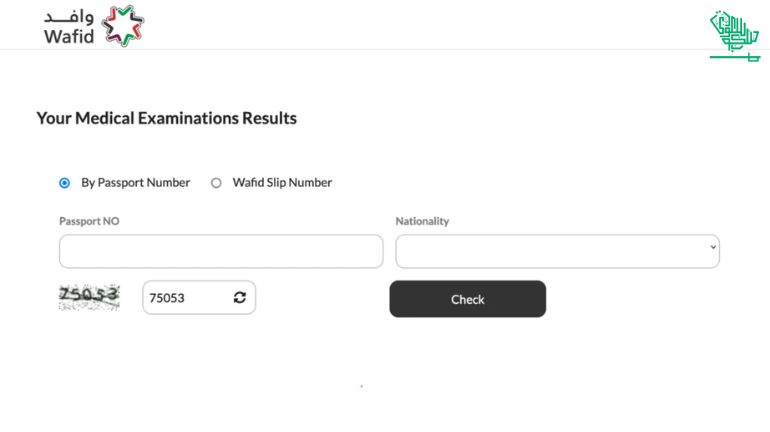 Requirements for The Medical Tests in Saudi Arabia
Moreover, you need to submit some documents when getting your medical tests done in Saudi Arabia. They may vary with each country. However, usually, these documents include the following:
Original passport
Copy of the passport
Appointment slip
Original NIC
Copy of your NIC
Four passport-size pictures
Covid-19 Vaccination Certificate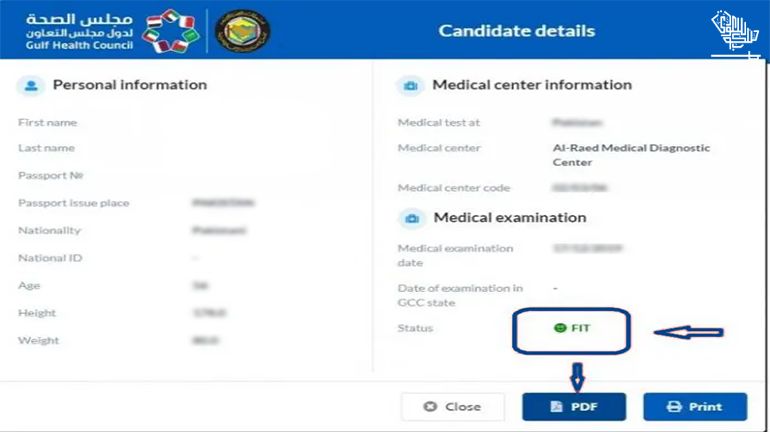 Recommended: Where to call in case of emergency in Saudi Arabia?
Medical Test Fee for Saudi Visa
The medical fee for a Saudi visa varies with each country. The appointment fee in Pakistan is approximately between Rs.14,000-18,000. Moreover, India's GAMCA medical test fee is around INR 5500-6300.
Also, it is vital to note that these amounts are subject to changes in the exchange rates of the currencies. However, regardless of the country, the test fee is generally within SAR 300.
Recommended: Insurance For Domestic Worker Contract Eminent, Says Human Resource Ministry
GAMCA Medical Examinations for Saudi Visa
These tests usually involve testing for the following:
HIV/AIDS
Hepatitis B
Hepatitis C
Microfilaria and Malaria
Tuberculosis
Chest x-ray
Diabetes mellitus
Psychiatric disease and disorders
Physical disabilities
Recommended: A review of the healthcare system in Saudi Arabia
GAMCA Medical Test for Pregnant Women
The Saudi Embassy has exempted expecting women from radioactive exposure. Therefore, they only need to undergo the following tests:
Blood work
Eye test
Urinalysis
To get the exemption, you are to request a NOC from Etimad. You can do so by submitting the following documents:
Your MOFA Visa slip
A filled NOC form
Your doctor's report of your pregnancy
An ultrasound report
Moreover, you will then receive your NOC in 5 to 7 days. Once you receive the NOC, you are required to visit the medical center.
Recommended: Saudi E-Visa Application Guide For GCC Residents
GAMCA Medical Tests for Children
Children are to visit specific medical test centers which GAMCA approves. They should bring along the following documents to their visit:
Original passport
Two passport-size photos
Their visas
The examiners will check the child's height and weight during the medical examination. Also, they will look into the vaccination history of the child. They will then issue a medical fitness certificate. No laboratory tests are required.
However, it is essential to note that this applies to children under 12 years only. Also, the medical test fee for children is much less than for standard medical tests in Saudi Arabia. 
Recommended: Your Guide to Obtaining a Work Visa for Saudi Arabia
How to Check the GAMCA Medical Report Status
To check your GAMCA medical report status online, follow the steps below.
Go to the Wafid online portal. To do so, you can click the link given to head over to the portal directly.
Then, enter your passport number.
Select your nationality.
Enter the CAPTCHA code correctly.
Lastly, click on the 'Check' option. A new page will appear, viewing your medical report.
Also, to download a PDF of the report, click on the PDF button. If the report status says FIT, you can proceed with your Saudi Visa process.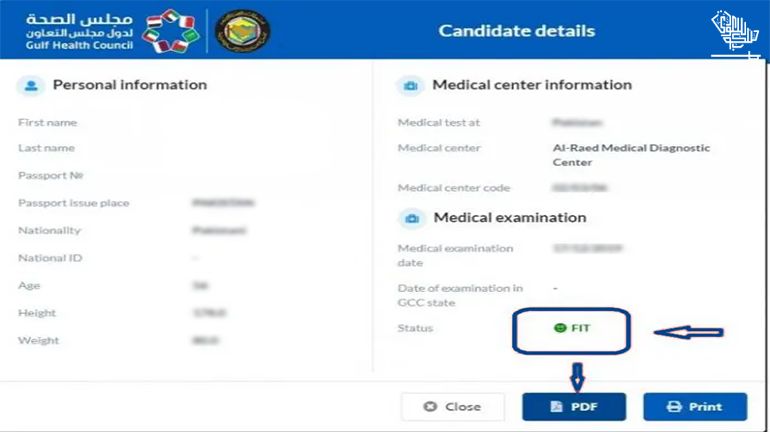 Moreover, you can also check your report by visiting any GAMCA office. You need to provide the following details to the officer to receive your report:
Name
Passport number
Your medical test date
To find the nearest GAMCA center, visit Wafid's medical clinics list. This link directs you to the list. Moreover, you will have to provide your country and city to know the nearest GAMCA medical center.
Recommended: Renewal/Re-registration Of SCFHS Mumaris Plus
GAMCA Medical Test Result Validity
Your medical examination results will only be valid for three months. Hence, you should get your passport stamped with a Saudi visa within 90 days of the test results.