Considering Amazon Prime membership? This review analyzes the benefits and drawbacks of the service, helping you decide if it's a worthy investment for your needs.
What is Amazon Prime
Amazon Prime views on your screens also as Prime Video is one of the top streaming video subscription channels.
Moreover, Amazon is known for the free and fast shipping of goods and access to exclusive deals. Similarly, the site widely distributes tv series, movies, live sports, events, and stand-up shows. Amazon serves as the distributor and controller of the over-the-top media service provider. It also serves worldwide, streaming videos on demand, and is known to be involved in digital distribution.
Amazon Prime is a paid subscription platform. Viewers can subscribe monthly and yearly according to their preferences. When shopping meets entertainment, the combination benefits all. This is what Amazon provides its 150 million paid members worldwide.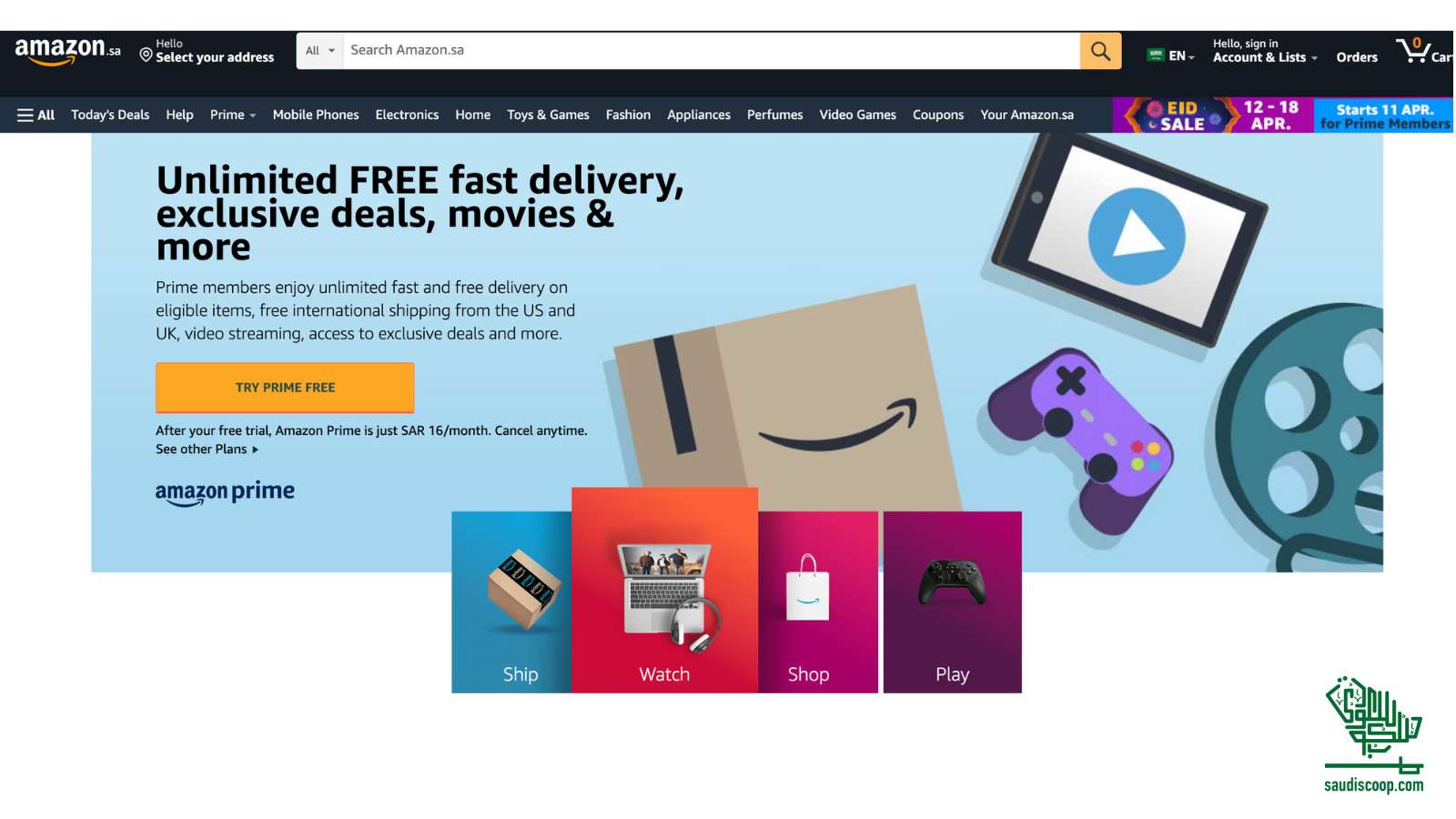 Is Amazon Prime available in Saudi Arabia
Prime benefits are also available in Saudi Arabia. Amazon Prime was launched in KSA in 2017.
With 12 operational Amazon sites in different regions of Saudi Arabia, Amazon plans to expand more of its business. Jeddah, Riyadh, Mecca & Medina, Dammam, Jizan, Abha, AlHofoof and El Qaseem, all are Amazon sites.
Between 2022-24 new site launches are in the plans. The launch of Amazon E-commerce promises success in retail Growth in Saudi Arabia.
How to sign up for Amazon Prime in Saudi Arabia
Sign up through Amazon.sa exclusively for users residing in Saudi Arabia.
Amazon Prime-eligible users can enjoy PRIME FREE for up to 30 days before paying for it. The trial period leads to an automatically paid subscription plan after the end of the trial period. If you plan on not continuing the membership, you must END your FREE trial. All you need is a MADA card or an eligible credit card with a billing address to sign up.
How much does Prime cost in Saudi Arabia
The same rules apply for KSA members to monthly or annually subscribe. Per month the fees stand at SAR 16, while SAR 140 for the whole year. There aren't any additional cancellation charges.
What payment methods are accepted for Amazon Originals in Saudi Arabia
There are various options that are accepted as payment methods for Amazon Prime in Saudi Arabia. You can get the membership by paying through any electronic payment method, which is as follows;
Credit Cards

Visa
American Express
MasterCard
Amazon.sa Gift cards, Promo codes, and vouchers are also available to some users.
Benefits of Amazon Prime in Saudi Arabia
Amazon has given the local industry a boom in business and retail success. But more so, it provides benefits for the consumers as well.
Prime Video
Saudi Amazon users can enjoy a wide array of TV shows, Movies, and Amazon Originals. Unlimited streaming of content, including Arabic ones, on Prime Video adds to the perks of Saudi members. Prime Video is a great platform with genre-specific shows and suggestions for different age groups. Your subscription won't go in vain once you pledge to sign up. It has enough exhibits to entertain you on an hourly basis, every single day for years.


Here are some great shows that gain popularity as Arabic Amazon Prime shows. To name a few shows, El Malky, Al Ekhteyar, Al Rahma, Tawq Al Banat, Layalina 80, and Noor Riyadh are a must-watch. We'll take you into further detail about them to help you have a pick, so that you can sign up and start watching!
El Malky
The storyline for this show revolves around an ambitious man looking to work and devote his career to becoming a millionaire. This drama takes you back to the 1950s.
El Ekhteyar
The drama is based on a special forces officer that leads a group of soldiers to train them against terrorism. Endless military operations will keep you hooked.
Al Rahma
Al Rahma is about a woman whose life revolves around various challenges and hardships. Now the exciting part is how she fights and tackles them.
Tawq Al Banat
The genre of this show is rom-com, romantic comedy. A group of women meets at a cooking class, become friends, and hang out as friends in the series.
Layalina 80
Layalina 80 takes you back to the 1980s. A turbulent time in the Middle East makes a family struggle. The story revolves around their complicated history and escalating problems.
Noor Riyadh
Noor Riyadh is a documentary series that revolves around the Noor Riyadh festival. Exploration of all forms of light art installations makes the festival of light show exciting.
Free & Fast shipping
You can enjoy a free one-day delivery on some eligible items. Not just that, eligible items internationally can be free shipped to you on orders over 200 SAR. Members praise the free and fast shipping service of Amazon.
Exclusive Offers
What adds to the charm are their promotions and lightning deals that offer discounts for Amazon members. Early access to the deals can help you get your goods at an excellent market price.
Prime Music
Providing access to great playlists and millions of soundtracks, Prime Music lets you download songs for offline playback and listen to ad-free music—literally multiple problems; one-step solution; Amazon Prime.
Twitch Prime
Just when you think the Amazon perks are over. Let us enlighten you with another benefit that comes with the Amazon subscription. Attention all gamers, You can now go ad-free, viewing and playing hassle-free. Twitch Prime lets you have a variety of gaming content with discounts and more, along with an ad-free viewing feature.
Amazon reading
Magazines, E-Books, and comics all in one place, Amazon Prime reading platform. There are no due dates or extra fees, just peaceful reading on any device, exclusively for Saudi Amazon members. Amazon Prime reading serves as a rotating selection of reading matters to serve all Amazon Prime members in Saudi Arabia.
How is the customer service of Amazon Prime
Besides the various offers and exclusive deals for its users, Amazon stands out because of its customer service. Easy and free returns and refunds, along with 24×7 customer support, are what win hearts.
From the discussion, Amazon Prime in Saudi Arabia is proving its success as much as the rest of the world. With a wide range of benefits for Saudi users, exclusive deals and offers, and one multi-purpose platform. Your time & money are both important investments. Hence, Amazon Prime gives you entertainment with online shopping all under one Prime quality service.