The Saudi Census 2022 aims to gather data about the population of Saudi Arabia. This data would then be analyzed and made available to government agencies.
Therefore, the Saudi Census will help the authorities in effective policy planning and decision-making.
Recommended: Saudi Census 2022: GASTAT to fine persons who refuse census counting
Moreover, all Saudi residents must participate in the census. Anyone, who is older than 15 years, can fill out the form. You can participate through:
Self-counting
Self-enumeration stations
Field counting
The Saudi government maintains strict checks on the data you enter. Therefore, providing false information or refusing to provide data can land you heavy fines.
steps To guide you through filling out the census form online
Log in to the website through your Absher Account
Firstly, go to the Saudi Census website. Click on the link to open the Saudi Census website.
Click on the "Participate now" button in your screen's top right corner.
Verify your identity through your Absher username and password.
Then enter your email along with your phone number. Click "next".
You will receive an OTP on the phone number you will provide. Enter that OTP and click "Confirm."
Recommended: Kingdom to Launch its Fifth Census, 'Saudi Census 2022.'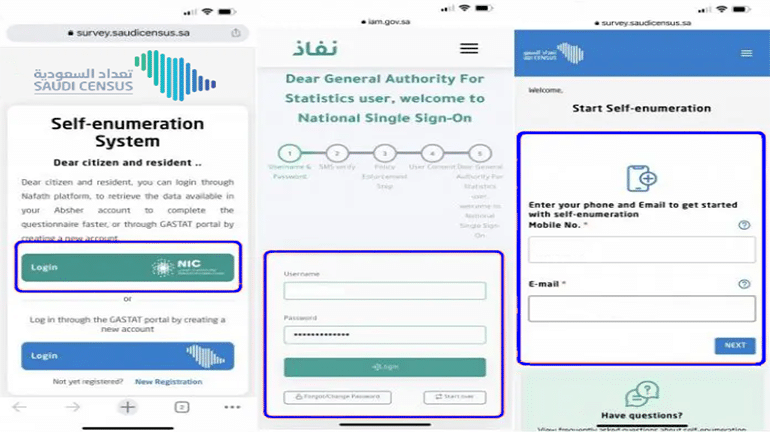 Confirming your National Address
A new page will appear, asking you to confirm your current national address. Enter your correct address.
Answer the following questions by selecting any option (Yes/No). These questions will be

Is this address associated with you?
Is this your usual place of residence?
Recommended: GASTAT: Preliminary Census Data to be Published Before Year-End
However, you should update your current national address if you cannot find your address.
Another question asking you whether you are head of the household would appear on your screen.
Select Yes only if you have family in your Iqama. If you choose Yes, you must confirm your family members. This step is explained below.
Listing your family members
To enter the details about your family, click on "My Household Members."
Go through the names and Iqama numbers of the listed family members.
You can also exclude any member from the list if any member has left Saudi Arabia through the final exit visa. You can do this by clicking on the "Exclusion" button.
Click on the "Confirm" button.
Recommended: Three Months in Jail, SR1000 Fine, For Divulging Confidential Census Data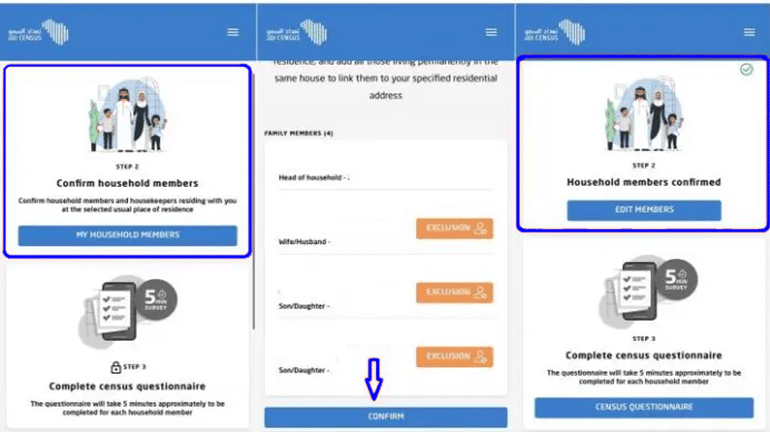 Fill in the Census Questionnaire
Lastly, you will be asked to complete this questionnaire for further details. Each household member has to fill it out.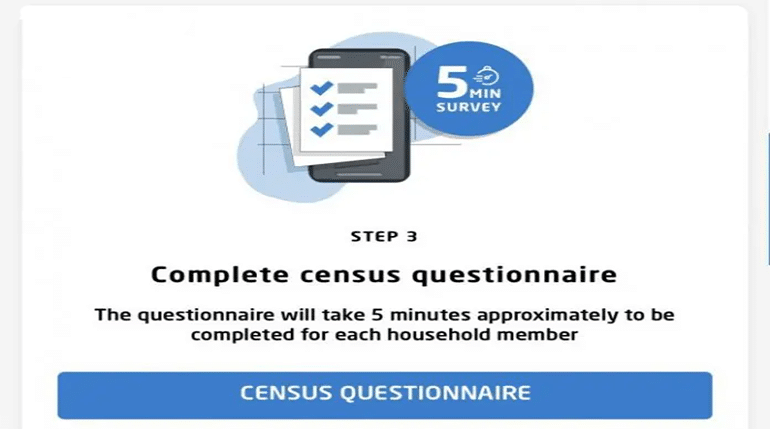 This step requires minimum time and effort. It is, however, optional for you to complete.