Kahwa, Kehwa, and Saudi Qahwa, all spellings, are interchangeably used among a wider audience for their popularity in consumption.
An exotic mix of ingredients served globally throughout the year as a light combination of herbs & spices made in the form of tea is Kehwa. 
How do Arabs have Qahwa? 
One of the most famous Arabian cuisines is Saudi Qahwa, Arabic Coffee.
Qahwa is not necessarily tea; it can also be Coffee, and Arabs made it very clear by following their traditional way of making it.
So, don't get confused when you often read Qahwa and Coffee synonymously in this article.
Recommended: Coffee and Cats: Saudi Arabia's First Cat Cafe
How to serve Saudi Qahwa (Coffee)
Arab culture is well known for its hospitality and the art of welcoming guests with gestures. When they invite you over for Coffee, be prepared to be served traditionally.
A side of dates with the Arabic Qahwa is poured from a coffee pot called Dallah into small cups.
How to make Arabic Coffee
Now that you all are well aware of the global beverage, Let's proceed with the making of the show stopper. 
What influences the making
The star ingredient for the Coffee would be the magical beans. So quality and type play a significant role. Other than that, keep a check on the flavoring and ingredients.
Saudi Qahwa Ingredients
The ingredients for the Qahwa are as follows;
3 tbsp- Arabic Coffee beans or powder
1 liter- Water
One tbs- Cardamom, finely crushed
3-4 Cloves
A pinch of Saffron
A bit of Ginger powder 
Rose water can also be added, according to preference.
Saudi Qahwa Serving Utensils
Presentation makes the first impression, so to keep the tradition alive, you'll need:
Dallah: for the preparation of Qahwa
Finjan: small handless cups 
Thermos: to keep the Qahwa warm
Soft dates to serve the Qahwa with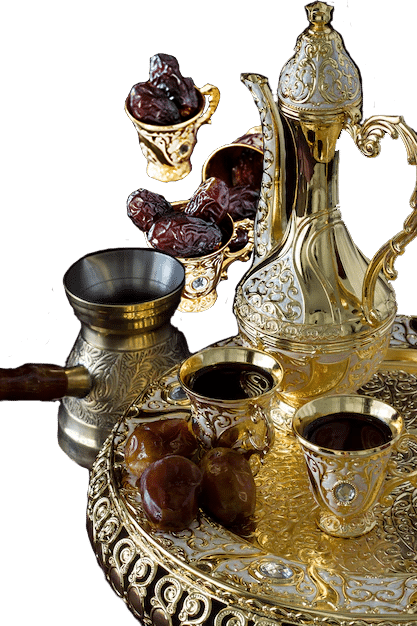 Steps To Prepare Arabic Qahwa (Coffee)
Let's go step by step and start the preparation of the most awaited beverage. 
1st Step: Grind the Magical beans
If you choose to use the beans for a stronger flavor, you should grind them before use.
You can also use the Qahwa powder available in the market to save time on grinding.
2nd Step: Boil and add the Ground mix
Add water to the Dallah or the saucepan on medium flame.
Next, add the powder form or the ground mix of the Coffee to the water.
Wait for the boiling part and leave for 20 minutes for the ingredients to settle and mix.
After 20 minutes, turn off the heat.
3rd Step: Add flavor and Improvise
More is less; You can always add a lot of flavors and ingredients to your Qahwa for that extra touch. Improvisation makes it only better.
Add the crushed cardamom, Saffron, ginger powder, and cloves.
You can add 1 tbsp of rose water for an added fragrance and flavor.
Please leave it to rest until all the ingredients combine before serving.
Serving of Arabic Qahwa:
Serve It hot in a thermos, with dates as the sidelines and small cups filled half with Qahwa.
We hope you had a great time making this popular Saudi Qahwa with us as much as we helped you prepare. Have fun serving your guests!