The King Fahd Causeway (KFCA) is a 25-kilometer (16-mile) bridge and causeway connecting Bahrain and the Kingdom of Saudi Arabia. The causeway spans the Gulf of Bahrain and connects the two countries' capital cities, Manama in Bahrain and Al-Khobar in Saudi Arabia.
The causeway was officially opened to the public on November 25, 1986, by King Fahd bin Abdulaziz Al Saud of Saudi Arabia and Sheikh Isa bin Salman Al Khalifa of Bahrain.
It serves about 45,000 vehicles daily, increasing to nearly 60,000 during weekends. A total of 17.7 million passengers used the service in 2008.
The causeway was built at approximately $800 million, with funding provided by the Saudi and Bahraini governments and private investors.
The King Fahd Causeway is a vital link between Bahrain and Saudi Arabia. Facilitating trade, tourism, and the movement of people between the two countries.
The causeway is also an important transportation route for cargo ships and oil tankers passing through the Gulf of Bahrain. Additionally, the causeway is a popular destination for leisure activities like fishing and sightseeing.
King Fahd Causeway Four Main Components
Following are the King Fahd Causeway's four main components;
A Roadway,
A Pair of Parallel Bridges,
An Artificial island,
A Causeway.
The roadway
The roadway is a four-lane highway that runs the entire length of the causeway, providing a smooth and efficient passage for vehicles.
The parallel bridges
The longest of their kind in the world are the main structural elements of the causeway, spanning more than 20 kilometers across the Gulf. 
The artificial island
The artificial island is located in the middle of the causeway. It serves as a rest area and an immigration checkpoint for travelers. 
The Causeway
A series of bridges, dikes, and dams connect the bridges to the mainland on both sides of the Gulf. The causeway also comprises seven embankments extending 12.57km in length.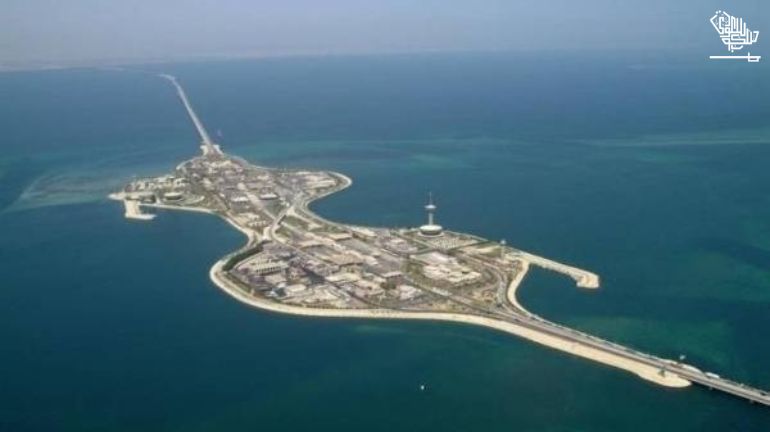 The King Fahd Causeway has undergone several expansion and renovation projects since its construction. Including constructing a second causeway parallel to the existing one that was opened in 2018.
It increased the capacity and reduced the crossing time by half, providing an additional lane in each direction, including exclusive roads for cars with electronic toll collection systems.
In addition to its economic and transportation benefits, the King Fahd Causeway also has significant cultural and historical significance.
The causeway symbolizes the strong ties between Bahrain and Saudi Arabia and has played a vital role in strengthening the relationship between the two countries.
In conclusion
The King Fahd Causeway is a major transportation and economic link between the two countries. It is a valuable trade and transport link and a symbol of friendship and cooperation between Bahrain and Saudi Arabia. 
The causeway has played a vital role in fostering economic and cultural exchange and will continue to be an essential asset for the region's development in the future.