The city of Riyadh during Ramadan is an incredible experience of local life and culture.
It's an opportunity to experience the Saudi culture during a month that is unlike any other in the social and religious life of the Kingdom.
Whether it be the flicker from the copper fanoos chandeliers or the sweet smells of burning Oud or the beat of a Musaharati's drum to awaken the citizens for their pre-dawn Ramadan meal Suhoor.
Riyadh's Ramadan celebrations are a mixture of traditions from the length and the breadth of the Kingdom, from Hijaz to the Eastern Province, and even further afield from many Arabian traditions.
Here are some of the capital's highlights.  
Ramadan- how is it different from the rest of the year?
Ramadan is the ninth month of the Islamic calendar. The beginning of this sacred month starts with the new moon's sighting, followed by a month of fasting, one of the five tenets of Islam that marks the first revelation of the Quran to the Holy Prophet Mohammad (PBUH).
Here during their 'fast,' Muslims abstain from food and drink from sunrise till sunset. The 'fast' is a time to exercise spiritual discipline and reflect on one's life.
As a part of the spiritual month, there is a great focus on charity and spending time with the family; here, Muslims traditionally tend to spend more time with their families and friends.  
Ramadan's fiest is the celebration of Eid-ul-Fitr, which is a public holiday with most businesses and indeed schools closed for the festivities.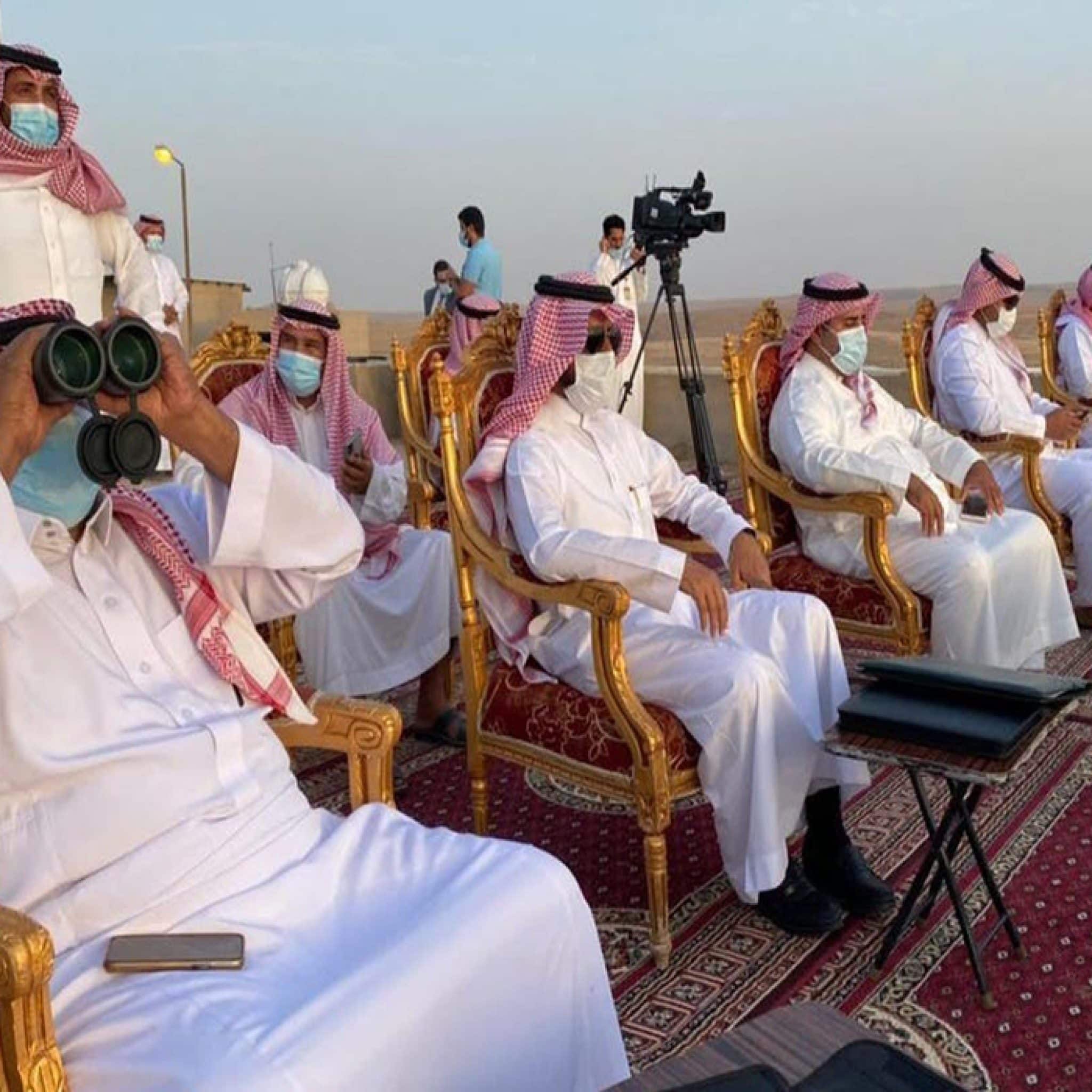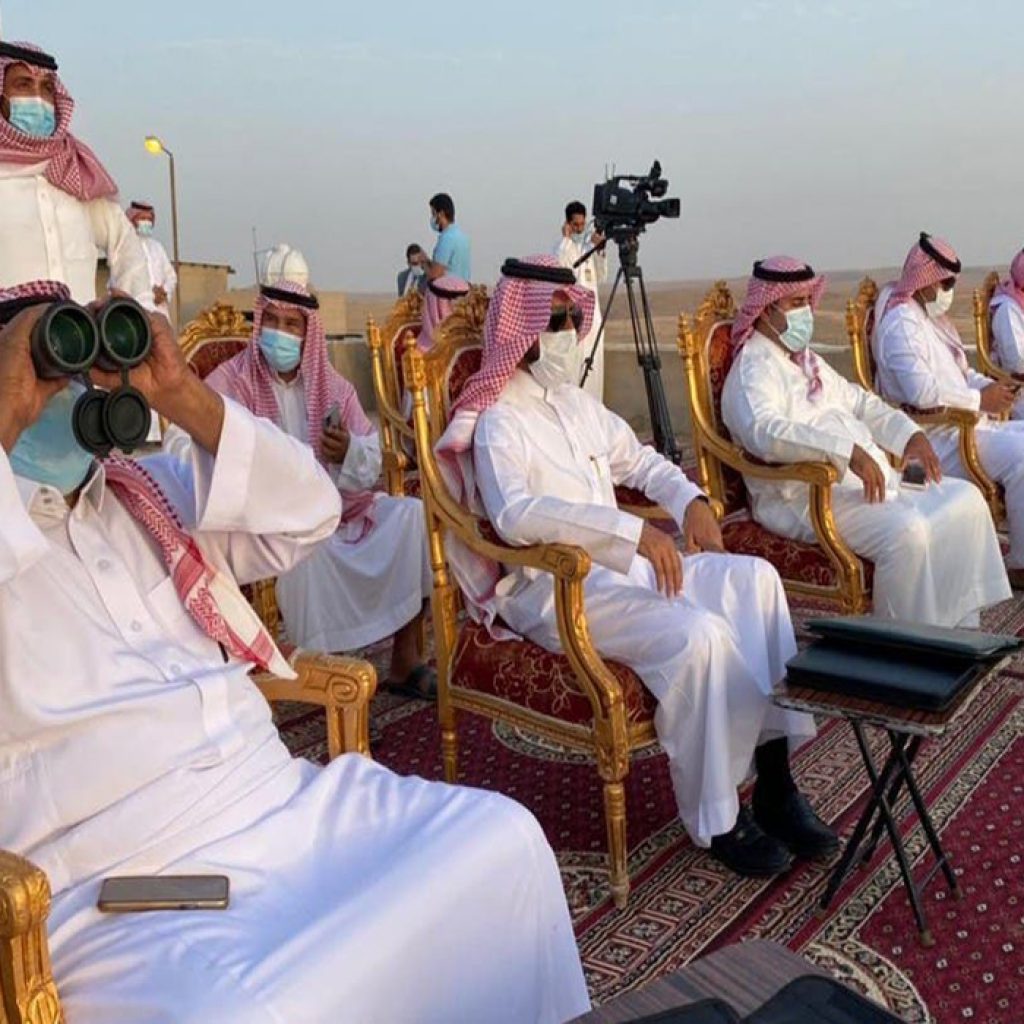 A typical Ramadan day
The visitors to the Kingdom are encouraged to imbibe the atmosphere and traditions.
However, it will serve as a good idea to plan any trip considering how daily life in the city changes altogether during this holy month. 
Sawm, the 'fast' in Arabic, is observed in the hours between sunrise and sunset; that is, a fast begins at the first faint light of pre-dawn and lasts until the sun sets over the horizon ending the day.
During this month, the typical Riyadhi routines are changed.
Working hours at all businesses tend to be shorter than during other months – starting later than usual and ending the day earlier.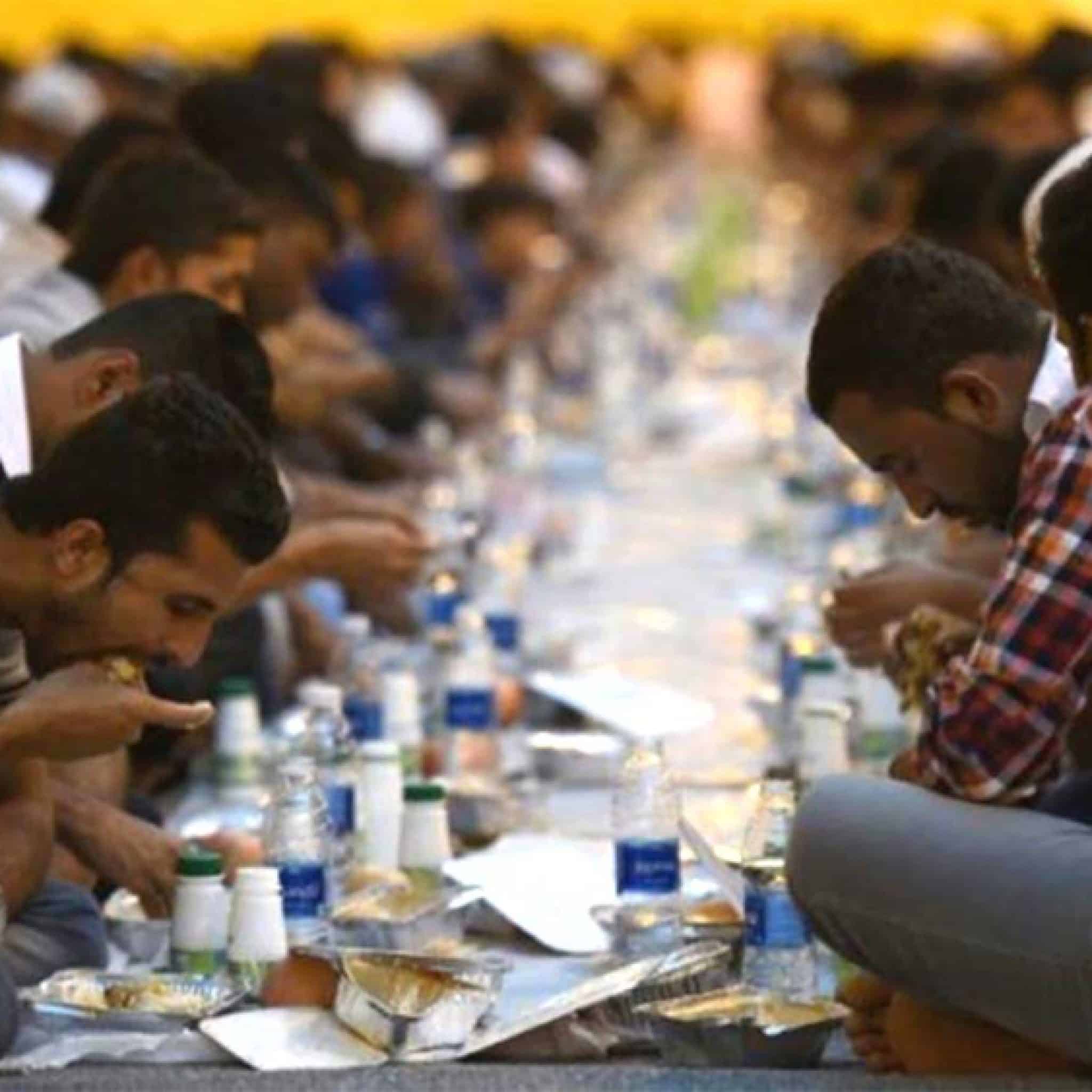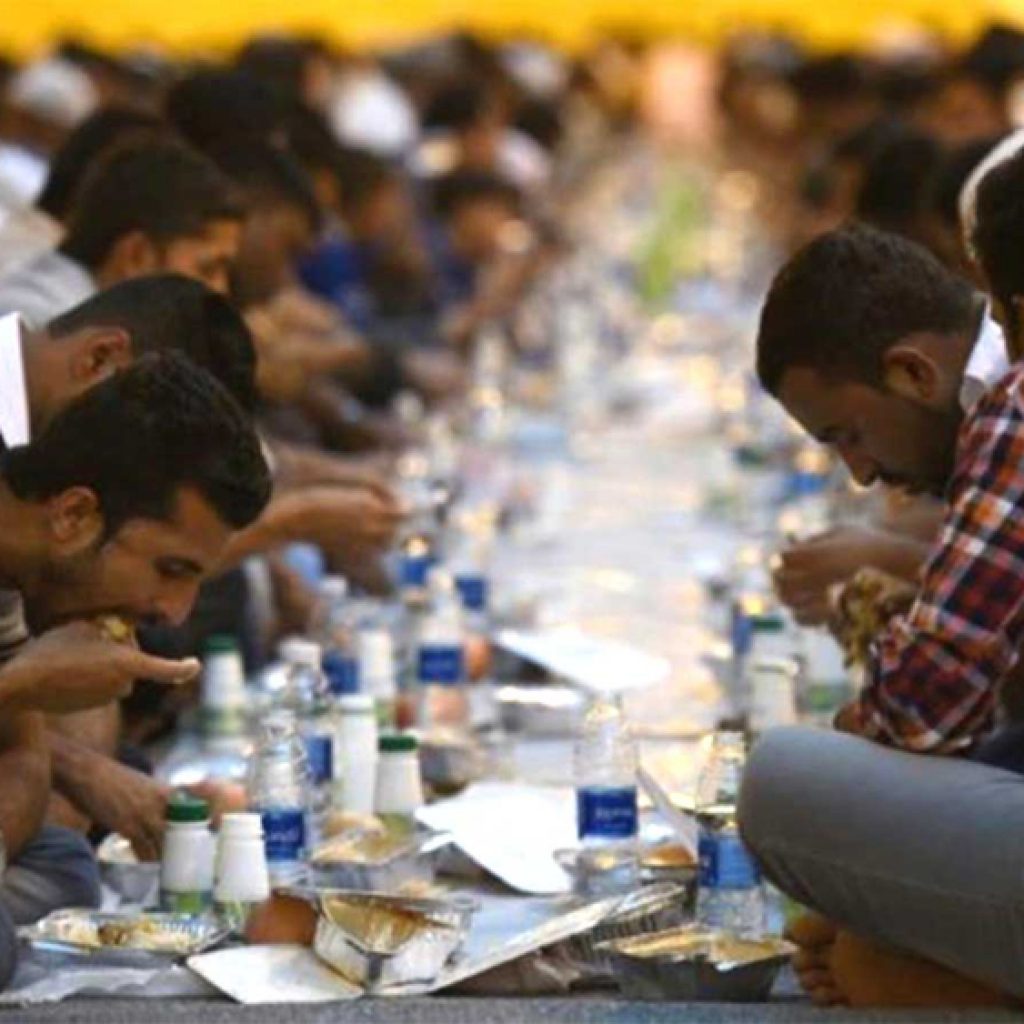 Most restaurants are closed for business during the day. Non-Muslims visiting Saudi Arabia are certainly not expected to fast, and restaurants within hotels will be serving food.
However, smoking, eating, or drinking in public should be avoided strictly between dawn and dusk in respect to those fasting during this time.
These sleepy days are followed up with a burst of activity upon nightfall. The muezzin's sunset call to prayer prompts the end to the day's fast and indulging in a well laid out iftar meal.
This Ramadan and iftars are the time when Riyadh comes alive with neighborhood festivities and delights in its culinary diversity.
The busiest roads of Riyadh can be seen, just the minutes before the Maghrib prayer with people in a rush to reach their homes or restaurants to break the fast.
Visitors need to ensure restaurant reservations are made well in advance to avoid last-minute disappointments.
Ramadhan – The Month of Charity
Ramadan is the period of greater charity and sharing with the family and community. You often see Riyadhi's going by the droves to mosques with home-prepared meals to share with the community.
Then some will not be hosting any family or friends on a particular day and will spill out to the cafes, restaurants, and Ramadan tents.
The younger generation has popularized the istiraha; rented chalets where friends come together to eat, drink and have a few laughs.  
Festivities during Ramadan
To experience what Riyadh has to offer during Ramadan, visitors should hold their nocturnal selves.
Restaurants and the shopping malls like the Riyadh Gallery Mall and Al Nakheel Mall generally open in the early evening.
They remain busy into the early hours of the morning, closing in time for Suhoor. Suhoor is the pre-dawn meal, which marks the start of the fast for the day.
Shopping
The festive mood is best felt under the twinkling white lights of lanterns at Riyadh's famous Souks, all of them bursting with colorful flags.
Like the Al Thumari Souq – located in the center of old Riyadh near the Al Masmak Fortress.
This souk is bustling with shoppers and stocked with gifts, clothing, and ingredients meant especially for Eid celebrations that mark the end of Ramadan.
Hawkers and shopkeepers greet their customers with 'Ramadan Mubarak (happy' Ramadan), bringing smiles to their faces.
Dinning
Sampling the traditional Saudi favorites is a must, camel meat, samosa, and shorba soup. All of these can be had at the dozens of Ramadan tents that pop up all over the city.
This fare is also available at many hotels and resorts, including Marriot, Hilton, Al Faisaliah, Movenpick, Four Seasons, and the Fairmont.
The neon lights of Tahlia Street are the haunt for Riyadh's younger generation.
With a greater variety of dining options, this place offers the younger people the experience of breaking their fast with various international options. These include American, European, Pakistani, Afghan, and other Asian cuisines.   
Another experience one must not miss during Ramadan is a visit to the historic town of Diriyah and its Al Bujairi Heritage Park lying to the west of Riyadh.
Its spacious green parks, soft-lit palm trees, and majestic views of the palace and ruins are a popular spot for families to enjoy Ramadan evenings together.
Al Bujairi Heritage Park is also the best place in Riyadh to watch the Eid fireworks, soaking up the friendly and festive atmosphere.
The 6 best iftars in town
This Ramadan, you may find yourself in need of a guide to the best options of Iftars available in town. So we've compiled a shortlist of some of the best options available in Riyadh. This list is based on food and ambiance.  
Unlike the buffet, as was common in pre-COVID days, restaurants now offer a family-style service. Guests enjoy their meals with their loved ones safely and with all the dishes served together at your table.
The Ritz-Carlton- Riyadh
A definition of luxury, the Ritz-Carlton hotel offers its annual Ramadan iftar around a beautiful indoor pool. 
The iftar has three set menus with multiple options to choose from. These consist of traditional favorites such as grilled kabobs, jareesh, mandi options, kufta. And other international choices the baked sea bass oriental grill, roast chicken, buttered chicken, and beef lasagna. 
The main course is served alongside a choice of freshly baked bread and soups. You can end your meal with a selection of the most crafted desserts, including but not limited to their famous honey cake, cheese kunafa, um Ali, and luqaimat. 
Timings: Iftar- between 6:00 p.m. and 9:00 p.m. 
Price: SAR 335 per adult and SAR 165 for children, excluding tax.
Al Faisaliah Hotel
This five-star hotel has two iftar restaurant options this year.
The La Brasserie is a family-style restaurant with a choice of international and local cuisine; the family iftar offers various cold and warm appetizers.
Guests are served a selection of dates and coffee, all decoratively placed at their tables; they also enjoy an assortment of traditional Arabic sweets and cotton candy for dessert.
Pricing: SAR 378 adults and SAR 187 for children. including tax
Timing: 6:00 p.m. to 8:30 p.m.
Globe is located on the top floor of the Faisaliah tower; this restaurant presents the best views of the city as they enjoy their steaks, seafood, chicken, and cold mezze.
The restaurant is quite popular for its mango cheesecake and baklava.
Pricing: SAR 510 adults including tax. Children are not allowed
Timing: 6:00 p.m. to 8:30 p.m.
Four Seasons
Iftar at Elements — the international cuisine restaurant has set a menu that offers the traditional flavors of the Kingdom during Ramadan, serving mandi options, lamb kabsa rice, cold mezze, um Ali, and other favorites.
Pricing: SAR 348 adults and SAR 160 for children, excluding tax
Timing: 6:00 p.m. to 8:45 p.m.
Intercontinental
Offers iftar at its Al-Bustan restaurant, serving international and local flavors such as cauliflower cream and lentil soups, a grill station offering lamb, chicken, and beef; Samosas, cold mezze, and smoked salmon with lemon. Dessert is a fruit bowl with tea or coffee.
Pricing: SAR 260 adults and SAR 128 for children, excluding tax
Timing: 6:00 p.m. to 9:00 p.m.
The Burj Rafal Hotel
Here guests can enjoy their iftar at the Aroma restaurant with a set menu of traditional food, including salads, chicken or lentil soups, hot Mezza, ouzi, shawarma, and other mixed grills.
Pricing: SAR 274 adults and SAR 139 for children, excluding taxes
Timing: 6:00 p.m. to 8:00 p.m.
The Crown Plaza RDC Hotel
Their main restaurant Mosaique serves iftar with a set menu of traditional favorites that includes a selection of hot and cold mezze, samosas, lamb kabsa, grilled meats, jareesh, and a variety of Arabian desserts preferred during the month of Ramadan.
Pricing: SAR 325 adults and SAR 160 for children, including tax.
Timing: 6:00 p.m. to 8:00 p.m.
This is certainly not the only list, rather a quick guide to your options for iftar and experiencing  Ramadan in Riyadhi tradition.