Ispring is a popular tool people use for e-learning. It offers a wide range of courses and many people frequently use it for such purposes. It allows people to make quizzes and other learning material and use them to enhance their learning as well.
Online Courses Features Of Ispring:
Uses PowerPoint:
Ispring allows you to convert your PPT into courses. You can even add tests or quizzes at the end to turn it into a better course. All the features/animations available in PowerPoint are converted precisely.
Recommended: Top 10 Online Platforms to Enter The Era of Online Learning
Narrations:
A narration editor is present. It allows you to add and cut any audio. You can record audio and put it in the presentation for a more structured course.
Course Templates:
Ispring's content library has thousands of templates. Whether it is for the table of contents, course material, title page, or any other area, the content library has many options you can choose from.
Characters and realistic locations:
There are multiple options of characters. Symbols of different ethnic groups, ages, and professions r present to choose from. Similarly, you can select desired locations. 
It can be a particular setting that would fit the outline of the course. These features allow the course to be more detailed and relatable.
Icons:
Icons can also be added to the slides. These icons are helpful since they indicate what is present on a slide. Such as, an icon can display that vital information is present. There are over 3600 icons available for use.
More about Ispring:
Customer service is another feature of Ispring. On average, Ispring resolves any issues that the customers may have in under 2 hours. Their customer care representatives are available 24/7, and you can reach out to them through phone, email, and chat.
Additionally, Ispring allows you to work with your peers or colleagues. You can send the link to your page on Ispring, and others can add to it. People can edit easily.
It is also easy to send a link to stakeholders to view the entire page. And so you don't have to deal with bundles of files.
It is easy for newbies to adapt to Ispring since there isn't much of a e-learning curve. Whatever you do there is essentially the same as working on a PowerPoint.
It focuses on the details of the quiz. You can customize the number of slides a person can view to finish the course. Or you can set a specific score which will be the passing marks. And also set a maximum score.
Package Options Of Ispring:
It is initially free, and many features are available without cost.
However, the Ispring suite has two pricing options. One is $770, and one is $970.
The Ispring suite is more advanced. It allows the user to create interactive quizzes and roleplays. It is an advanced version of Ispring, which is free.
However, if someone wants their staff to join courses, there are three options. As follows;

100 users: $3.66,
300 users: $3.00,
500 users: $2.82.

For the option with 100 users, there are 50 limited courses available. For the other two options, unlimited courses are present. If there are more than 500 users, Ispring can be contacted through their website for assistance.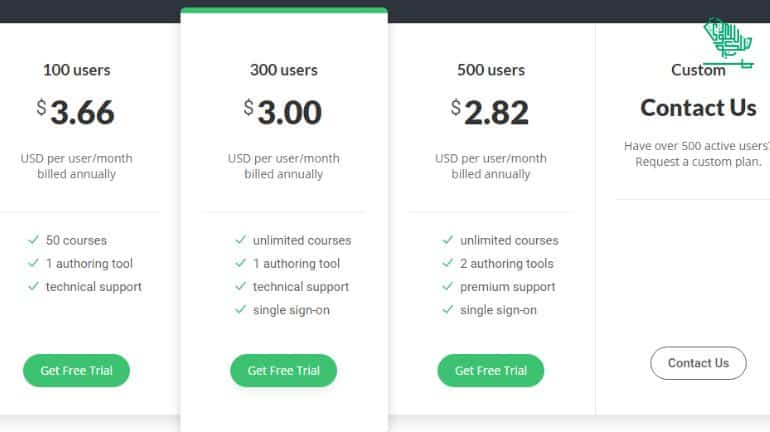 All in all, Ispring is a great tool. As mentioned, it works for many purposes. Make e-learning easy with Ispring, starting now.