Have you ever found yourself looking at your website and thinking, Why is it not growing? You've invested so much of your hard-earned money and time into this business, yet it is monotonous with little conversion rate and sales.
Your hard-developed landing pages don't seem to be landing you any customers. Here we are with a solution to your web traffic blockage.
You may require better, more dynamic, and engaging landing pages. Now you may be wondering, new landing pages?
That is more coding than you are willing to do. But what if I tell you you don't need to write a single code string?
Yes, you don't have to know how to code to use the fantastic Unbounce tool to create the landing pages that make your website fly.
What is Unbounce?
Unbounce is a customized landing page builder. Unbounce is the first conversion intelligence platform that works for small businesses.
Recommended: WordPress Elementor; A Revolutionizing Web Design
It pairs your knowledge with machine learning to increase sales and conversions in online marketing campaigns effortlessly.
From thousands of pre-optimized landing page templates and compelling copy creation to campaign optimization with a few buttons, Unbounce can help small businesses grow effectively and swiftly.
How Does Unbounce Work?
Unbounce is incredibly user-friendly. It has a simple drag-and-drop landing page builder where the only limit is your imagination.
Just a few minutes of your precious time and a little enthusiasm are all you need to build better landing pages. It also lets you set up pop-ups and sticky bars where needed.
The pop-ups can be customized with time, cookies, referral URL, and location.
Unbounce allows you to integrate multiple apps into your landing pages so that you can turn your site visitors into sales and sign-ups.
Unbounce gets more customers with the most relevant messaging by using A/B testing on every aspect of your landing page or ad campaign.
It uses intelligent traffic techniques like the visitors' browsing history, geolocation, or other attributes to optimize landing pages for conversions and help increase your sales.
How Much Does Unbounce Cost?
Now that you know the fantastic features of Unbounce, you might be wondering how to get this excellent tool and how much it costs. As of June 2022, Unbounce offers three main plans: Launch, Optimize, and Accelerate.
The key differences between the three plans are based on the number of conversions and visitors per month and the total number of connected domains.
Currently, Unbounce's pricing starts at
$90/month if paid monthly
$81/month if paid annually
goes up to $225/month, depending on the plan of your choice.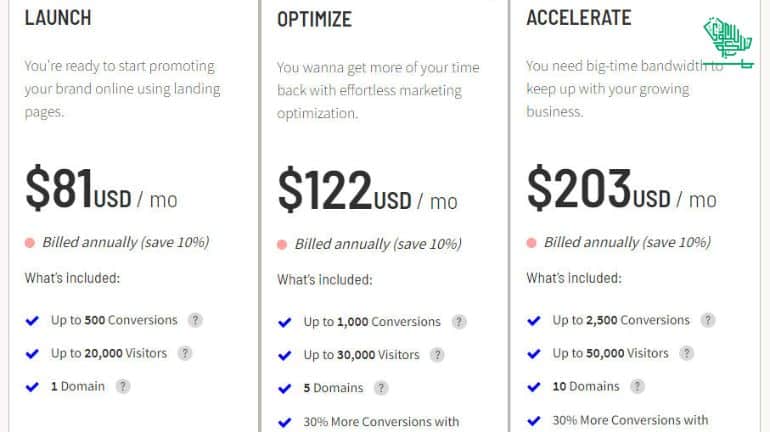 However, If you are not ready for the commitment, Unbounce offers a 14-day free trial to use all features without any restrictions.
Although you must put your credit card info in, you won't be charged anything as long as you cancel within the 14-day window.