One thing the pandemic has taken away from us is the ability to travel.
Whether it was a road trip via airline to the nearest beach to your town or a trans-Atlantic ticket to the Bahamas, traveling was a source of solace and happiness for many of us.
Air Travel has been one of the most popular modes of transport known to man ever since the Wright Brothers built and flew the world's first plane in 1902.
There is an average of 9,728 planes carrying 1,270,406 passengers in the sky at any given point. However, as we know, this number has decreased significantly since the outbreak of the COVID-19 pandemic in 2020.
Even with a loss of 60% in global air passenger traffic, the number of scheduled passengers boarded by the global airline industry was 1.8 billion people in 2020. 
Scheduled passengers are the number of passengers who have booked a flight with a commercial airline, excluding chartered flights. A private group of people secures an entire plane.
Therefore, scheduled flights turn into those that can be commercially booked by scheduled passengers, excluding chartered flights. 
Now that we've established how important air travel is, knowing about the country's flights and airlines to/stay in is essential.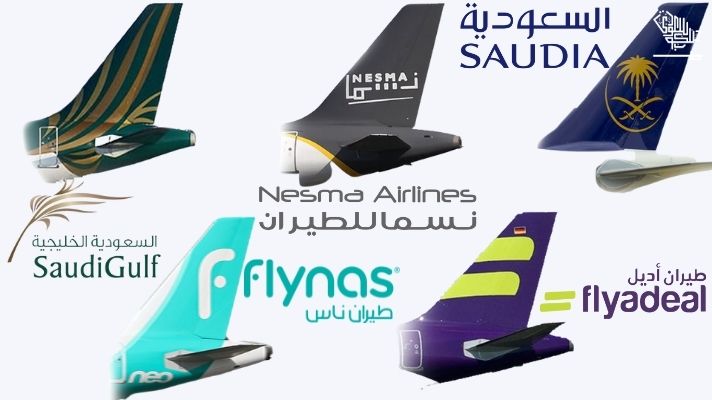 Hence, our topic of discussion today is Scheduled Airlines in Saudi Arabia.
In Saudi Arabia, airline revenue is projected to reach US$ 2,773 million in 2021. Experts also say that there can be an increase in ticket prices by 300% after the travel is lifted
Saudi Arabia has five scheduled airlines, and these are discussed further:
Saudia Airlines
Saudia, formerly known as Saudi Arabian Airlines, is the flag carrier of Saudi Arabia, based out of Jeddah. The carrier's main operational base is at the King Abdulaziz International Airport in Jeddah.
It additionally operates from the King Khalid International Airport in Riyadh and the King Fahd International in Dammam.
Regarding revenue, the airline is the biggest in the Middle East, after Emirates and Qatar Airways. 
Saudia runs domestic and international flights to over 85 destinations in the Middle East, Asia, Africa, Europe, and North America. Saudia is a founder and one of the Arab Air Carriers Organization members.
Flyadeal Airlines
Flyadeal is a Saudi low-cost airline based at King Abdulaziz International Airport in Jeddah.
It is owned by the Saudi flight carrier Saudia as part of the Saudia Group's SV2020 Transformation Strategy, aiming to transform the group's airlines into world-class quality. 
Flyadeal targets domestic travelers, specifically Hajj and Umrah pilgrims and traveling tourists. The airline began flights on 23 September 2017, linking Jeddah to Riyadh. 
Flynas
Flynas is a domestic and low-cost domestic and international airline based in Saudi Arabia. It was the KSA's first low-budget airline and had its head office in Riyadh.
Flynas started as NasAir in 2007, and operations began in February 2007. The name was changed to Flynas in November 2013. As of 2014, the majority shares of Flynas were owned by National Airline Services Holding.
SaudiGulf
Saudi Gulf is an airline carrier located in Dammam and owned by the Al Qahtani Group.
The airline launched operations on 29 October 2016 and became the KSA's third international carrier, after Saudia and Flynas. 
Nesma
Nesma is a Saudi Arabian airline that started operations on 18 July 2010. Its first scheduled flights to Saudi Arabia were on 24 June 2011 to Hail, Tabuk, and Taif. 
It operates domestic flights within the KSA as well as international flights. Nesma serves as a full-service carrier on international flights.
Conclusion
Saudi Arabia has one of the most complex and robust airline services globally, with a flight for almost everyone.
I hope that this article helped you understand a little more about the airline industry in the KSA. The revenue is expected to grow 36.46%, with the number of users reaching 9.2 million by 2025.
Therefore, it is safe to say that the Kingdom of Saudi Arabia is one of the big shots in airlines.