Kajabi is an "all-in-one" course platform, especially for business owners. It was introduced in 2010 and now serves over 25000-course creators.
Therefore, it is fair to say that Kajabi is one of the top software business owners use to help manage their businesses efficiently.
Moreover, this software has features that greatly emphasize marketing tools apart from online courses.
These include email marketing and even creating your website. This article talks in detail about all you need to know about Kajabi.
Kajabi Pricing Plan
It offers three plans:
The Basic Plan
The Growth Plan
The Pro Plan
The prices vary among these plans, starting from $149 to $315/month. You can upgrade or downgrade your plans without any additional charges.
You can also choose whether you want a monthly or yearly plan. If you pay annually, you can save 20% off the Kajabi cost.
Kajabi offers no free plan. However, you can get a free 14-day trial for any plan of your choice. Below are the monthly and annual prices of the three pricing tiers Kajabi offers.
| | | |
| --- | --- | --- |
| Plan | Monthly Price | Yearly Price |
| Basic | $149/month | $119/month |
| Growth | $199/month | $159/month |
| Pro | $399/month | $319/month |
Kajabi provides integration through PayPal and Stripe. Also, you do not have to pay any transaction fees. However, there is a payment processing fee of 2.9% and 30 cents, which you need to pay.
While its' pricing range starts higher than its alternative software, its features make up for the expensive cost.
Kajabi Basic
While users are limited to 10,000 contacts and 1000 active members, Kajabi Basic offers
The active members are those who log into your courses once a month. It also enables access to assignments. These assignments may include:
Live chat support
Quizzes
Surveys
Moreover, through Basic Plan, you can send unlimited marketing emails. You can even get access to unlimited landing page builders.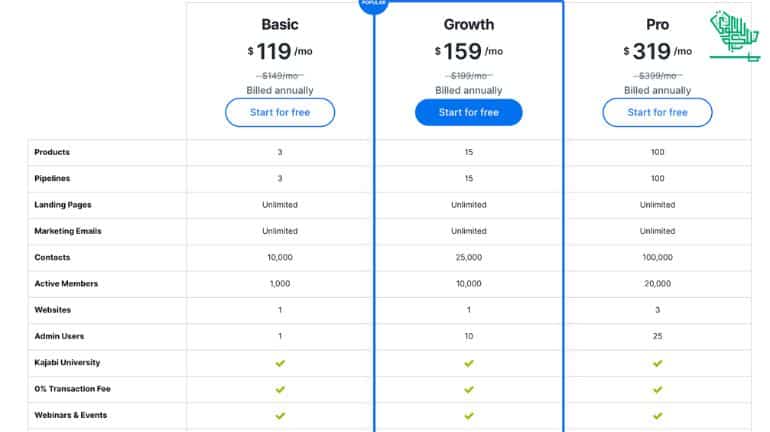 Kajabi Growth
The most popular of all three plans is Kajabi Growth. It offers
15 products
15 Pipelines
10 admins
Adding on, you get up to 25,000 contacts and 10,000 active members. Also, you gain access to run your affiliate program through Kajabi.
Furthermore, another advantage of this Plan is removing the Kajabi branding from your website. Users also receive access to
advanced automation
24/7 chat support
Customer Success Activation Call service
Kajabi Pro
Although this is the most expensive Plan that Kajabi offers, its features make up for the high price. You can get
100 products
100 Pipelines
up to 2 million marketing emails per month
However, there is a limit on the number of contacts or active members you can have. Kajabi Pro offers 100,000 contacts and up to 20,000 active members.
Like the Growth Plan, you can get advanced automation and chat support. You can also run your affiliate program through this Plan.
How is Kajabi helpful?
Many of its features and tools are similar to those of LMS (Learning Management System). These may include
e-Commerce
Website creator
Quizzes
Video embeds
Below are descriptions of some of the tools present in Kajabi.
Email Marketing
Kajabi offers a built-in email service to market your products. Hence, you do not need another email provider, making your job easier.
This email marketing service also comes with email automation. Furthermore, it includes features like email lists and marketing analytics as well. You can run two primary email campaigns through Kajabi:
Email Broadcast: You can send emails to the member from the People tab through email broadcast. For example, to promote a product.
Email Sequence: It allows you to send a list of emails to your members once they complete an action, for example, after completing a course.
Also, you can schedule emails at a specific time. It also allows you to edit any planned email.
Sales Pipeline Builder
This feature links all processes helping you move your business towards sales smoothly. Kajabi's Pipelines work similarly to funnels.
They attract traffic to what you have to offer on your page. Therefore, it helps bridge the marketing and sales functions of your business.
Moreover, through this tool, you can build
landing pages
opt-in forms
sales pages
Pipeline blueprints
You can build up to 100 Pipelines depending on the Kajabi plan. The Basic Plan allows 3 Pipelines, and the Growth Plan will enable you to have 15 Pipelines.
To gain access to building 100 Pipelines, you must have the Pro Plan. However, if you add Kajabi Access to any Plan, you can have double the number of Pipelines that the Plan allows.
Kajabi Community
Kajabi proves to be an "all-in-one" software as it also offers a built-in community platform. Here, you can discuss topics that are relevant to your business.
Furthermore, through Kajabi, you can effectively communicate with learners. No third-party platform is required to do so. It is like a web forum available within your business.
Also, as the Administrator, you can create different groups for specific topics. Then in these groups, you can add members of a particular course.
Consequently, this will help learners access knowledge on their chosen subject and avoid spamming them with unnecessary information.
Moreover, you can also offer the Community as a product. You can, therefore, charge members to join the Community as well.
Kajabi Access
Kajabi Access is another pricing option besides the three subscriptions mentioned above. You can gain access to this by paying $99/per month.
Through Kajabi Access, you can get
Six one-on-one sessions with the Customer Success Manager
Double all your Plan (Basic, Growth, or Pro) limits
Use Custom Code Editor. Through this, you can access product improvements and new features earlier.
Is Kajabi Worth it?
To get a clear idea of whether Kajabi is for you, below are a few pros and cons of using Kajabi.
Pros
As mentioned earlier, it is an "all-in-one" platform. The features mentioned above provide a little insight into what Kajabi offers. From having your website, customization, and marketing emails, Kajabi has it all.
The Community platforms help you engage with your members better. Also, you can earn even more if you introduce Community as a product and charge it. Moreover, creating your domain and numerous course creation tools is a bonus.
The Kajabi email also comes with every subscription Kajabi offers. It has all the tools, such as sales Pipelines, to convert your site visitors to customers.
Furthermore, the website themes it provides have a modern yet professional look. The presentation for sales pipelines and landing pages is elegant as well. You can also purchase premium or custom themes if you do not like the ones that Kajabi has.
There is a Kajabi mobile app as well. It also provides tools for tracking and analytics. It is very convenient to use for beginners.
Since it has multiple videos that aim to help users in figuring out how to use Kajabi, it is easy to understand for beginners too.
While many platforms may offer features similar to Kajabi, it will always have the edge over them. This is due to the Kajabi University that the company introduced. It also goes by the name Hero University.
This university provides services that show you everything you need to know to market and sell your online courses. It provides the How To Series, helping you build and run your business effectively.
Cons
One main disadvantage of using Kajabi is its high pricing range. This would particularly affect small business owners or beginners.
Also, since there is no free version of Kajabi, except the free trial, not everyone can manage to afford it.
Moreover, editing your website can come off as confusing for some users. You also need a third-party platform to distribute course completion certificates.
Therefore, increasing your cost. At times email delivery may not be smooth. According to some users, their emails get delivered as spam, having a negative effect on their business.
However, Kajabi is constantly taking feedback from its users. It enhances the features its users face problems with. It also introduces improved features with time to offer maximum support and ease.
Kajabi VS Teachable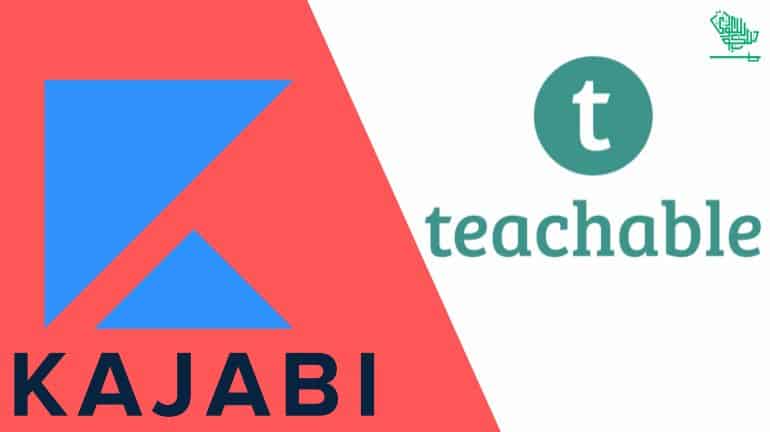 When comparing the prices, Teachable has relatively lower prices than Kajabi. These vary from $39 to $299 per month.
Compared to Kajabi, where you will be paying $199 for the Growth Plan, you only need to pay $119 through Teachable.
Moreover, Teachable's mid-level Plan offers you an unlimited number of courses and students. Through Kajabi Growth, you get 15 products and up to 10,000 active members.
Also, sometimes you will have to pay a transaction fee for each sale you make through Teachable. On the contrary, it does not charge any transaction fee.
Recommended: Teachable: The Only Introduction You Need
In addition to that, you will need a third-party platform while using Teachable for email marketing. This will further add up to your cost.
Therefore, through Teachable, you will have to pay $119 and an additional amount (for example, $199 if you opt for ConvertKit).
On the other hand, you can avoid the extra cost by going for Kajabi Growth Plan for $199, which offers all the features you need.
Kajabi VS Thinkific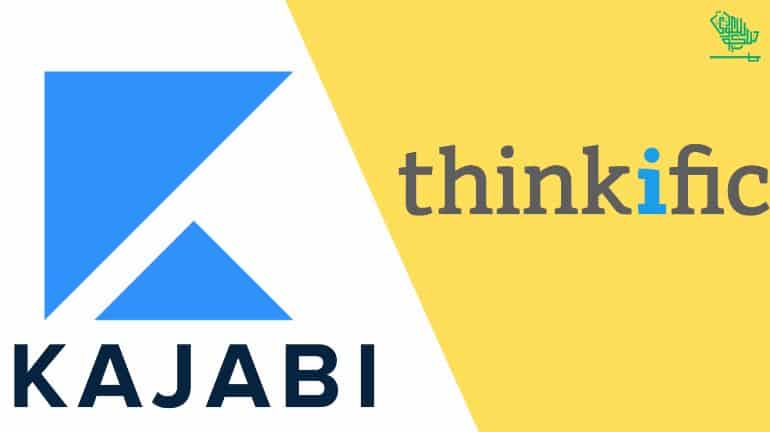 The main difference between these two is that Thinkific does not provide the same marketing and sales tools as Kajabi.
However, Thinkific offers many course creation tools. You can also host video conferences on the platform immediately.
Moreover, using Thinkific does not require a lot of tech knowledge. It is relatively easy to use for everyone.
Recommended: Think To Thinkific
Also, the program is regularly updated. Therefore, you get the latest features to have a seamless user experience.
Thinkific offers a free plan, unlike Kajabi. However, it is not big on marketing capabilities. This means that you will have to refer to third-party platforms.
There is no doubt that Thinkific is a cheaper alternative. However, engaging in third-party platforms will increase your cost.
More features that are present in Kajabi but not offered by Thinkific are
Blog creation
Email Marketing
Building sales funnels
Mobile app
Kajabi Websites
Below are screenshots of the home pages of a few websites built through Kajabi. All of these websites are striking, simple, and easy to navigate.
Full Plate Living
Psychotherapy.net Academy
Floret Online Workshop
VH Design Co
Maggie Landes
Fully Raw
Frequently Asked Questions