Online teaching and learning have revolutionized in the past few years and multiple platforms have popped up that encourage people to take the opportunity to learn something new at their own pace.
Among the plethora of such digital platforms, Thinkific outshines its competitors.
What is Thinkific?
Thinkific is an advanced software platform that allows its users to:
Create
Market
Sell and deliver their online courses.
The platform aims to enable users to build their independent online courses with their existing knowledge and sell them using the platform, thus making themselves a brand.
Thinkific helps you in all steps, from course creation to launching and maintaining the course.

What to use Thinkific for?
Thinkific is the platform for creators from every conceivable industry. Every discipline, hobby, or interest has someone willing to pass it on to the new generation of learners.
Thinkific users range from entrepreneurs and small businesses to larger organizations with an established reputation and a loyal following.
You can join Thinkific if you want to diversify your existing business and take it to the next level. Users on the platform can be:
Content creators
Coaches
Academic trainers
Small businesses
Larger Organizations
Content Creators
As a tech-savvy digital entrepreneur with a wide audience, you can become an influential voice in your niche by sharing your expertise with your loyal followers from YouTube, TikTok, Instagram, or a high-traffic blog.
Coaches
The world has finally realized the potential of personal and professional development, and coaches are in high demand.
You can be a coach for any number of things like lifestyles, fitness, and written or spoken communication, and see your calendar can fill up in a short time as a personal coach.
Recommended: Ispring – Create Training Programs and Courses Online
Courses are an innovative way to increase your clientele and turn your skill into a stand-alone product.
Academies & Trainers
Education is a form of business in today's world, and that is a well-known fact. You may be in professional development, corporate training, boot camps, or a specialized school.
When education is your business, you need a platform like Thinific to meet your ever-growing needs.
Thinkific allows you to deliver the excellent experience you want with flexible classes, live or cohort-based learning, or a mix of both. It provides you with advanced tools like
Certificates,
Live lessons,
Digital communities,
On-lesson discussion
Grouping student cohorts.

Small Businesses
As a small business, you are always looking for ways to increase your revenue and reach more customers. Courses are a great way to do just that.
You could be anything from a fitness studio to a healthcare professional, author, speaker, or even a restaurant.
You can curate short courses on small workouts, cooking tips, or anything you can think of sharing with an audience.
Larger Organizations
Large organizations can use Thinkific to curate better workshops, training programs, or boot camps for their employees and customer base.
Thinkific makes it very simple for large organizations with no technical expertise to build and deliver fully customized learning products under their brands.
Watch here on YouTube what experts have to say.

Features of Thinkific
Thinkific is thinking of you every step of your online course creation journey, from course creation to its launch and then some more.
Below are just a few features offered by Thinkific
A Course Builder to curate a customized curriculum.
A Customizable Website Builder to deliver your courses.
Built-in eCommerce system Fully integrated to accept payment for your courses.
Marketing CRM to incorporate business and marketing tools so you can market and sell your courses to the masses.
Provides student success tools and a student-focused learning environment to serve your audience better.
These features of Thinkific make it the perfect platform for any business or entrepreneur with a skill to share, from courses on cloud computing to learning pilates.
Pros And Cons of Thinkific
Pros
Easy to setup
Free for the first month
Ability to integrate multiple tools
Excellent customer support
An all-in-one package to manage all your online course needs.
Cons
Costly initial startup since you don't get a custom domain in the free plan.
It charges $0.10 per active student after the first 100 students you gain.
A good marketing strategy is required.

Thinkific Pricing
Following are the pricing plans which are available on Thinkific.
Free – $0
Host Content
A few courses allowed
No limit for students
Quizzes and surveys
Access funds instantly.
Basic – $49 ($39 per month when paying annually)
Unlimited courses and students
Drip Content
E-mail students
Integrations and Zapier
Custom Domain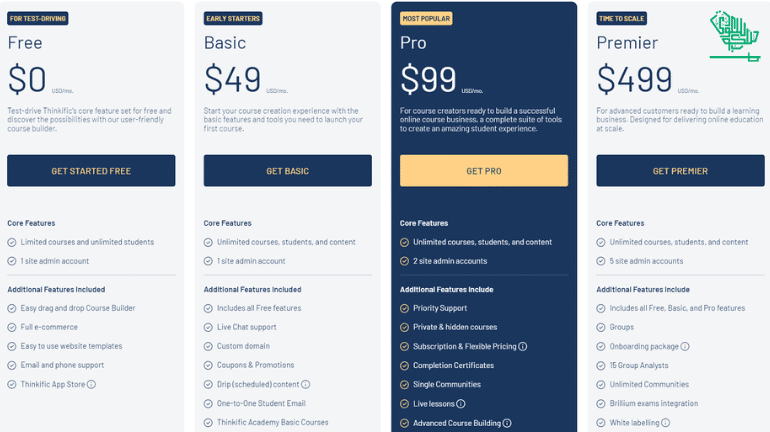 Pro – $99 ($79 per month when paying annually)
Unlimited courses and students
Two site admin spots
Five-course author spots
Advanced pricing
Memberships and Bundles
Certificates
Advanced support
Enhanced customization
Premier – $499 ($399 per month when paying annually)
Unlimited courses and students
Five site admins
15 group analysts
50-course admins/authors
Single sign-on.
Conclusion
To make it short, if you are a blog or YouTube channel, an author or a speaker, a subject matter expert, or a fitness coach looking to expand your business and attract more customers.
Then Thinkific is for you. Thinkific will help you achieve all your business goals.