Learning is not something that ends with getting a diploma/degree. It is a life-long process that never ceases. You learn, you grow, and you keep on repeating this cycle.
In the fast-paced digital world, learning has become much more accessible. Now you can learn anything and everything from anywhere around the globe while sitting in your bedroom.
Recommended: How To Make Money Online With Affiliate Marketing – Top Ten Affiliates In 2022
Especially post corona, the online teaching/learning community has grown drastically.
Many platforms are now established online for this purpose. One such fantastic all-in-one platform is Systeme.io.
What Is Systeme.io
Systeme is an online marketing/development platform that lets you set up a complete website for selling and conducting online courses.
Anyone can use this platform to deliver knowledge from bloggers, schools, and freelance teachers to small businesses looking to provide knowledge to their target audience.

How Does Systeme.io Work
Systeme lets you:
Set up the content of your course available online on the landing page (this includes videos, images, and text)
Design a landing page for enrollment to the course, where students/participants can register by providing their information and paying the course fee.
Manage your course participants and effectively communicate with them via emails or automated newsletters
Although Systeme provides an advanced interface for delivering educational content to your target audience, it's not only about giving information.
Systeme is also highly focused on setting up and automating the registration process of new participants so that you can avoid the hassle of manual communication.
It lets you automate communication and efficiently handle payments with Paypal/Stripe integration.
Recommended: Hubspot 101: The Basics to Get You Started
Who is Systeme Designed For
Systeme is designed for a variety of audiences. However, the ones who benefit most from it are:
Individuals or companies that want to build a business selling online courses.
Businesses that want to introduce consumer education as a marketing tool.
Although it has been designed keeping paid courses in mind, it will also allow its users to set up a funnel for providing access to some free resources.
Cost of Using Systeme.io
Systeme has a very cheap payment plan. In fact, you can get it for free, albeit with limited feature usage and only one course but with unlimited emails, blog posts, file storage, and much more.
But if you want to add more than one course and avail more features, you can buy one of the paid plans by Systeme.
The plans start from $27/month to $97/month with unlimited feature usage and courses. You can also avail a discount of 30% if you choose to pay annually.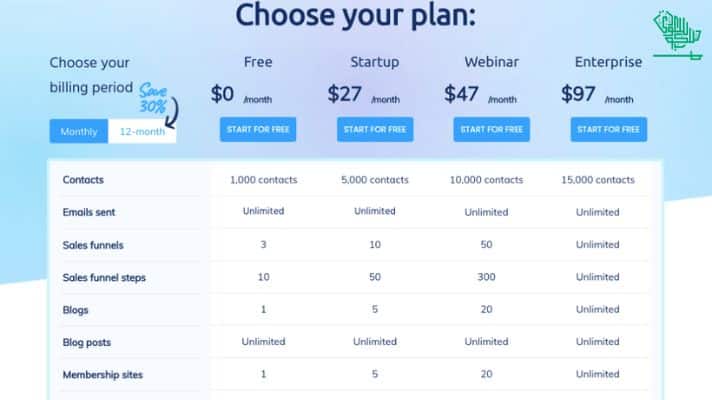 So if you're looking for a software program to help you build an online learning platform and get clients for your online courses, look no further because Systeme is here for you.