Table of Contents
We are glad you landed on the right page to fulfill your late-night cravings.
Here's your comprehensive food lover's guide to culinary delights in Riyadh from dusk to dawn at any hour. Discover a diverse range of dining options that cater to those who crave a midnight snack or a late-night feast. We regularly update this list to give our readers something new and fresh to try.
Our list of restaurants will help you pick from a wide range of delectable cuisines, exceptional service, and a grab-and-go experience anytime in the day or night.
So, let's start checking out some of our picks during our visits to these places based on public ratings and opinions.
KM Lounge
Are you looking for a dining experience in Riyadh 24/7? Look no further than KM LOUNGE! Here's why you should check it out.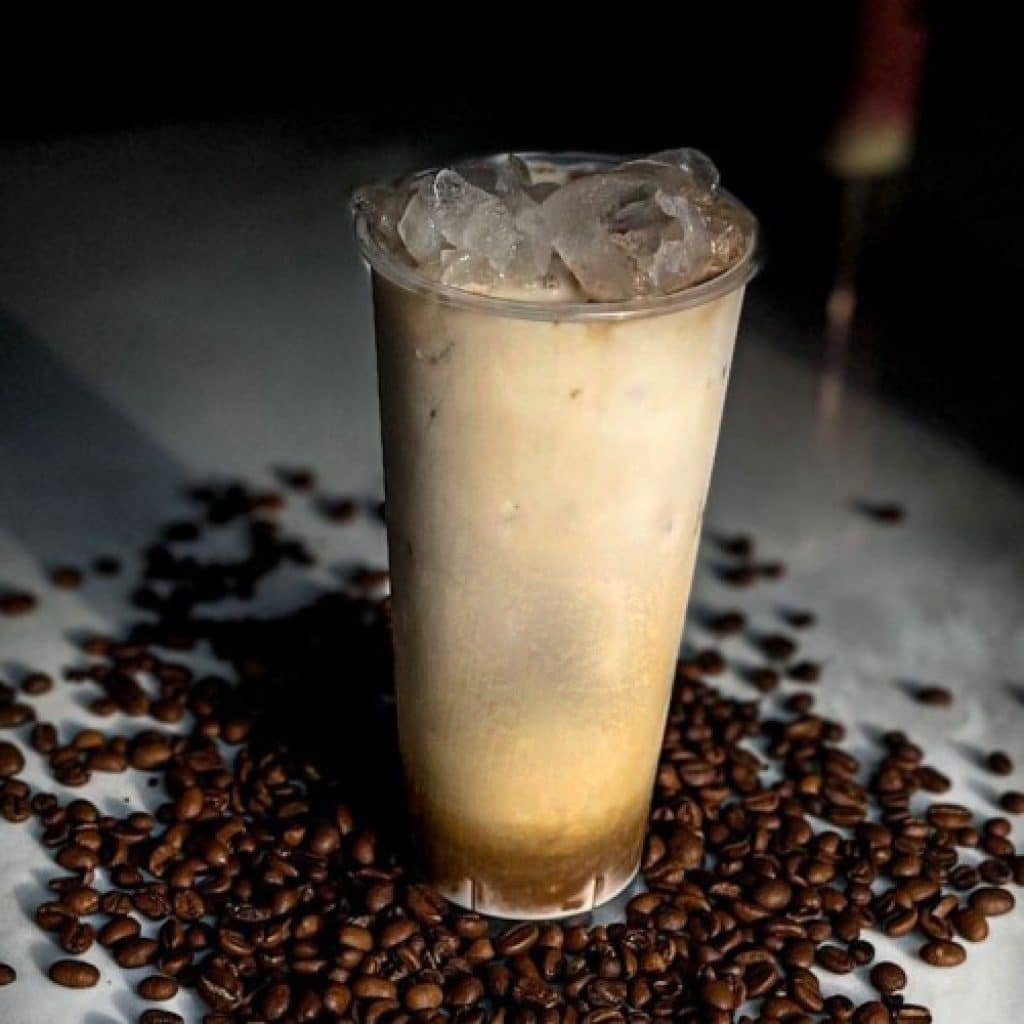 Step into a world of luxury at KM LOUNGE. The stunning interior design creates a welcoming and cozy ambiance you won't want to miss.
When it comes to service at KM LOUNGE, they went above. Beyond to make our visit unforgettable. Their attentive and friendly approach added a layer of enjoyment to our dining experience.
It's conveniently situated in front of Kingdom Tower, making it easily accessible for locals and visitors. Whether exploring the city or looking for a spot, KM Lounge is the choice.
Ratings: 4.9 out of 106 reviews
Service options: Dine-in · Drive-through · No-contact delivery
Hours: Open 24 hours
Located in Olaya View
Address: Al Wurud, Riyadh 12215, Saudi Arabia
Menu: oddmenu.com
Phone: +966 55 281 3555
Alkhafeef
Picture this: You find yourself on Al Izdhar Rd in Riyadh, Saudi Arabia, in the wee hours of the night, with a craving that won't quit. What's your go-to solution? Alkhafeef is a 24-hour haven for food enthusiasts like you.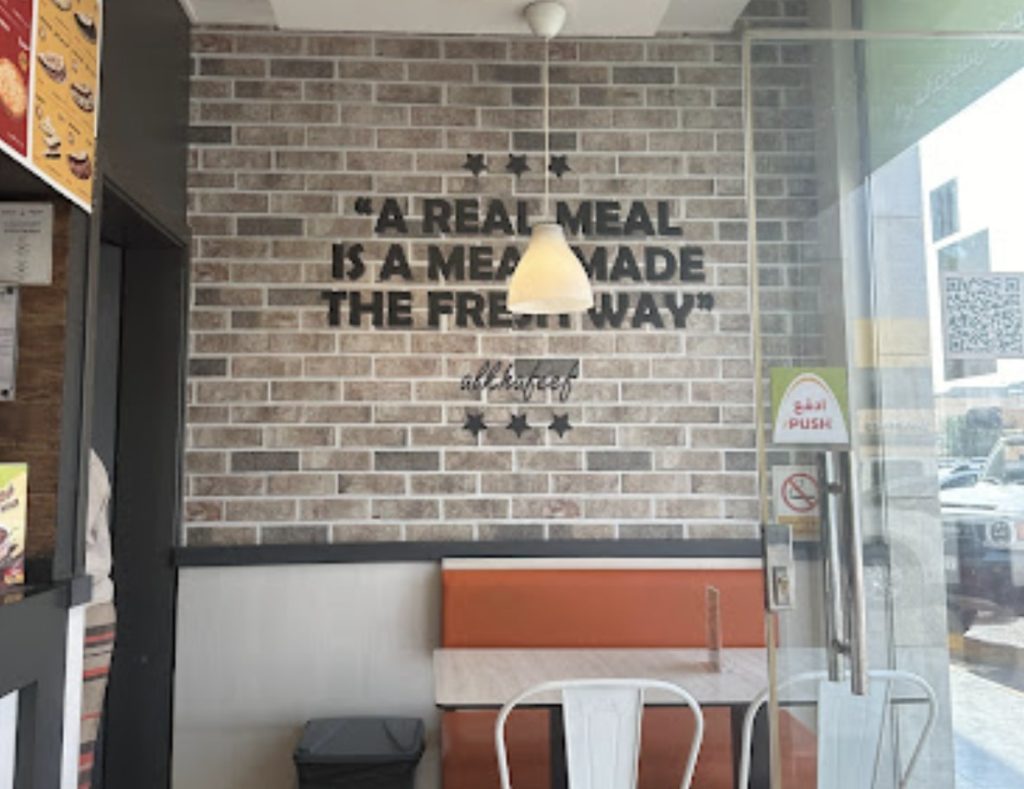 The online menu offers many options to delight your taste buds. Every dish that graces your table arrives hot and bursting with flavor. It's not just a meal; it's an experience.
Let's talk breakfast – a meal setting your day's tone. Alkhafeef is your go-to spot for a hearty and satisfying breakfast. Whether you're craving traditional favorites or something with a modern twist, they've got you covered. This is the place where your day starts on the right foot.
One thing you'll notice about this restaurant is its cleanliness. It's a small space primarily designed for takeout, but don't let that deter you. The service is reasonably quick, ensuring you won't have to wait long to savor your delicious meal. And the best part? It's all available at a reasonable price.
Speaking of favorites, the Manaqeesh here are simply irresistible. It's no wonder you find yourself returning for them. The flavors, the texture, and the satisfaction – it's a combination that's hard to beat.
In conclusion, Alkhafeef is more than just a 24-hour restaurant; it's a culinary journey that will fulfill your cravings.
Rating: 4.5 out of 402 reviews.
Service options: Dine-in · Take out · No-contact delivery
Address: Al Hussein Ibn Ali, Al Izdihar, Riyadh 51858, Saudi Arabia
Menu: http://menu.alkhafeef.com.sa/
Phone: +966562728173
Raising Cane's
If you're craving delicious fried chicken in Riyadh, head to Raising Cane's. This place is a hit with a solid 4.2 rating.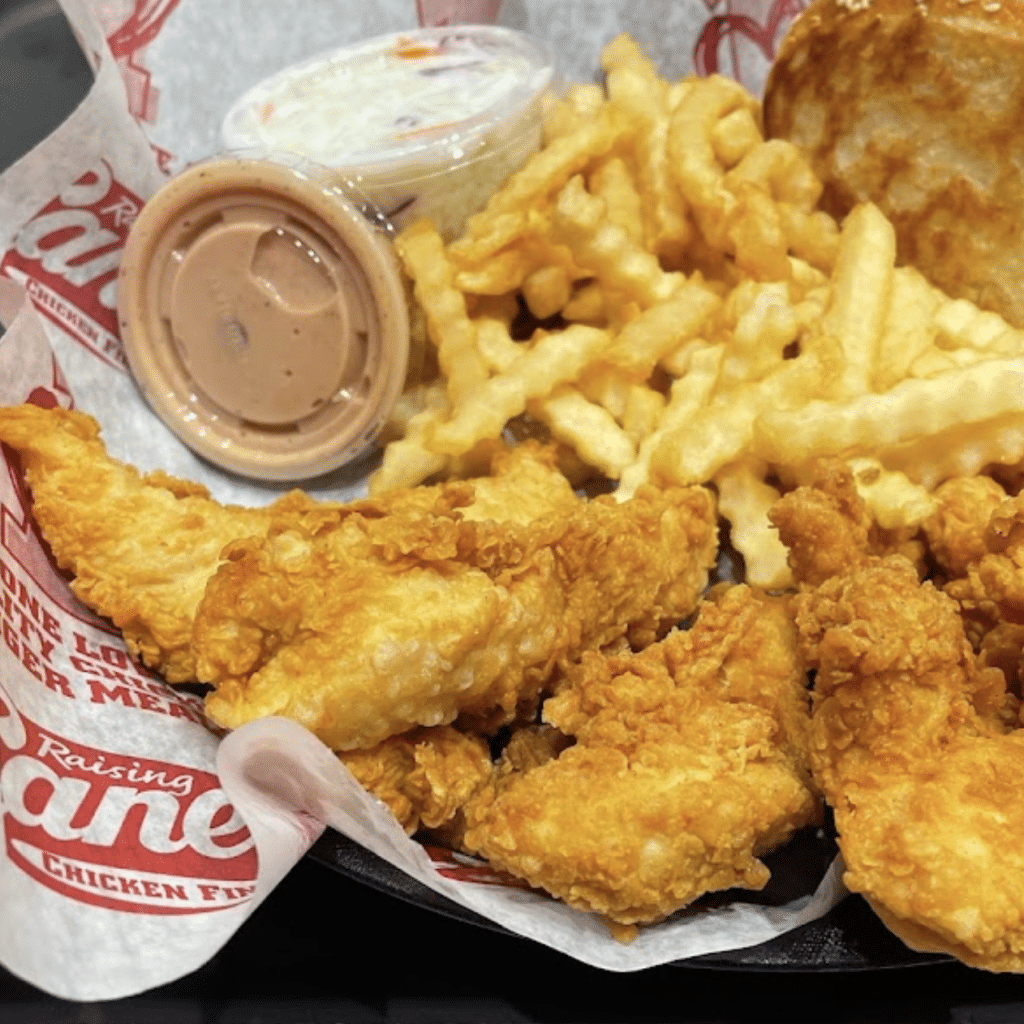 Finger-Lickin' Good: Raising Cane's is all about crispy chicken fingers. They serve them up with crinkle-cut fries and tasty Texas toast. One bite, and you'll know why people can't get enough of their chicken.
Convenient Choices: You can enjoy your meal, grab it to go, or get it delivered. Yes, they're open 24/7, so you can satisfy your chicken cravings anytime.
Cozy Vibes: You can sit inside or outside. They even have private indoor seating if you'd like some alone time.
What to Try: If you're unsure what to order, go for the Texas Toast, Toast, Chicken Fingers, and Fries. People rave about them.
In a nutshell, Raising Cane's in Riyadh is the place to be for fantastic fried chicken. Great food, convenient choices, and a cozy atmosphere make it a must-visit. Don't miss out on this chicken heaven!
Ratings: 4.2 out of 1,402 reviews.
Service options: Dine-in · Take out · No-contact delivery
Address: Alia Plaza, Ar Rabi, Riyadh 13316, Saudi Arabia
Menu: Raising Cane's
Phone: +966115101470
Tannuru
Looking for authentic Lebanese cuisine in Riyadh that's available round the clock? Tannuru is your answer! With a stellar rating 4.3, this Lebanese restaurant is a hidden gem in Al Muruj.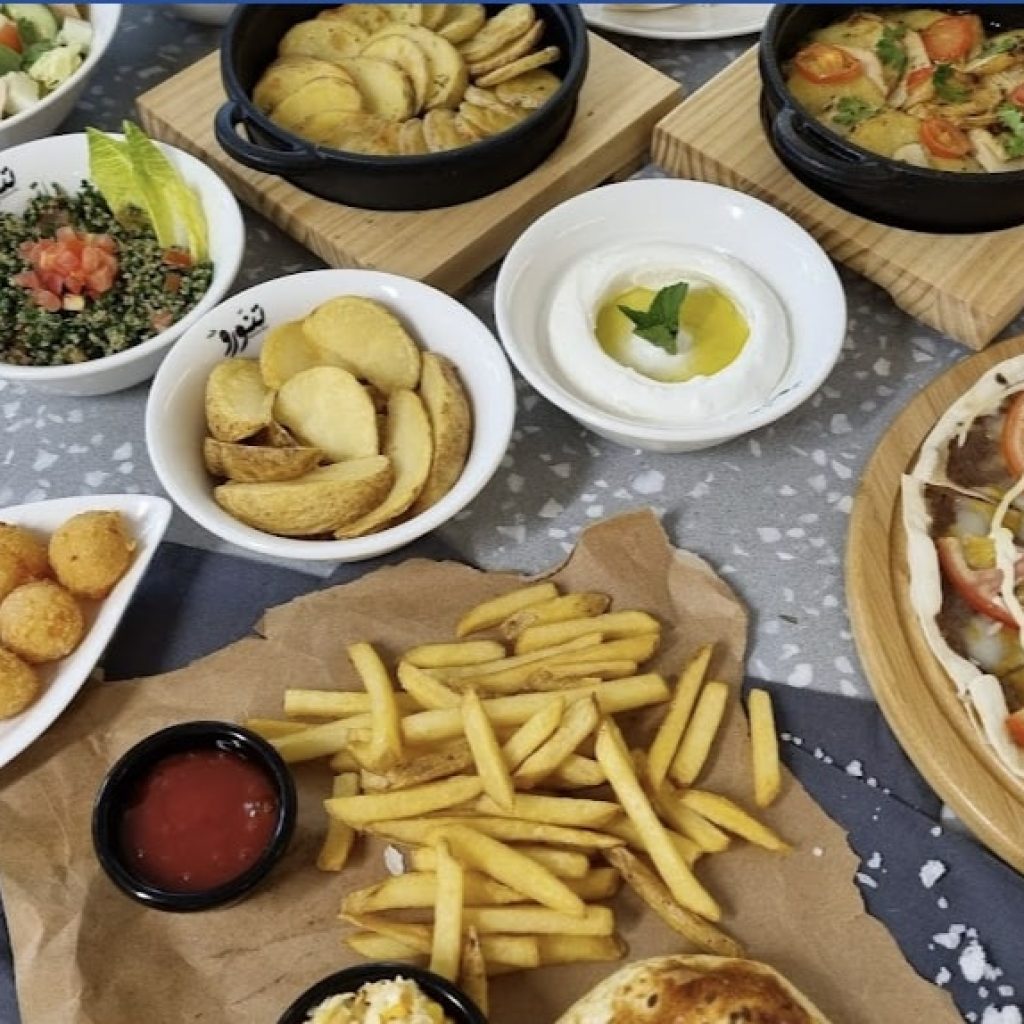 Always Open, Always Delicious! Tannuru boasts a unique feature – it's open 24 hours a day. Whether it's a late-night craving or an early-morning hunger pang, you can count on Tannuru to satisfy your appetite.
Mouthwatering Menu: The menu at Tannuru is a treasure trove of Lebanese delights. Their hummus, Georgian cheese pie, thyme, and labneh manakeesh are standout dishes that consistently receive praise for their deliciousness and cleanliness.
If you're a fan of meat manakeesh, you're in for a treat. Tannuru serves this Lebanese classic with perfectly rare meat, a testament to their commitment to quality.
Fast and Affordable: The food is good, and the service at Tannuru is also speedy. You won't have to wait long to indulge in their delectable offerings. Plus, the prices are reasonable, ensuring you get great value for your money.
Ambiance: The modern seating and beautiful colors create a serene and inviting atmosphere. It's the perfect place to enjoy a relaxing meal.
The staff at Tannuru are known for their classy and courteous service. Their professionalism will enhance your dining experience.
Must-Try: The Chicken Burger: If you're looking for a recommendation, don't miss out on the chicken burger. Served on a delightful piece of oven-baked dough, it's a mouthwatering treat that combines the best Lebanese flavors.
In summary, Tannuru is a Lebanese restaurant in Riyadh that's a cut above the rest. With its 24/7 availability, delicious menu, and inviting ambiance, it's a must-visit for anyone looking to savor the flavors of Lebanon in the heart of Saudi Arabia. Whether you're a hummus fan or a meat lover, Tannuru has something special waiting for you.
Ratings: 4.3 out of 429 reviews.
Service options: Dine-in · Take out · No-contact delivery
Address: Imam Saud Bin Abdulaziz Bin Mohammed Rd, Al Muruj, Riyadh 12281, Saudi Arabia
Menu: Tannuru
Phone: +966115101470
Moosh Cafe
Are you searching for a coffee fix in Riyadh that never takes a break? Moosh Cafe has got you covered! With a fantastic rating of 4.4, this coffee shop is your go-to spot for a caffeine kick, day or night.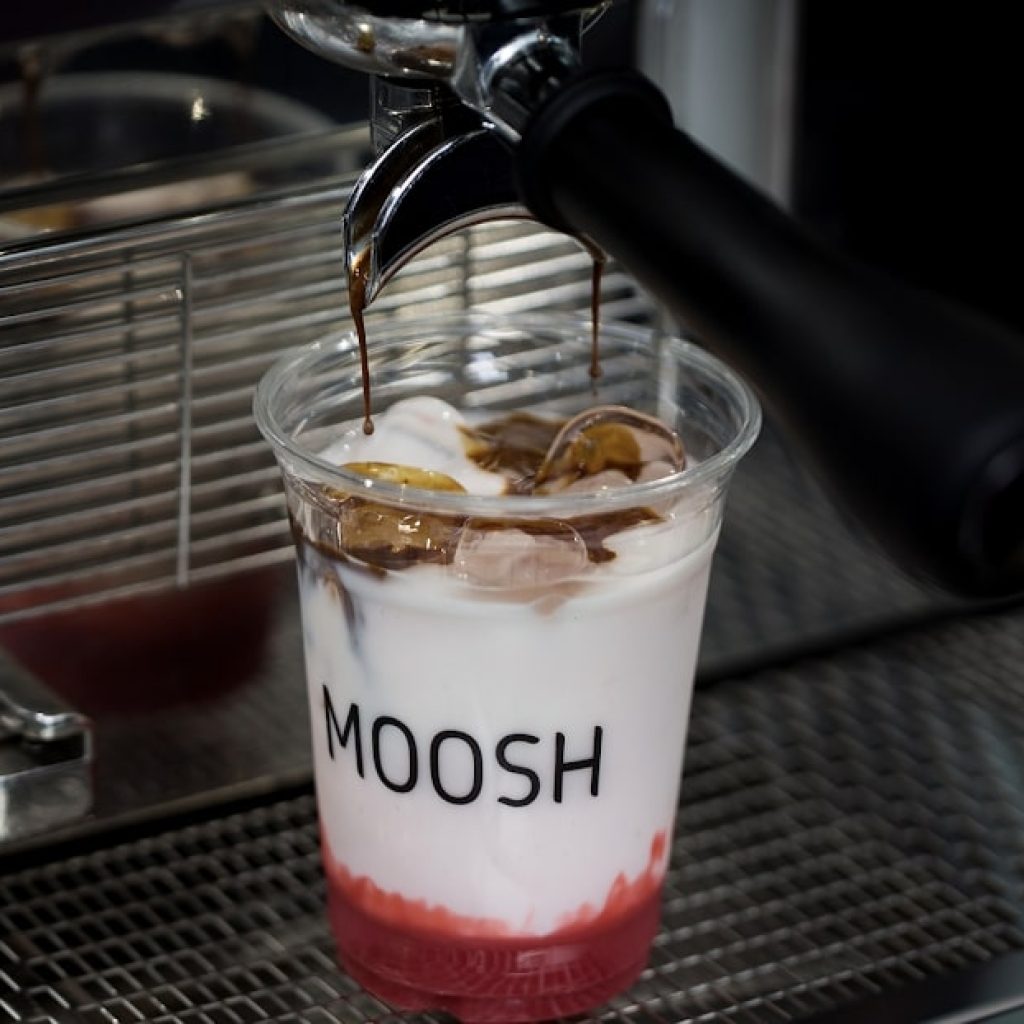 Open Around the Clock: Moosh Cafe understands your coffee cravings don't follow a schedule. That's why they're open 24 hours a day, ensuring you can get your coffee fix whenever the mood strikes.
Drive-Through Delight: This cafe takes convenience with its drive-through service. While they don't offer outdoor seating, their focus on drive-through means you can grab your favorite brew without leaving your car.
Coffee Perfection: Moosh Cafe is renowned for its exceptional coffee. Customers rave about their Latte and Macchiato as the best in town. Whether you prefer hot or cold coffee, they've got you covered.
Quality and Cheerful Service: The quality of their coffee isn't the only thing that stands out. The cheerful staff ensures your visit is always a pleasant experience.
However, some may find the prices a tad high for a drive-through cafe. However, many agree that the premium quality justifies the cost.
Favorite Picks
These choices are quite popular among the people.
If you're unsure what to try, consider these recommendations from frequent visitors: the Spanish latte (both hot and cold)
Ice pistachio latte
Flat white
Saffron latte.
In a nutshell, Moosh Cafe is a coffee haven in Riyadh that caters to your caffeine needs 24/7. With a focus on drive-through convenience, high-quality coffee, and unique rewards, it's the perfect spot for coffee lovers on the go.
Just keep in mind that the Moosh cafe comes with slightly higher prices, but for many, the taste is worth every riyal. Whether you're sipping on a Latte or trying the Spanish latte, Moosh Cafe guarantees a delightful coffee experience, no matter the hour.
Ratings: 4.4 out of 737 reviews.
Service options: Dine-in · Take out · No-contact delivery
Address: Al Thoumamah Rd, Alyasmin, Riyadh 13322, Saudi Arabia
Menu: Moosh Cafe
Phone: Moosh WhatsApp
Multiple restaurants and cafes are serving overnight. We have mentioned just a few of them in this article. Come back soon; this list should be updated with more personal experiences.