Saudi Ministry of Foreign Affairs (MoFA) issues a legal document allowing beneficiaries the visitation rights for their immediate families on a Family Visit Visa.
It is valid for up to 30-90 days, depending on the single & multiple entry visits.
You may also like to read about: Types of Visas In Saudi Arabia
What is the Saudi Visit Visa validity period?
The Family Visit Visa validity status is divided into two, which are;
Single Entry Visit Visa
This Visa is issued for 30 days and can get five possible extensions. You can renew this Visa around five times by visiting your nearest Jawazat office.
You may also like to read about: Differentiating Between A Original And Fake Saudi Visa
Multiple Entry Visit Visa
This Visa is issued for 90 days with up to four allowed re-entries. Like the Single Entry Visit Visa, you cannot renew this one. Once the designated period of stay is over, you are requested to follow the rules and leave Saudi Arabia.
You may also like to read about: What To Do If Your Saudi Iqama Gets Lost
What are the terms & conditions of applying for a KSA Family Visit Visa?
A Saudi citizen or a resident currently working in the Kingdom of Saudi Arabia with the official permit, Iqama, can initiate the process for the Family Visit Visa.
Another important factor is the validity of Iqama for up to 4 months at least.
Your documents need to be available and up to date to apply for.
You may also like to read about: Visit Visa Cannot Convert To Iqama
Documents for application:
Four passport-size photos
Iqama holder's passport copy of the sponsor
Iqama residency permit copy of the sponsor
Applicant's valid international passport
Applicant's National Identity card apostilled copy.
Marriage certificate
How to know the Status of the Saudi Family Visit Visa online?
All you have to do is follow an easy process to know the status of your Family Visit Visa on the MoFA website.
What do you need?
MOFA Visa Application Number
Iqama Number
You may also like to read about: The Saudi Host Visa
The steps to get started are as follows;
Go to this provided link for the MOFA website;
From the menu on the top, Select English.
Go to the "Query" section.
Now select "Application Submitted to MOFA."
Then fill in the MOFA Visa Application Number
Also, add the Iqama number and the image code.
Finally, hit the "Inquire" button to get your VISA status.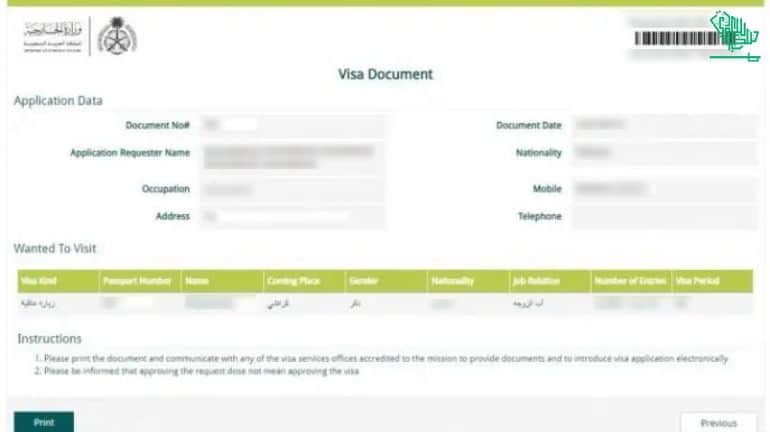 Saudi Family Visit Visa Status check:
Two options are displayed when you go online to check for approval. They are as follows;
a) Approved application:
When the application is approved, the page will display your entire Visa details, including Applicant's details, Visa number, Passport number, and Visa duration.
You may also like to read about: Canceling Family Visit Visa For Saudi Arabia
b) Under process/Rejected application:
Instead of the details, you'll get a one-liner text notifying the rejection.
The article reviews all the important aspects required for the Family Visit Visa for your immediate family living outside the Kingdom of Saudi Arabia to visit the Kingdom.
If you plan to overstay, get the Visas extension applied and approved so there are no legal consequences.
I hope the article answers your queries!