Ex-pats who wish to provide their children with a quality education in Saudi Arabia. Since Arabic is a language that is routinely taught in traditional Arab schools, ex-pats usually prefer to enroll their children in world-class educational (International) institutes instead.
Riyadh is not just the capital of Saudi Arabia, but it is also one of the largest cities in the entire Arabian peninsula. It is a densely populated city, with many ex-pats living in here too.
Recommended: Education- International Schools in Saudi Arabia
Riyadh is a huge city and an administrative center; hence some of the best international schools in the kingdom can be found here.
In this article, we have made a small list of some good schools in the city of Riyadh. If you are a guardian or a parent, this list can help you decide on a school for your wards.
List Of Top Ranking International Schools In Riyadh
Saud International School (SIS)
This educational institute came to be in the fall of 1998 in Riyadh and has stayed in the highlights ever since. A thoroughly British and American curriculum based at heart, this international school brings the best of both worlds.
The primary grades, that is to say, grades 1 through 5, learn on a more American education model. Once the child enters grade 6, the curriculum changes to British, in line for preparation for the IGSCE.
Grade school ends at 10, with A levels then taking the lead for college education.
Read: Top 5 Best International Schools in Madinah
SIS buildings have big rooms, good ventilation, with full air-conditioning. There is adequate security with day-long surveillance, cameras, fire alarms, and more.
The features of this school include playgrounds for sports activities, labs for computer and science students, students lounge, libraries, and art rooms.
The cafeteria at SIS serves quality, healthy food, and regular fire drills keep the students more vigilant and sharp.
The school has a rewards program for students who perform exceptionally well and encourages children always to give their very best.
British International School Riyadh (BISR)
This educational institute is perhaps one of the most competitive International schools in the region. BISR vows to bring high-level education to Riyadh with its outstanding curriculum.
This school has had around five non-profit campuses scattered throughout the city since 1979. This educational institute has accreditations from the Council of International School (CIS) as well as the Writing Schools Overseas (BSO).
Recommended: Ispring – Create Training Programs and Courses Online
This, along with affiliation with a British examination service, reassures parents that their children are well taken care of academically.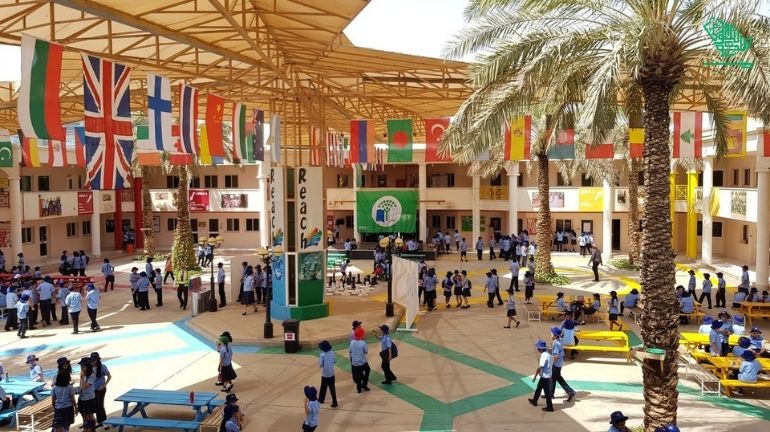 BISR brings more than just education to your doorstep. The enrichment program is fulfilling for the extracurricular and fun needs of the children.
The idea is to teach in a way that students both enjoy and learn, a combination that few schools master. There are sporting competitions and academic ones, inter-educational institute events such as the MUNs.
The educational institute has field trips to support learning, art projects, and geography field works. Some of the physical activities include sports and resilience-building exercises such as hikes and swimming activities.
Read: Top International Schools in Jubail
There are over a hundred extracurricular activities in just a week, and the numbers don't lie.
British International School is one of a kind with a lot to offer students at every stage. It is an excellent option to consider during school hunting!
American International School Riyadh (AISR)
Strictly sticking to an American curriculum, AISR offers a rather wonderful academic experience. The students are innovative, thinking critically with a creative air so as to succeed in the multiple avenues.
The educational institute is furnished with unique facilities to serve the students. The campus is invested and built for learning, and you can see that right away.
There are 130 classrooms with around 120 interactive screens to make e-learning a breeze. Over ten labs for science alone, separate ones for computer students, and a robotics lab. There is also a state-of-the-art STEM lab for continued education and research.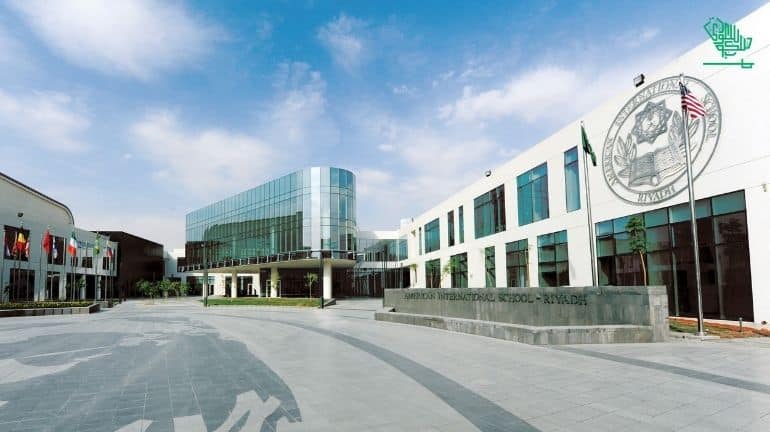 The campus has free-internet service all through it, and the libraries are enormous with books of all kinds. There are dining halls and healthy snacks and food available for the students.
Recommended: Top 10 Schools in Jeddah for your Child
Extracurriculars are a focus as much as academic performance at AISR. The activities are present all through the week.
These activities have different clubs like drama, art, and music or sports like basketball and football. The school also has teams for interschool competitions.
A week every winter is called a week without walls, dedicated to outdoor learning, and is quite an experience.
The Learning Caravan International School
This educational institute came into existence in 1998 in Riyadh, KSA. It is a reputable international school providing an all-encompassing British curriculum and excellent school facilities.
Learning Caravan International also has multiple celebratory days, for example, the international day, school plays, and book fairs.
Recommended: Nurturing The Stems Of Learning With Systeme.io
This ensures that the students are always fresh and ready to take on the school year with unparalleled enthusiasm.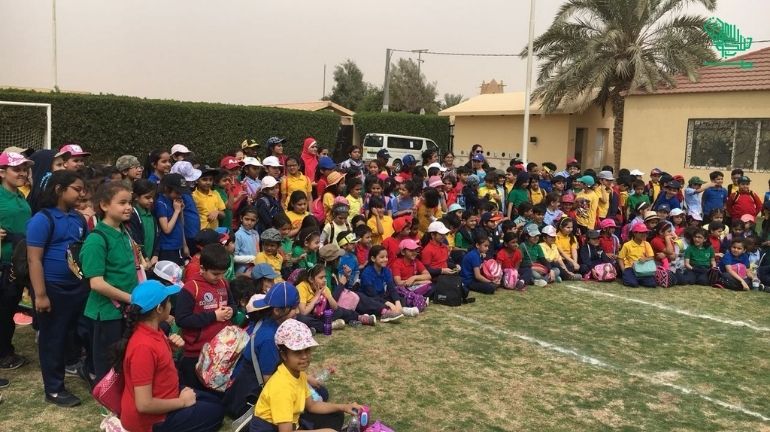 The school does not have a lot of extracurriculars, but it does serve its students well.
The teachers are great, and the teaching structure is extremely strong, with the students making a lot of progress both inside and outside the classroom.
Advanced Learning School
Advanced Learning School is a private educational institute in the heart of Riyadh, with English being the primary mode of communication.
It offers up to fourteen years of education from Kindergarten to grade 12. The school has full accreditation from the International Baccalaureate (IB) and the Council of International Schools (CIS).

Arabic forms a big part of the curriculum, and students learn Islamic studies in the native language. The educational institute has many facilities including a cinema, a diplomatic quarter, libraries, and cafeterias.
There are bookstores and trips to the museums, field trips, farms, and local factories. Advanced Learning School has a dependable curriculum and competitive teachers.
And there it is! Our list of some of the best educational institutes is in the city of Riyadh. These schools come prepped with the best teachers, curriculum, and facilities.
Most of these schools have suitable extracurricular activities to do. Selecting the right educational institute is imperative, and it is essential to be careful with it. The future of your child may depend upon it.
Happy school hunting!