The Saudi Professional Verification program was launched in 2021 by the Ministry of Human Resource and Social Development (MHRSD). This was an attempt to improve the quality of professional labour in the country and to verify those that are planning to enter the Kingdom for employment.
The program is mandatory for all workers, regardless of nationality. So even Saudi Citizens need to take this test.
The program is divided into two tracks: people who are already working in Saudi Arabia and need to be re-verified and those who are planning to seek employment and want to get verified before applying for jobs. This verification then lasts two years.
The SVP program covers a wide range of professions, including:
Engineers
Technicians
Healthcare professionals
Teachers
Accountants
Lawyers
Journalists
Architects
Surveyors
Electricians
Plumbers
Welders
Refrigeration and air conditioning technicians
Heating, ventilation, and air conditioning (HVAC) mechanics
Recommended: Transfer of Your Iqama Without Kafeel's Permission in Saudi Arabia
check a worker's eligibility via the Qiwa Platform
The process to check a worker's eligibility can be done online through the Qiwa platform. To do so, follow the steps given below. You can use either the iqama number, or passport number if you've not been issued an iqama yet.
Firstly, go to the Qiwa website.
The page below will appear on your screen.
Click on the first option, which says "Search below."
A dropbox will then appear, providing two options:

Iqama Number
Passport Number for international labor only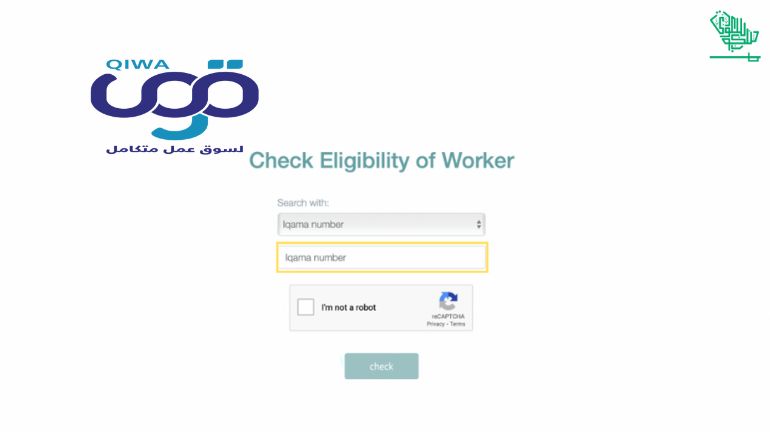 Select any one option out of these two.
Enter the respective number in the second field.
Then click "I'm not a robot," select the correct pictures and click "verify."
Lastly, Click on the "Check" option.
The information about the worker's eligibility will appear on your screen.
Recommended: How to register with the Qiwa Platform in Saudi Arabia?
You will see any one of the three responses as a result of your eligibility check:
Occupation XXX is not required to take the exam yet.

This, in other words, means that you should take the test as per the Saudi Professional Verification program. However, you do not need it yet.

The labor passed the exam in occupation.
The labor did not pass the exam in occupation.

This does not mean that the worker has failed the test. Instead, it requires you to register on the Qiwa website.