Saudi Arabia introduced its Professional Verification Program last year via the Qiwa Platform. This program ensures that the worker possesses the right occupation skills. 
Moreover, this program analyzes the qualifications of workers who are
Currently, in Saudi Arabia
From foreign countries and are willing to start working in Saudi Arabia.
Recommended: Transfer of Your Iqama Without Kafeel's Permission in Saudi Arabia
check a worker's eligibility via the Qiwa Platform
The process to check a worker's eligibility can be done online through the Qiwa platform. To do so, follow the steps given below.
Firstly, go to the Qiwa website. The link given directs you to https://svp.qiwa.sa/en/test_takers/search
The page below will appear on your screen.
Click on the first option, which says "Search below."
A dropbox will then appear, providing two options:

Iqama Number
Passport Number for international labor only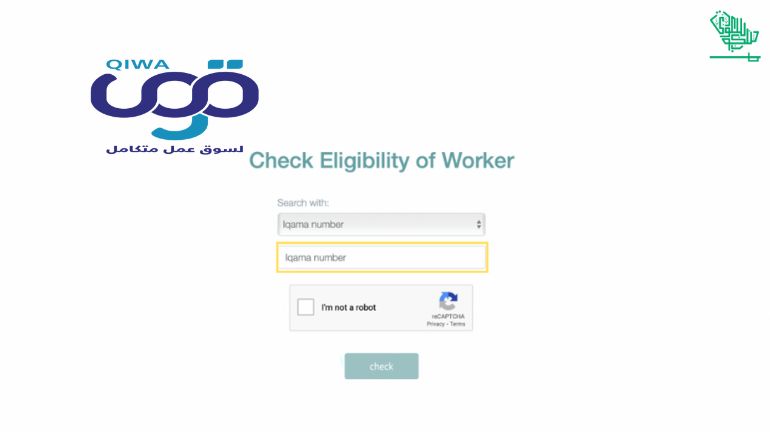 Select any one option out of these two.
Enter the respective number in the second field.
Then click "I'm not a robot," select the correct pictures and click "verify."
Lastly, Click on the "Check" option.
The information about the worker's eligibility will appear on your screen.
Recommended: How to register with the Qiwa Platform in Saudi Arabia?
You will see any one of the three responses as a result of your eligibility check:
Occupation XXX is not required to take the exam yet.

This, in other words, means that you should take the test as per the Saudi Professional Verification program. However, you do not need it yet.

The labor passed the exam in occupation.
The labor did not pass the exam in occupation.

This does not mean that the worker has failed the test. Instead, it requires you to register on the Qiwa website.