As the Kingdom of Saudi Arabia is moving forward with various interventions, Zain KSA contributes by going digital and launching electronic, embedded SIM cards (eSIMs).
What is eSIM?
The E in the eSIM is for embedded and electronic. eSIM is a programmable SIM card, unlike the physical sim card.
Recommended: Zain Internet Packages In Saudi Arabia
It is not associated with a removable integrated circuit. Instead, eSIM is embedded software installed and attached to the device permanently.
A built-in eSIM needs activation with your account specifications and is ready to function.
How is eSIM better than a physical SIM?
Weighing down all pros and cons is essential when choosing a better understanding. Therefore, listing all the reasons why eSIM is better.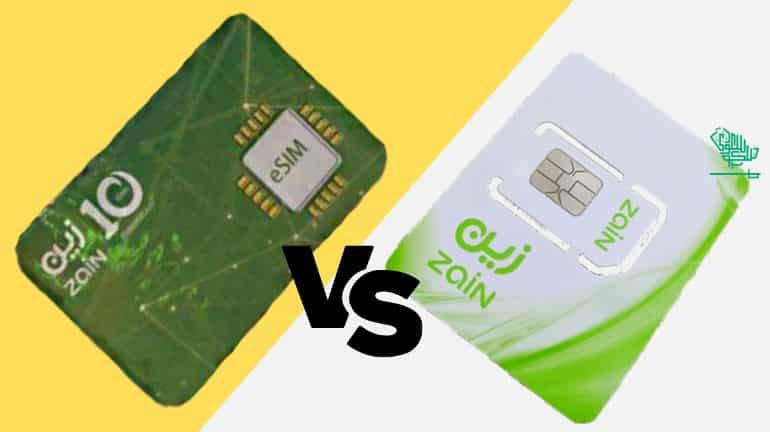 Easier switching service providers
Well, first of all, eSIM makes switching to different networks convenient and hassle-free. You don't have to visit the store whenever you plan on a network switch. Just a phone call or going online would do the job.
More contact numbers on one eSIM
Moreover, it allows you to have multiple phone numbers, hence accessible communication and management.
Recommended: How Do I Check Zain's Balance on My Phone?
Most convenient activation
Other than that, you don't need a steady hand to insert a SIM card, nor do you need to visit a store. Just by online scanning the QR code, or in some cases, entering a PIN, will lead to eSIM activation.
eSIMs are like a digital upgrade to our remote lives.
It has some cons if we discuss it.
Easily tracked by network providers, a privacy breach can happen, which isn't possible in the case of a physical SIM card since we can tuck it out.
Furthermore, since it is non-transferrable, retrieval, data transfer, and eSIM profile recovery can be time-consuming in case of phone damage.
How can you convert your Zain SIM to eSim?
Follow these easy steps for easy conversion and Zain eSIM installation on your phone.
Firstly, Make sure of WiFi or data availability throughout the procedure.
Find your device's settings and tap "Cellular."
Now, Select "Add Cellular Plan" to show further options.
On this card, scan the QR code.
Follow the instructions to proceed till the installation begins.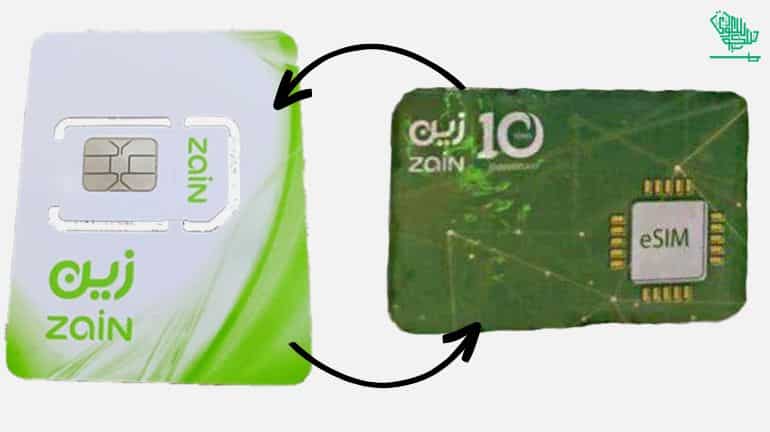 The steps are similar if the conversion is done through the carrier or the Zain application and even through different compatible devices.
Recommended: Getting Advance Balance/Loan in Zain
How to activate Zain eSIM?
Various ways are available for the activation of Zain eSIM. Choose the one you like and start using your SIM on the Zain line.
The four options are as follows:
Download their official application
Go to their official website
Visit the Zain outlet or nearby shop
Dial 959 and get assistance on the activation
How much does the Zain eSIM cost?
eSIM itself is all about buying the data plans. For Zain subscribers, eSIM services are free of cost, be it by switching through a carrier or buying from one of the Zain shops.
Recommended: The STC eSIM and All You Need to Know About It
What are the monthly plans for Zain eSIM?
So considerate of them to launch many user-friendly packages for people to choose from according to their usage. Here we're listing all the ones for you to pick from.
Digital Unlimited Package Zain eSIM
You can switch to the digital package through the App. This sells for 230 SAR per month.
What does it offer?
Unlimited internet
Unlimited calls to all networks
Discount for the first three months
Supports 5G
Digital Weekly Package Zain eSIM
You can activate Digital Weekly Package through the Zain App for a week to try on. It sells for 33.35 SAR per week.
What does it offer?
5GB Internet Data
Unlimited calls to all networks
For prepaid only
Recommended: Zain to Zain Balance Transfer
Digital Basic Package Zain eSIM
For users, who have fair usage of the internet and minutes, not extra, not minimal, this package is ideal for you all. It sells for 115 SAR per month.
What does it offer?
50GB Internet Data
2000 local minutes for you to make calls to all networks
Supports 5G
Discount for three months
Digital Unlimited Data Package Zain eSIM
Solely for internet users and always need data on the phone audience. The Unlimited Data package sells for 200 SAR per month.
What does it offer?
Unlimited Internet Data
Supports 5G
3 Months Discounted
Recommended: Switching Language In Zain Sim From Arabic To English or Urdu
Digital 200GB Data Package Zain eSIM
For convenience, the 200GB Data Package is designed to lower the cost and provide you with the maximum internet. It sells for 180 SAR per month.
What does it offer?
200GB internet
Supports 5G
Three months discounted
Digital 100GB Package Zain eSIM
The need-based internet users who switch the data on only get the work done. This package sells for 115 SAR per month.
What does it offer?
100GB Data
5G Supported
Three months discounted
The following packages are available in the Mobile App and are all 15% VAT inclusive.
Recommended: Jawwy E-SIM Packages And How To Activate An E-SIM
What are the eSIM-compatible devices?
The list is progressing as to more devices being made eSIM compatible. Here's a list of names we could summarise for you to know if your device supports eSIM;
Apple
Samsung
HAMMER
Google Pixel
Huawei
Motorola
OPPO
ACER
ASUS
SONY
Dell
HP
LENOVO
SURFACE
Not all mobile phones sold by these brands support eSIMs. It varies according to the models and countries.
Recommended: Top Ten Mobile Phones (Smartphones) in 2022
How to check if my device supports eSIM?
Your device needs to be carrier unlocked and eSIM compatible in order for these features. Now how to know if the one device you own has embedded SIM software and is carrier unlocked?
For iPhone users
Select Settings> General> About
Find the option " Carrier lock." If it says NO SIM restrictions, then your device is carrier unlocked.
Furthermore, you'll see an option when you scroll down, either DIGITAL or AVAILABLE SIM. Underneath this, you'll find an IMEI. If it's there, your iPhone ticked the compatibility test.
Recommended: Top 10 Best Phones In 2022 For Tech-Lovers On A Budget
For Android users
Select Settings> Connections> SIM card manager
Then move on to find the "Add mobile plan." If you did find it, it's a good sign that your device will be eSIM-supported.
Other than that, what could be done is dial *#06#. If your device supports eSIM, you can immediately view a unique identification code (EID).
Take from the discussion we're moving towards the world of convenience, user-friendly, the clock humans zone. In order to progress, we need devices that require easy activation and functions.
eSIM is the new tomorrow with the full features and upgrades. In this article, we have tried to bring you all the latest information regarding eSIM before you switch.