Saudi Arabia is a desert country located in South West Asia. The Persian Gulf borders the peninsula in the east and the Red Sea in the west.
Therefore it is never associated with winters, let alone snow or snow-covered mountains. It is in fact, blessed with regions that experience winter in the most authentic harshest forms.
Although these winter cities are few in numbers and small in scale when compared to the real winter towns of Europe and the U.S.
These cities offer all the fun and sights as compared to anywhere else in the world.
The climate in Saudi Arabia
Scorching days and cold nights and low annual rainfall characterize Saudi Arabia's desert climate.
The average daytime summer temperature hovers around 45 degrees, with 55 degrees seen in certain areas.
Recommended: Top 7 Must Visit Places of The World and Why
Winter in its real form is seen during the months of December and January and peak summers during June and July.
Coldest Winter Places to experience in Saudi Arabia
The dry, hot desert of Saudi Arabia relieves any expectations of there being a city, let alone cites where one could find the winter experience. As per a bit of investigation, this impression is incorrect.
The Kingdom owns at least eight small yet important towns and cities where people come to enjoy and experience winter within the Kingdom.
Recommended: The Top Eight Places to Visit on Your Next Visit to Saudi Arabia
Some of these places may, in a particular year, even experience sub-zero temperatures and snowfall.
If you are the sort of person that enjoys winter, then these are the places you should target for a winter visit this year.
Turaif
Located at the Kingdom's northern border near Jordan, Turaif is the coldest winter place in Saudi Arabia.
Turaif has a record of its lowest temperature ever at -12 degrees Celsius, making it the coldest winter place on the Arabian peninsula.
Sakaka
Sakaka too is in the north of the country and is the capital of Al Jawf territory. Here the winters are cold and harsh.
The surprise that the city of Sakaka gives its visitors is its lack of tall mountains, a usual trait expected of a city with freezing winters in this region.
Abha
Abha is quite famous and indeed a popular tourist destination of Saudi Arabia.
Also, the Ex-pats and locals living in the hot climates regularly visit this city set amid Saraswat mountains and located at an altitude of 2270 meters.
A visit to Abha is never complete without visiting the neighboring city of Al-Sooda.
Al-Sooda is a 30-minute drive from Abha airport and is located in the Sirwat mountains at an elevation of 3000 meters from sea level.
The natural forests of Araar trees cover the mountains around this picturesque city and are home to one of the region's largest national parks.
The highlight of a visit to Al-Sooda is the 7-km long cable car ride from Sirwat mountains to the Tahama village, where one can enjoy the peace and nature during the cable car ride.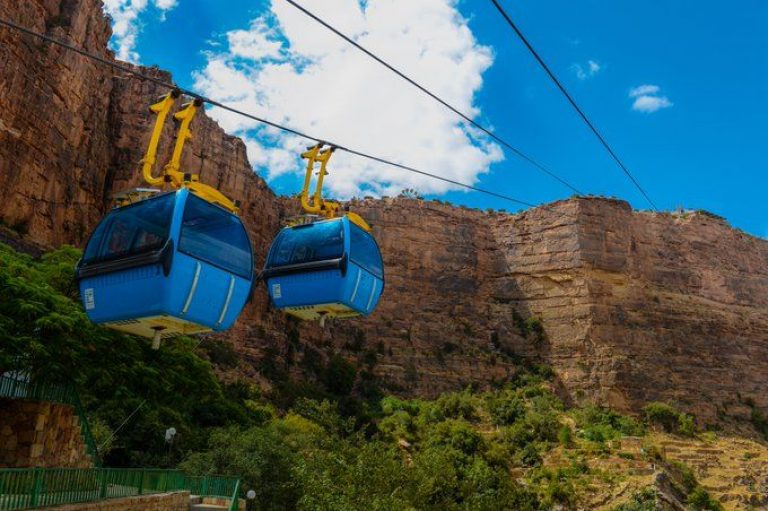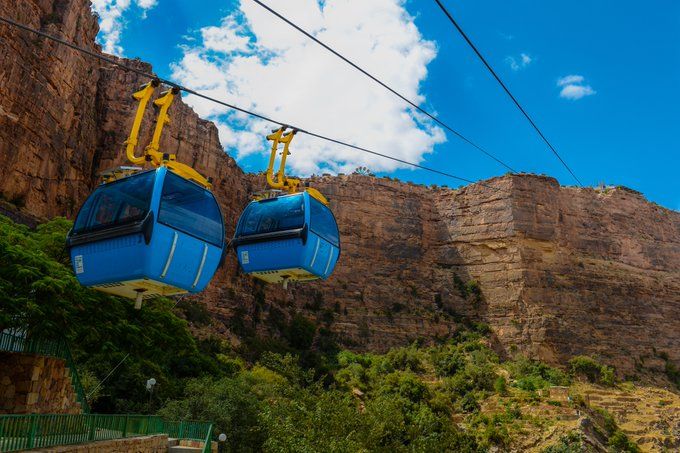 Rafha
This northern city often experiences snowfall and is located on the border of Iraq. Rafha is quite like a western winter destination after a snowfall.
Ex-pats and locals alike enjoy the winter experience locally rather than face the hassles of international travel.
Riyadh
Riyadh may appear as a surprise to those who have experienced its harsh summer.
Still, the city deserves an honorable place among the winter cities of Saudi Arabia for its cold winters, where the night temperatures may decrease to zero degrees on occasions.
Tabuk
If you love snowfall, then Tabuk is one of the coldest winter places where you should go.
This city is the capital of the Saudi region bordering Jordan, and similarly to Jordan, it experiences snowfall regularly.
And a trip to the city during winter when covered with thin layer snow is a drive over sand; the region experiences temperatures of minus 4 degrees celsius.
Arar
Arar city was built in 1951 and lay atop a large limestone plateau located in northern Saudi Arabia near the Iraqi border.
The town experiences what is described as soft snowfall but never sub-zero temperatures. Arar is known for its rich grazing lands used for sheep and camel farming.
Hail
Hail, a northwestern city, lies at an elevation of 950 meters from sea level. This elevation makes it a year-round popular tourist destination for both ex-pats and Saudi locals.
The city is also famous for its agriculture, producing grains, fruits, and dates.
This winter, plan a trip to any one of these places and experience the wonders and options a Saudi coldest winter place has on the offer.