Table of Content
A Brief History of The Place
If you live in Riyadh or are visiting the city, you must visit one of its most magnificent attractions, the Riyadh Zoo. The place has something to offer all age groups.
From coffee shops and restaurants to enjoy delicious food and snacks to a 5D cinema. However, it is a zoo with many exotic animals to look at and befriend.
The Riyadh Zoo, with its area of 55 acres, is the largest in the country, opened in 1987.
The Zoo, also known as the Malaz Zoo, offers visitors the chance to see 196 exotic animal species and 20,000 diverse plant species.
Where is Riyadh Zoo Located
The Riyadh Zoo enjoys a central location in the city, accessible from different points. Its exact location is:
How much is the entry ticket fee at Riyadh Zoo?
The ticket prices of the Zoo depend on the visitor's age group.
For children 12 years and above – SAR 11.50
Children below the age of 12 – SAR 5.75
Train ticket price – SAR 2
What is the Riyadh Zoo Timings
The Zoo has different hours each day of the week. Some days are reserved for females or males only, while others are family days.
The zoo opens at 8:30 a.m., and it takes visitors 2 to 3 hours to see all the places.
Men Only Days:
Monday: From 8:30 a.m. – 12:00 p.m.
And from 1:00 p.m. – 6:00 p.m.
Wednesday: From 8:30 p.m. – 12:00 p.m.
Women Only Days:
Tuesday: From 8:30 a.m. – 12:00 p.m.
And from 1:00 p.m. – 6:00 p.m.
Thursday: From 8:30 a.m. – 12:00 p.m.
Family Days:
Wednesday, Thursday: From 1:00 p.m. – 6:00 p.m.
Friday: After Jummah Prayer to 6:00 p.m.
Saturday: From 9:00 a.m. – 6:00 p.m.
Sunday: Closed
How big is Riyadh Zoo
Riyadh Zoo Size
Land area
55 acres
No. of animals
1,500+
No. of species
196+
Memberships
Arabian Zoo and Aquarium Association
Riyadh Zoo Subzones
The subzones have divided the animal kingdom and aquatic life as per their habitat and ecosystems. This allows all the habitat to be housed in their natural ecology while also allowing the visitors to experience the wilderness they live in.
Al Malaz Bay
The malaz bay contains animals such as the Kangaroo, owls and other adorable smaller animals. You can also feed the animals, especially Kangaroo which is often thought to be a danger to humans, but the ones here are nice.
Ape Escape
As the name suggests, you should see monkeys jump here and there in this subzone. The trees and the grass helps the monkeys stay active. You can expect to see different species of monkeys and chimpanzees.
Enchanted Forest
This subzone represents rainforest climate where animals that thrive in jungles all through the year can be found. This includes bears, gazelles,and deers. Many have claim to sighted the red panda here too.
The Garden
The garden provides a more sensory experience in terms of not just the animals on display but the ecology of a garden with ponds and birds chirping and fresh air. This includes a vast variety of birds and significant pond animals.
The Swamp
While this might not be as serene as the garden, the swamp is an important habitat for many animals such as hippos and crocodiles.
Wild Adventures
This is where you step into the nature yourself. The wild adventure includes a safari where they show animals from alot up close, including the Lion.
How many animals are there in Riyadh Zoo
You can enjoy a train tour of the Zoo, home to over 1,500 wildlife animals belonging to 196 species.
Here, you can find animals such as hyenas, griffon vultures, kangaroos, tapirs, lions, rhinoceros, and beautiful gazelles.
Recommended: The Most Endangered Animals in Saudi Arabia
The Zoo also features well-taken care of endangered animal species like Houbara Bustard Birds, Arabian Desert Leopard, and Arabian Oryx.
Visitors can also see Bengal tigers, native to the Indian subcontinent, and nearly 80 species of birds. The animals are kept in ideal settings that closely mimic their natural terrains.
Best time to visit Riyadh Zoo
The best time to visit this wonderful place is between November and March when the weather is pleasant.
Recommended: Jeddah Jungle Park, Saudi Arabia
Other Facilities At The Riyadh Zoo
Apart from the astounding number of animals and plants at the Zoo, it has many other facilities for its visitors, which include:
Restaurant and Café
Kiosks for snacks
5D cinema
Prayers areas
Outdoor Plaza
Romanian Theater
Conservation center
Previously established as a Zoological garden in 1957, the government demolished the entire structure of the Riyadh Zoological Gardens in 1981.
It was established as a public zoo in 1987. Many exotic animals from different countries, like Singapore, the U.S., Peru, Australia, Egypt, and Kenya, were imported and made part of the Zoo.
Essential Things to Keep in mind while visiting Riyadh Zoo
Although visiting a zoo is always a fun trip for kids and adults alike, visitors must keep a few things in mind for the safety of the animals and visitors.
These tips will keep your visit enjoyable and memorable.
Wear comfortable clothes and shoes since you will need to walk a lot.
Do not try to enter or get extremely close to animal enclosures.
Feeding the animals or disturbing them in any way is strictly prohibited at the Zoo.
Try to keep the place clean and do not litter.
Always pay attention to sign boards and carefully listen to the staff's instructions to avoid inconvenience.
Visitors cannot bring pets to the Zoo.
Always look out for your children.
You can purchase tickets beforehand to avoid long queues.
Riyadh Zoo Photos
These are a few pictures of animals at Riyadh Zoo.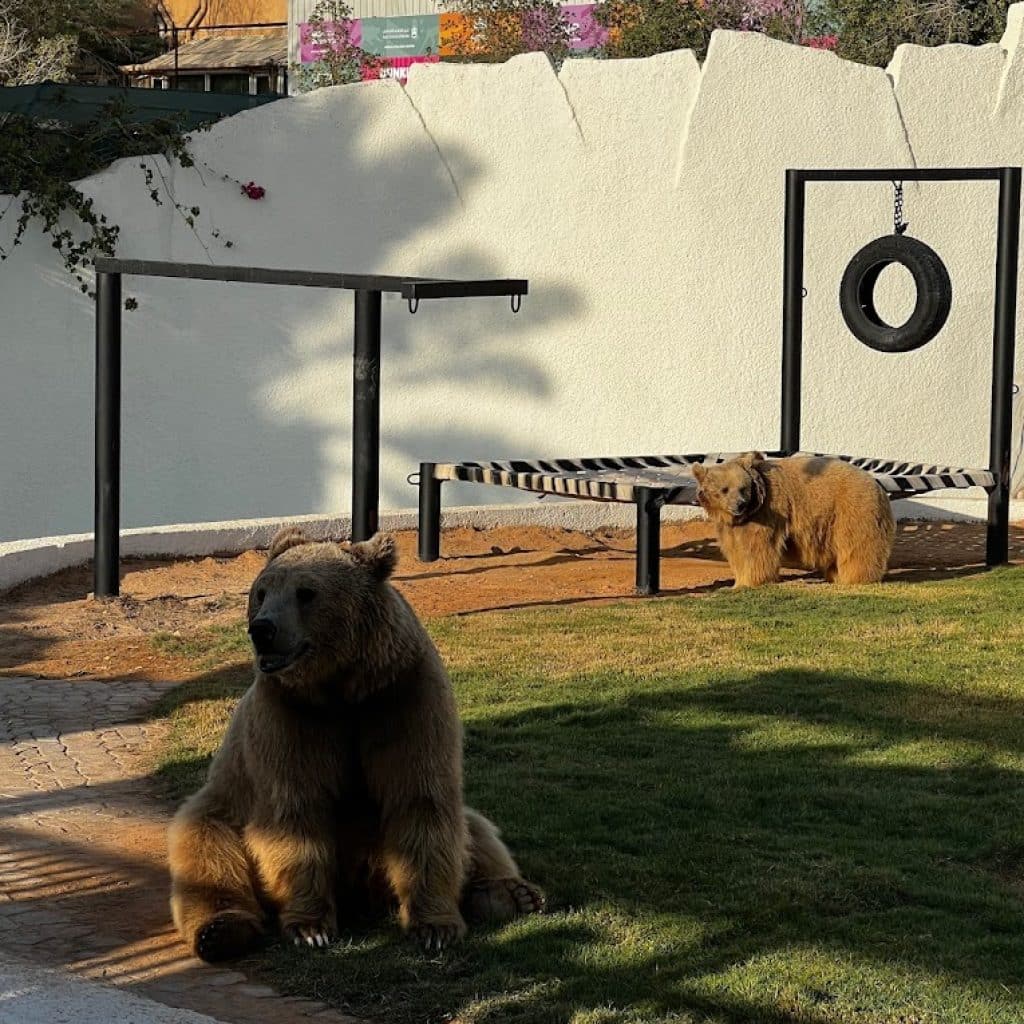 Photo Courtesy: Google Reviews
Other Attractions To Visit Near Riyadh Zoo
Although the Zoo has plenty to offer its visitors, you can enjoy nearby places. Besides visiting the onsite restaurant and café, you can also enjoy delicious meals from excellent restaurants outside.
Some of the best places to enjoy decadent food around the Zoo are Zoo Grill Restaurant, Zaitoon Indian and Chinese Restaurant, The Butcher Shop & Grill, The Sandwich Company, and Yauatcha Riyadh.
After visiting the zoo and enjoying a delicious meal, you can go sightseeing at places like King Abdullah Park, Masmak Fortress, Kingdom Centre Tower, Al Faisaliyah Centre, and The Saudi National Museum.